Podcast Episodes
Kary McElroy describes her first Workamping experience on Episode 096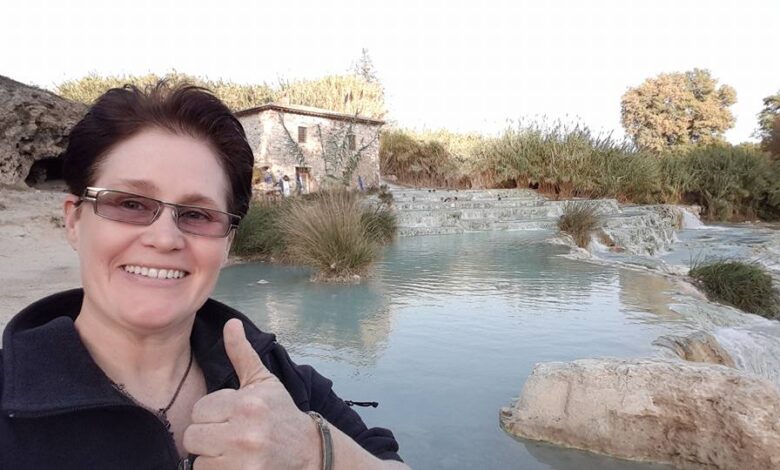 Podcast: Play in new window | Download
Subscribe: Google Podcasts | Spotify | Stitcher | TuneIn | RSS
Today we are going to speak with a woman who just completed her first Workamping assignment and will describe the joys and challenges of that experience.
Kary McElroy spent the summer working for the U.S. Forest Service at the Wild Plum Campground in the Tahoe National Forest. With 47 sites, the campground was considered a remote location, but with lots of trees along the banks of Haypress Creek.
She was responsible for cleaning eight vault toilets every day and keeping track of reservation cards displayed at the campsites. She also had to clean firepits after guests departed and pick up any trash they left behind.
Kary was pretty much by herself and hired to put in about 20 hours a week, but she often wound up working 11- to 12-hour days.
She was supposed to be in the position for six months. However, COVID restrictions rolled the start date back one month and she was required to leave a month earlier than expected due to a number of fires in that region.
Originally from the San Francisco area, Kary has been RVing since childhood and purchased her own RV about 20 years ago before upgrading to a 32-foot Class A for her Workamping experiences. She started in the lifestyle by contemplating renting a motorhome for a cross-country trip with a friend. But, when she looked at the cost to rent a vehicle for the amount of time they wanted to use it, Kary decided it was more cost effective to buy an RV.
That added expense combined with the cost to rent campground space in California kind of forced her to look at ways to make money while RVing.  She came across Workamper.com, became a member and explains why she considered that to be a good investment.
Kary's first Workamping experience was challenging for her because she was often on her own overseeing 47 campsites in a remote area of the forest. But, because she considered herself to be a self-starter, Kary relished the opportunity to work without direct supervision.
She faced several challenges, like when a little girl fell off a chair and cut her head pretty badly, but based on her training before starting Workamping, she was able to manage that situation.
Kary really took an active interest in the job by going above and beyond what was expected of her time commitment, but that's the kind of thing self-starters typically do. They see a need and step in to fill it.
However, the site was so remote that the only hookups she had was water and sewer. There wasn't any cell service, which also meant she didn't have access to Internet. Kary had to run her motorhome's generator four hours a day just to charge her lithium batteries, but that gave her enough power to last the rest of the day.
Yet, she met some wonderful people and truly loved being outdoors all summer long. In fact, Kary liked the experience so much that she has already accepted another job working at a private campground near the east gate to Yellowstone National Park. We wish her the best of luck on that job.
Like Kary noted during the interview, Workamper.com is an excellent resource for helping people find short-term jobs around the country. It could be a volunteer or paid position. It could be in a remote area or near a big tourist attraction. It could be working with part of a large team, or on your own.
Workamper.com is continually updating the site with new job postings every day. It also offers tools to help you prepare a resume or submit a situation wanted ad to find your dream job. There is a vast media library to teach you everything you want to know about the RV lifestyle, Workamping, and enjoying your time on the road.
There are also literally hundreds of articles and some online courses you can take as well to learn ways to make Workamping a memorable success. A Diamond-level membership with lots of features costs less than $1 per week. There are other membership options available, too. For more information, visit www.workamper.com.