Podcast Episodes
In Episode 073, the Texas RV professor describes a new hybrid training model at the National RV Training Academy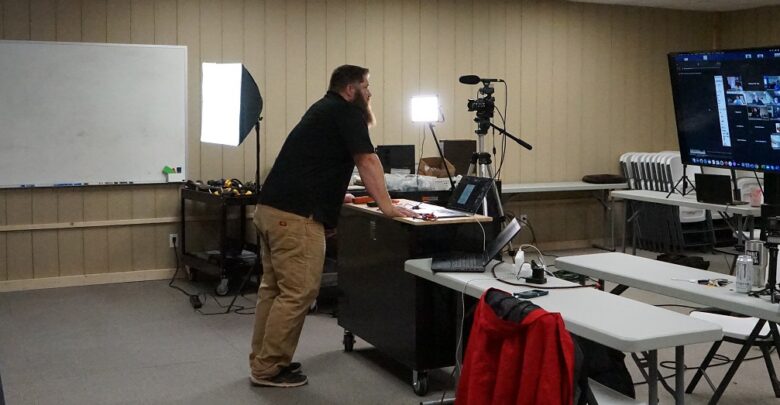 Podcast: Play in new window | Download | Embed
Subscribe: Google Podcasts | Spotify | Stitcher | TuneIn | RSS
Today we are going to talk with the president of the National RV Training Academy about a new hybrid teaching method that will greatly benefit full-time RVers.
Terry Cooper, who likes to be called "Cooper," founded the National RV Training Academy in Athens, Texas, in 2018 as a permanent place to train RV technicians and inspectors. Prior to that, Cooper and his wife, Evada, traveled throughout the country in their RV full-time conducting training courses in key locations.
Eventually, demand for training grew so large that they could no longer accommodate all the students in the rented facilities they had been using. So, they bought a beautiful campground and drew up plans to erect The Big Red School House next door.
Since opening the training center, Cooper has continued to offer multiple classes every month to churn out RV inspectors and technicians. He also started producing some top-quality video training.
Things were going well for him. Classes were full and more people than ever were inquiring about how to learn fix their own RVs or open a mobile repair business or even start inspecting RVs for other people.
Then COVID-19 arrived, and the State of Texas ordered all schools closed and the county imposed restrictions on how many people could be in the same room together. That required Cooper and his staff to scramble in order to come up with a viable alternative.
They came up with an idea for hybrid training which combines live two-way online classes with prerecorded videos and the workbooks used for their popular home-study course. It proved to be tremendously successful and attracted even more students than they had anticipated.
So, Cooper expanded the hybrid model to include all the advanced training classes as well. That's what he is going to talk to us about today.
He'll explain how the online hybrid classes work and describe a new way of getting tested in which people can complete all the hands-on exercises along with the testing for certification, if desired, in one Turbo Week of training.
However, the academy also has a very popular RV Basic Maintenance Course designed with RVers in mind to show them how to fix 80 percent of the problems they are likely to encounter with their own RVs.
That can save full-time RVers a lot of aggravation in trying to get an appointment for RV service while on the road. Learning to fix most problems by themselves is also a big time and money saver.
For those people looking to support their RV travel lifestyle, the academy can also help them start a mobile RV repair or RV inspection business.
This new hybrid training method will be a game changer in the ways RV owners or professional technicians and inspectors learn to diagnose and fix recreation vehicles.
Using foundational workbooks and watching short videos at home, then interacting live with an instructor over the internet, people can learn to fix RVs from anywhere.
If all they want is the knowledge, they have it at their fingertips for easy reference. However, if they see income opportunities by fixing RVs, then they can make one trip to Texas for a refresher course, hands-on workshops and certification testing to get their professional credentials. They can also participate in live training at the academy.
If they want to become inspectors, they can do all the training online or at live classes in Texas.
It is a truly innovative way to deliver quality training to a lot of people. To find out more about courses offered by the National RV Training Academy, visit www.nrvta.com.
I'd like to thank Cooper for being a guest on today's show, but also to thank him for his weekly support of this podcast since its inception.
He and his staff see it as a mission to help RVers make money and avoid problems while enjoying the RV lifestyle. They are happy to show you how to do it, too.
I encourage any RV owner to consider taking advantage of the basic RV maintenance course to fix their own rigs, or to take advanced training to jump into a lucrative part-time business. Whether it is the home-study course, hybrid training or a live class, there are lots of options to consider.
Workamper News, a magazine and online publication, connects RVers to full- and part-time jobs around the country. Whether it is running a business from your RV or working short-term jobs for a variety of employers, Workamper News can give you information to help plan a course to live your own dream and get you on the road faster than you thought possible.
For more information about opportunities to live, work and play in your RV, visit www.workampernews.com.