Podcast Episodes
Evada Cooper shares her story of RVing out of necessity to fully embracing the lifestyle in Episode 074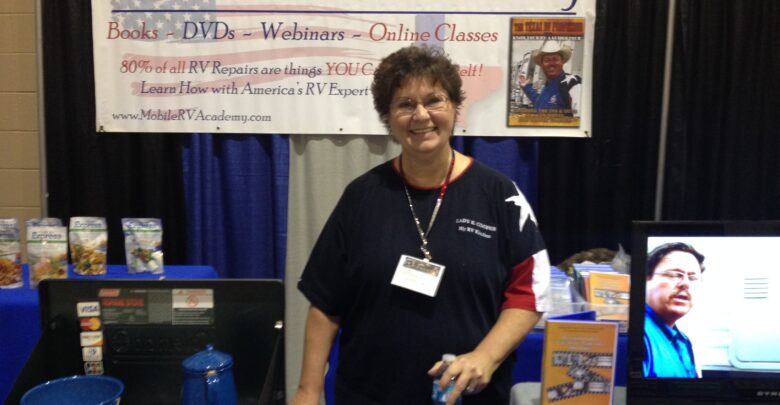 Podcast: Play in new window | Download
Subscribe: Google Podcasts | Spotify | Stitcher | TuneIn | RSS
Today we will speak with a woman who started RVing out of necessity, then fell in love with an RV expert and, together, they operated several successful businesses from the road.
Many people may have heard of Evada Cooper, but few probably know her story. She grew up in Texas and started the RV lifestyle out of necessity after she was divorced and needed an inexpensive place to live while raising her teenage daughter, two dogs and a cat.
Evada explains why a fifth wheel was the ideal choice for her living situation. After they moved to Waco, Texas, to be closer to her oldest daughter, the girls created a Match.com profile for their mother. Four or five months later, Evada attracted the attention of a fellow who taught RV maintenance courses for a nearby state technical school.
That man was Terry Cooper, the infamous Texas RV professor. Once they got married, the couple moved into a small apartment. But, when the economy took a dive in 2009, and the college cancelled the RV tech training program, Cooper and Evada started the Mobile RV Academy and hit the road training technicians in various cities around the country.
While on the road, Evada started her own RV cooking show and published the RV Centennial Cookbook featuring easy-to-prepare recipes that RVers can make in their own kitchens.
As demand for trained technicians outgrew their ability to provide classes in rented facilities, they bought an RV park in Texas and broke ground for what is now the Big Red School House in Athens.
Evada shares her experiences on the road, which fanned the flames of her passion for the RV lifestyle and to help people start mobile businesses of their own so they could enjoy the same travel experiences.
She offers some advice on ways for people to scale down to enjoy the RV lifestyle now, while they are really young enough to enjoy it.
Evada's story may have unfolded in an unusual way, but it was clearly divine inspiration that led her to make some life-changing decisions that would eventually help thousands of other people to follow her path.
Her journey started out of necessity to find an affordable place to live while raising a teenage daughter. Then Evada met Terry Cooper, the RV professor, and they traveled the country together to train mobile technicians. While on the road, they met the current owners of Workamper News, Steve and Kathy Anderson.
The four of them came up with the idea to launch the RV Inspectors Association to train people to operate independent mobile businesses of their own by helping others evaluate RVs before making purchases.
Training technicians and inspectors proved to be a challenge to do one week here and another week there. That's when a door opened for them to buy a campground in Texas large enough to develop an adjacent training center.
Today, thanks to Evada and her husband, Cooper, along with the Andersons, more people than ever are able to enjoy the same RV travel lifestyle, visit the same places and enjoy the same delicious regional foods the Coopers discovered.
Rather than spending money on a big house with a lot of stuff, they intentionally downsized to enjoy a simpler life with less stress and greater joy.
Evada Cooper faced several challenges in life, but rather than sulk about her situation, she stepped into the unknown guided by her faith and just followed doors as they opened in front of her.
Even unfortunate experiences that she faced later proved to be springboards for helping people avoid those same situations and save money in the process.
If you'd like to meet Evada Cooper in person, you can do so by spending time at the Texan RV Park. You'll find more information at www.texanrvpark.com.
You can also sign up for training to learn how to fix or inspect RVs at the National RV Training Academy by visiting www.nrvta.com. Even if you don't want to make it a career, you can still learn to fix 80 percent of the problems you're likely to encounter in an RV.
Workamper News, a magazine and online publication, connects RVers to full- and part-time jobs around the country. Whether it is running a business from your RV or working short-term jobs for a variety of employers, Workamper News can give you information to help plan a course to live your own dream and get you on the road faster than you thought possible.
For more information about opportunities to live, work and play in your RV, visit www.workampernews.com.