Podcast Episodes
In Episode 219, Meleah Hosea describes a Workamping job at a New Mexico ranch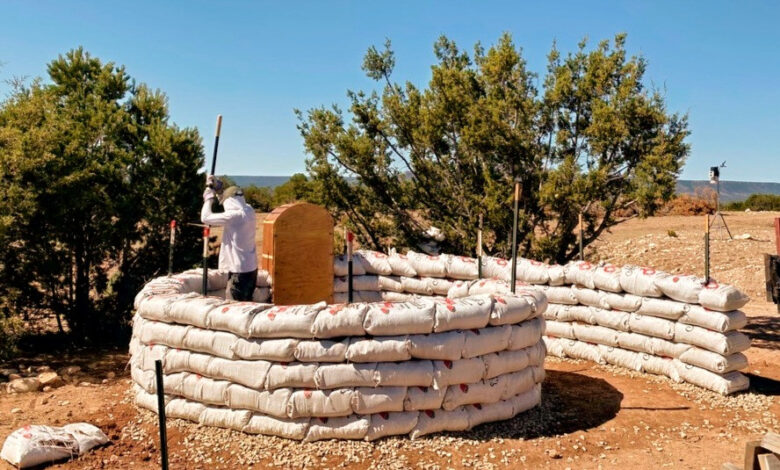 Podcast: Play in new window | Download | Embed
Subscribe: Google Podcasts | Spotify | TuneIn | RSS
Today I will be interviewing a woman who operates a ranch in north central New Mexico. She's looking for a Workamper to help the staff run the center, which promotes natural healing and natural building.
Las Caraneras Canyon Ranch is located on 80 acres of land near Las Vegas, N.M. It is operated by Meleah and Jordan Hosea, who moved to the area from California a little more than seven years ago.
Jordan has been studying and practicing natural building for 20 years, mostly emphasizing in super adobe construction using earthbags. Meleah has an extensive knowledge of medicinal plants and companion planting.
The ranch is home to horses, chickens and migrating birds. It is completely self-sufficient and the couple grows around 50 varieties of herbs, fruits and vegetables, along with 300 sunflowers. They have created a sustainable permaculture environment which supplies local restaurants and food trucks with organic produce.
The couple needs a Workamper to work about 10 hours a week helping with the garden and tending the animals as well as assisting with some light construction activities using equipment that creates earthbag structures.
It's far from a desert area that most people envision when they think about New Mexico. The ranch is in a wooded area at an elevation of 6,800 feet.
The job is a great opportunity for someone who loves dogs and animals, likes to grow food and wants to learn about natural building and growing natural medicines.
At the moment, there is no financial compensation, but that could change. However, Workampers do get a free RV site.
This is a relatively new Workamping position with lots of variety in what will be done during the 10 hours a week the Workamper or couple will be working.
For example, the Workamper will be building garden boxes, erecting fencing, helping to build a carport, installing solar panels, landscaping, trimming trees, establishing a fire containment line around this property, planting trees, watering crops and, potentially, delivering produce to vendors in Las Vegas, N.M.
The Workamper will need to be physically fit and capable of some heavy lifting. Experience in gardening and farming is a plus, as is light construction experience, such as using a table saw and drill press. Meleah admits it is probably not a good fit for a family with small children.
Considered to be the Land of Enchantment, New Mexico is well known for its stunning sunsets. The ranch is 45 minutes from Santa Fe and an hour and a half from Albuquerque and Taos, both of which are popular vacation destinations rich in history and scenic beauty.
The ranch itself is located in an isolated area 20 minutes from the nearest city, which is Las Vegas, N.M.
Meleah is hiring a Workamper right now, either a couple or solo, to work this summer. For more information, visit www.lascaranerascanyonranch.com or email her at [email protected]m.
Today's episode is sponsored by The Dreamer's Journey, it is an online course and community produced by Workamper News. Life is way too short to keep your dreams on hold, so don't be held back by fear because you were designed for more!  Get started in the RV lifestyle the right way with this comprehensive guide.
For just $29.95 for one year of access, Dreamers have unlimited viewing of 50-plus videos to learn things like what type of RV to buy, goal setting, how to budget for the adventure, developing a positive mindset, setting up a domicile and operating a small business on the road, plus everything about Workamping and how to find the right job for you. Each video is 30-90 minutes long to give in-depth coverage on each topic.
There's no wrong time to get started.  For more information, visit www.rvdreamersjourney.com.
That's all I have for this week's show. Next week I will be speaking with a mother who will talk about RVing and Workamping with children. I'll have that interview on the next episode of The Workamper Show. Happy Spring and thanks for listening!