Podcast Episodes
Episode 041 features Johnny and Tracy Bercegeay plus Tommy and Martha Payne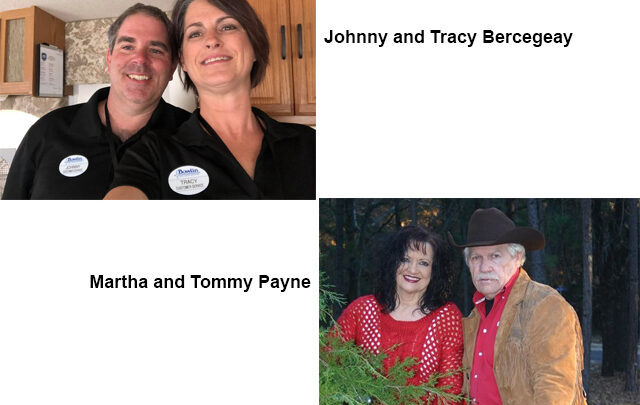 Podcast: Play in new window | Download
Subscribe: Google Podcasts | Spotify | Stitcher | TuneIn | RSS
Thank you, Steve. Today we will talk with two couples – one of which are experienced Workampers and the other which is still in the dreaming stage.
Johnny & Tracy Bercegeay are from Louisiana and they have been full-time RVing for a little more than two years. They are nowhere near retirement age, and their only source of income is their ability to do seasonal jobs as they crisscross the country.
Their first job was managing a restaurant at an RV resort in the Black Hills of South Dakota, which was the No. 1 area on Tracy's bucket list. Viewing Mt. Rushmore and traveling the county road leading into the park was a very emotional experience for her.
They have also worked the annual sugar beet harvest, spent some time boxing orders at an Amazon fulfillment center, and guarded gates in the Texas oil fields.
For them, one of the best aspects of the Workamping and RV lifestyle is the ability to enjoy a wide variety of food. Coming from Louisiana, they are very familiar with the benefits of enjoying regional cuisines.
They love food so much that they teach others how to cook from their own RVs on their own YouTube channel called RV SWAT, which stands for RV Seasonal Work and Travel.
When I interviewed them in October, they were planning to spend the winter in Arizona before heading to either Oregon or Yellowstone National Park this summer.
They have had their challenges along the way, which they describe for us. But all that just makes for better material for their YouTube channel.
I love how Johnny & Tracy Bercegeay truly believe that their worst day in an RV is better than their best day in a traditional sticks-and-bricks home.
They certainly are having the time of their lives as their YouTube Channel – RV SWAT – reveals to their nearly 2,000 subscribers who follow them on their journeys.
The couple is not like a traditional Workamping couple which investigates the lifestyle for months and even years before turning the key to their adventure. Once they got the bug, they spent one month getting ready before they hit the road.
In fact, now that their children are grown, they firmly wish they could have a do-over and start the RV lifestyle with their kids like so many other RVers are doing today.
One of their biggest fears that caused some hesitation was the ability to find enough work to sustain them and their lifestyle. However, after completing several years of Workamping, they get so many offers now that they can simply pick and choose the opportunity that sounds most exciting to them.
If you'd like to follow along with their adventures or even ask them about their experiences, look for RV SWAT on YouTube, Facebook and Instagram.
Our second guests are Tommy and Martha Payne, from Tyler, Texas. They are just getting started in the RV lifestyle now that Martha retired and Tommy sold one of his businesses.
They attended the Workamper Rendezvous last October, which is an annual week-long training event in Heber Springs, AR, to give people a rapid introduction into the RV and Workamping lifestyle.
They describe their journey to find an RV, and why they settled on a motorhome.
While at that event, they discovered several businesses they could do from the road, such as RV inspections or being sales representatives for other companies. At the moment, they are considering working as a camp host or in an amusement park.
Tommy has already figured out that men who retire can either sit around and do nothing before they die, or they spend all their time in doctor's offices. He doesn't want either of those options, so he's anxious to launch a new adventure while he and Martha are still young enough to enjoy it.
They learned a lot at the Workamper Rendezvous, not only from the speakers, but also from the other participants who were sharing their own experiences to alert Tommy and Martha to fun and interesting places to work and travel.
The freedom to travel anywhere and to stay as long or as short a time as they'd like holds a great deal of appeal to the Paynes, and I wish them the best of luck as they launch their adventure soon.
Workamper News has launched a new training course for people just like Tommy and Martha.
The RV Dreamers Journey is a 12-week online training course to give people considering the RV and Workamping lifestyle the tools and information they need to get off to a good start.
For $99 per month, people can participate in two online events every week to learn things like what type of RV to buy, how to budget for the adventure, where to call home, and how to find a job or start a mobile business. Participants can also join an open question-and-answer session each month. For more information, visit www.rvdreamersjourney.com.
For more information about Workamping in general and links to hundreds of full- and part-time seasonal jobs, visit www.workampernews.com.