Podcast Episodes
Dave Meuer joins Brett and Connie Ridgway in describing their full-time RVing plans in Episode 051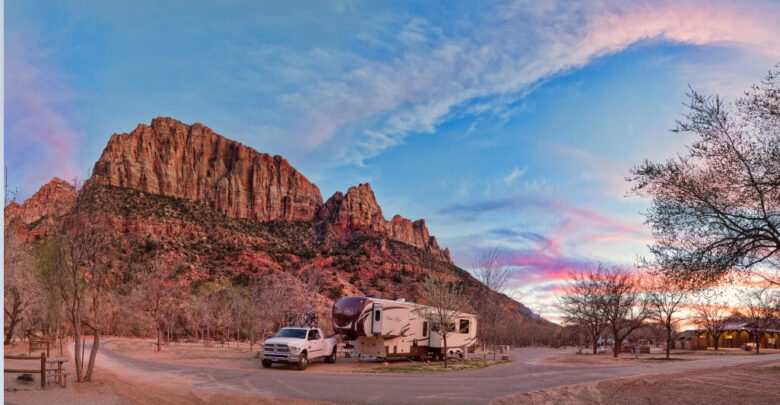 Podcast: Play in new window | Download | Embed
Subscribe: Google Podcasts | Spotify | TuneIn | RSS
Today's show features two interviews. One with an experienced RVer with a big family, and the second with a couple who realized they don't want to get in a situation where they are too old or too sick to do the things they have been dreaming about.
The first interview is with Dave Meuer, a gentleman from Albuquerque who has been traveling for decades with his wife and six kids as they visited nearly 30 states.
Now they have children and grandchildren scattered from Hawaii to the east coast of America, and RVing lets them visit with each other regularly.
Dave has been self-employed for most of his life. In fact, he likes to start, build and sell businesses. At the moment, he is working as a manufacturer's rep selling commercial roofing products.
Although they have been RVing for years, they are getting ready to hit the road full-time this summer. They are in the process of selling their four bedroom, four bath home.
They bought a Vanleigh fifth wheel and are putting it to the test now getting the kinks worked out before they start their journey. He explains why they selected a fifth wheel and why it will work best for their needs.
They are working on a plan and setting goals for things they would like to do on the road, and that may include starting another mobile-based business.
They have already met other RVers who share their enthusiasm for travel, and are making plans to do some traveling with them as well.
I really liked how Dave Meuer described how RVing as a family really bonded the kids together to the point they remain close as adults. It sounds like they lived in some cramped quarters for a few weeks at a time in the RV, but they all share fabulous memories.
He also touched on a reason why I love RVing because it lets you visit friends and family without being an imposition. His granddaughters love cats, but Dave can't spend a lot of time at their home because of his allergies. So, everyone has their own living quarters and it just makes for a better visit.
Dave seems to have a knack for seeing problems other people have, and working to develop businesses to address those problems. For example, he noticed that a lot of RVers have chips in their windshields, so he's thinking of fixing those types of issues right at the campgrounds just to have a little extra walking-around money.
Dave has already visited 48 states, and his wife is looking forward to traveling with him to Utah and New England. There is so much for them to see, I know they will enjoy their travels.
The second guests are Brett and Connie Ridgway, who are from Katy, Texas. They had four children who are all grown and on their own, so the couple is ready to play.
They started full-timing last August and I caught up with them at the Workamper Rendezvous in October in Heber Spring, AR.
The couple have owned fifth wheels and Class A motorhomes in the past, and they explain why they selected a fifth wheel for this stage of their journey.
Brett has a job now as a business broker matching people looking to sell their businesses with people wanting to buy one. He may continue that line of work on the road, or they both might seek Workamping jobs.
Ideally, they would like to work as a campground host in a national forest somewhere, especially Alaska. In fact, Connie wants to get in the truck and drive until they run out of diesel some place far away. They'd also enjoy working in Utah, Wyoming or Canada.
Brett is also thinking about taking RV maintenance classes at the National RV Training Academy just so he is better able to maintain their own rig and, perhaps, help others who need things fixed.
He hit the nail on the head when he said he and his wife, Connie, have been racing their whole lives – even on vacations – and now they just want to slow down a bit and enjoy life.
Connie shared fond memories of traveling as a child and recalled some of her favorite places to visit. Now, she'd like to return and take her grandchildren to relive those adventures.
Brett sees so many people, and so did Connie as a physical therapist, who made big plans to do wonderful things when they retire, but life interferes and they can't live their dreams. They don't want that to happen to them, so they're heading out while they're still young enough to enjoy it.
RVing also gives them an opportunity to travel with their pet German shepherd, a 95-pound dog affectionately referred to as Bear.
So, the Ridgeways thought about doing something for three years and then, last year, they just decided time was running out and they wanted to cram as much life as they can into however many years they have left.
I wish Brett and Connie Ridgway – and Bear – the best of luck in their travels as they make memories by themselves or with their grandchildren.
The Dreamer's Journey, a new online course and community produced by Workamper News. Life is too short to keep your dreams on hold. Don't be held back by fear. You were designed for more! Get started with the RV lifestyle the right way with this comprehensive guide.
For a monthly subscription fee, people can participate in two online webinars every week to learn things like what type of RV to buy, goal setting, how to budget for the adventure, developing a positive mindset, where to call home, and how to find a job or start a mobile business.
All online events will be recorded for watching any time. Subscribers can also join an open question-and-answer session each month. For more information, visit www.rvdreamersjourney.com.