Podcast Episodes
Episode 211 features opportunities with Blue Water Development Corporation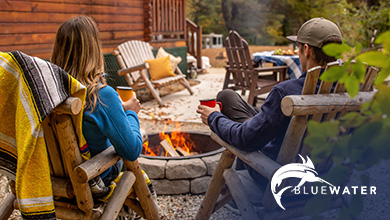 Podcast: Play in new window | Download
Subscribe: Google Podcasts | Spotify | Stitcher | TuneIn | RSS
Today I will be interviewing two people from Blue Water Development Corporation about Workamping opportunities at RV resorts scattered across America.
Rachel Carr is the human resources staff member for Blue Water Development Corporation who oversees the company's Workamper program. She is joined by Robin Helfant, who serves on a company task force for training and steps in to serve as general manager of a property, if necessary. The company has nearly 50 properties that it either owns or manages.
Some of the properties are resort hotels and others are marinas that don't necessarily hire Workampers. However, the firm does own a bunch of RV resorts and campgrounds at which Workampers can find jobs. More of the properties are located in the eastern states, but Blue Water Development is expanding with the addition of campgrounds as far west as South Dakota and Colorado.
The company needs Workampers for a variety of jobs from housekeeping to camp hosts. They also help with landscaping and mowing, pool maintenance, taking reservations and serving guests in the camp stores. Some properties have food service operations that need Workampers as well.
A few campgrounds in Florida, Kentucky and Texas are open year-round, but Workampers are generally needed from Easter to Thanksgiving. It all depends on the weather and the individual locations. All the jobs are paid and training is provided.
While all the jobs are paid hourly wages, the rate varies from state to state, but it is at least minimum wage. Most of the jobs also come with a free RV site with no utility fees.
Workampers are able to use all the campground or resort amenities when they aren't working. They also enjoy discounts at the camp store, restaurant and food shacks.
Blue Water Development would like its Workampers to work at least 30 hours a week per person. The company hires solo Workampers in addition to couples. The firm does its best to ensure couples have time off together.
Because the company has so many properties in its portfolio, with more being added every year, once Workampers get a job at one location, it is relatively easy for them to stay within the Blue Water Development family to get jobs elsewhere.
If you're hardworking, honest and enjoy being around people, then the company will provide training to do any jobs at their various properties.
For more information about Workamping opportunities with Blue Water Development Corporation, visit www.bwdc.com and look for the Employment link at the top of the page. It will show all the jobs currently available and you can apply right on the website.
If you're just exploring the RV lifestyle and Workamping options, consider enrolling in The Dreamer's Journey, a new online course produced by Workamper News. Life is way too short to keep your dreams on hold, so don't be held back by fear because you were designed for more!  Get started with the RV lifestyle the right way with this comprehensive guide.
For just $29.95 for one year of access, Dreamers have unlimited viewing of 50+ videos to learn things like what type of RV to buy, goal setting, how to budget for the adventure, developing a positive mindset, setting up a domicile, operating a small business on the road, plus all about Workamping and how to find the right job for you. Each video is 30-90 minutes long giving in-depth coverage on each topic.
There's no wrong time to get started.  For more information, visit www.rvdreamersjourney.com.
That's all for this week's show. Next time I'll be speaking with two employers who have volunteer positions available. One is in New Orleans and the other in central Florida. It will be a little longer show, but you can listen to both interviews on the next episode of The Workamper Show. Thanks for listening.