Podcast Episodes
In Episode 151, online influencer Ashley Logsdon reveals advice on preparing families for a full-time RV lifestyle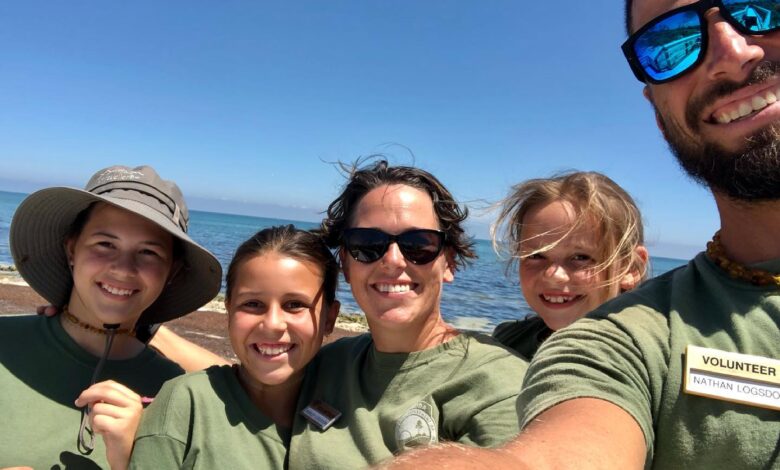 Podcast: Play in new window | Download | Embed
Subscribe: Google Podcasts | Spotify | Stitcher | TuneIn | RSS
Today, I have a special guest. I will be interviewing a woman who travels full-time with her husband and three daughters, ages 9 to 14. She is an influencer who runs several businesses from her RV, has her own podcast and has developed some online classes for people contemplating the RV lifestyle.
Ashley Logsdon started RVing with her family in 2016. Within two years, they had visited all 48 lower states. Now that's moving! Today, they have a new adventure to serve as volunteers in every Florida state park.
Before they started RVing, the family was living the American dream. They were making a six-figure income and living in a home with a white picket fence. When they started looking for a bigger home, the family took a hard look at their lifestyle, their long-term goals and what it would take to maintain it all.
They watched close friends and relatives as their relationships fell apart, their health declined and they had forgotten how to have fun. The Logsdons had always dreamed of full-time travel "someday," and finally decided to put a date on that. Then they started creating a lifestyle where they could truly enjoy each other and take part in some fabulous adventures.
The family started RVing slowly by opting to try it for 90 days before making a permanent decision to sell everything and jump in full time. The experiment worked. The girls adopted well to being roadschooled. The family transitioned from a 1,450-square-foot home into a 230-square-foot RV with everyone on top of each other. However, they learned to set boundaries and to take breaks from each other when necessary. Today, they truly enjoy each other's company with strong relationships among all family members.
The plan required a transition away from Nathan's six-figure real estate income to live frugally on Ashley's income working remotely for her father's company. Her father is Dan Miller, who is the author of 48 Days to the Work You Love, and developed an entire business around that philosophy, including webinars, coaching and online courses.
Ashley became a coach herself and launched her own website at www.mamasaysnamaste.com to help others create a thriving mobile family life. She explains how she finds and services clients on the road. She also describes some of the online courses she created to help RVers and full-time families adjust to the lifestyle.
Not only has she built a thriving online business, but she offers some very good advice for RVers and people considering the lifestyle.
Her advice to try full-time RVing for 90 days before selling your home is a very good suggestion. The reality of RV life may be vastly different from the ideal you had envisioned for many years.
You also need to explore the why behind your desire to hit the road, and it's different for each person. One might want to travel to see a lot of things, others to meet more people, others just to relax in a different location each month. Having that discussion early prevents a lot of misunderstandings and disagreements.
Ashley developed an online course called the 90 Day Family Road trip that explores a plethora of questions for families to explore in ways that take children and teens into account as well. If children aren't happy with the RV lifestyle, then it probably won't be the best choice for a family.
The course's goal is to create a life of freedom, peace and success on the road. It requires shared goals and compromise to give everyone something to look forward to on the trip.
Ashley also noted how important it is to factor each family member's unique personality style, likes and dislikes into the equation.
Working as a family, the Logsdons actually created a vision for what their life would be like on the road and it centered around six words, "explore, respect, listen, connect, learn and love" in ways that nobody was left behind. Everything they do often centers around one of those words, which were easy even for young children to memorize and adopt.
Through all their experiences, Ashley and Nathan have one overall objective, and that's to raise their three daughters to be smart, independent and resourceful so they can become well-grounded, successful adults.
Although the family is stationary for a while, they haven't given up on shared experiences, which lately have involved volunteering at Florida state parks.
I know the family will remain close for many years to come as they continue to pursue life-changing adventures, learn new skills and make new friends. I wish Ashley and her family the best of luck in 2022 and beyond.
She has a free download available at www.mamasaysnamaste.com/you that explains the core of everything she teaches about involving everyone in the decision-making process and getting to know each person's unique personality, likes and dislikes.
This episode has been sponsored by Workamper News. With its Diamond and Platinum membership tools, Workamper News is much more than just a job-listing website. When you put the tools of this professional service into action, you'll find out just how easy it can be to turn your Workamping dreams into reality.
The one-year memberships open the door to the one-stop-shop for all-things Workamping. Being the original resource for Workamping, you'll find the largest number of job listings, be able to connect with a community of Workampers, and peruse resources compiled by experts who have enjoyed the lifestyle for many years.
Most Diamond and Platinum members receive inquiries from their online resumes within a day of being posted. The Workamper Experiences section has been piling up reviews of employers since 2007.  Each archived issue of the Workamper News magazine lists hundreds of jobs.  Hotline jobs are emailed right to you, for the states you're most interested in visiting.
If you're serious about leading a successful and enjoyable Workamping lifestyle, then a Diamond or Platinum membership is for you.  You can even get started with a free 30-day trial by visiting www.workamper.com/trial. Embark on new adventures today with the support of Workamper News behind you!
That's all I have for today's show. Next week, I am going to speak with a refrigeration repair specialist who offers some valuable advice that can save RVers hundreds or thousands of dollars in unnecessary replacement of an RV refrigerator. I will have that on the next episode of The Workamper Show. Thanks for listening!