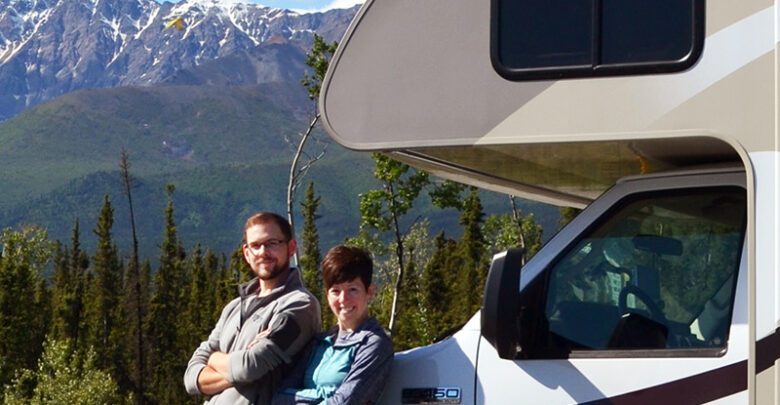 Podcast: Play in new window | Download
Subscribe: Google Podcasts | Spotify | Stitcher | TuneIn | RSS
Today we have a fun interview planned with a millennial couple who has been full-time RVing for several years and working for a business while traveling.
Jody and Luke Duquette have been RVing together since the summer of 2012. At first, they used a fifth wheel, but recently switched to a Class C motorhome.
They both help with the operations of Workamper News via their contracting company.  Jody creates the magazine and assists with marketing, content development, and operations. Luke is responsible for all the technology that supports the business and website development.
They describe modifications they made to the RV to facilitate running a business from the motorhome, and creating a space for their pets. Jody and Luke explain some of the challenges they face working from the road, and offer tips to help others improve that experience.
After having spent the summer in Alaska, they describe some situations they faced while traveling as well as what it takes to remain successfully married while sharing a rather confined space.
They share a common hobby and that's a love of microbreweries.
The Duquettes suggest some apps they have found make traveling and the RV lifestyle more enjoyable.
I think they are a typical millennial couple who simply decided that they wanted to take advantage of technology that enables them to work professional jobs from the road. I know that they are tied to Workamper News, but like they said, there are many other people their age living their dreams of full-time RV travel.
So much has changed in the past 10 years that it is very easy to work from the road. I have personally talked to several hundred families who are RVing full-time. Some run businesses from their RVs. Some work remotely for companies. Some work what might be called typical Workamping jobs.
They all are all making it a reality with the help of Workamper News.
Whether it is running a business from your RV or working short-term jobs for a variety of employers, Workamper News can give you information to help plan a course to live your own dream and get you on the road faster than you thought possible. For more information about opportunities to live, work and play in your RV, visit www.workampernews.com.