Podcast Episodes
In Episode 238, Richard Duhaime describes years of Workamping and writing a children's book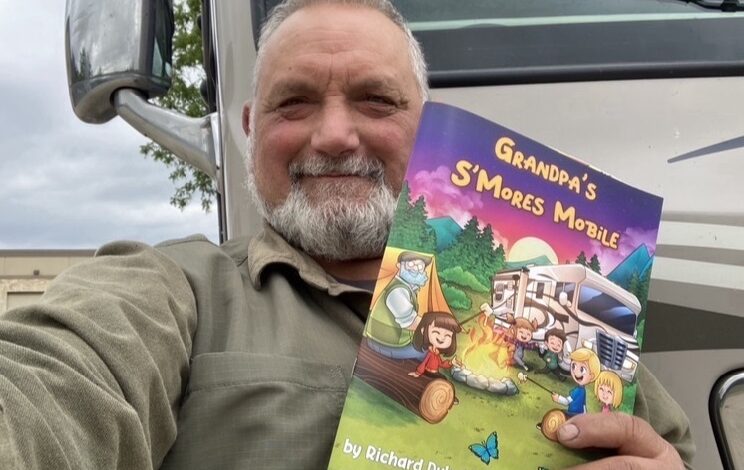 Podcast: Play in new window | Download | Embed
Subscribe: Google Podcasts | Spotify | Stitcher | TuneIn | RSS
Today I am speaking with a Workamper who has been full-time RVing since 2014 and worked at a number of limited-term jobs before publishing a children's book about his experiences.
When I caught up with Richard Duhaime, he was in Galveston, Texas. Prior to that, he had been working at a summer camp where he did carpentry projects, helped kids with boats and the zip line, and told stories around the campfire.
The 62-year-old has been RVing since 2014 when he returned from Afghanistan. He grew up camping with his parents and five siblings who would all crowd into a Starcraft RV and travel all over New Hampshire. It was an activity he continued with his own children when they were growing up.
Richard worked as a commercial diver for many years, but also served as a carpenter in the Navy reserves. That's what took him to Afghanistan where he built temporary shelters for military personnel.
When he left the Navy and started RVing on his own, Richard purchased an inexpensive older motorhome that required so many repairs he soon had to sell it and eventually purchased a 27-foot Thor motorhome. Today, he recommends that people spend money upfront to buy a nicer RV because they'll spend the same amount of money fixing up a less-expensive unit.
He loves the RV lifestyle because it allows him to visit his grandchildren more often. In fact, he selects Workamping jobs that allow him to stay closer to family members for extended periods of time before starting another job closer to different grandchildren.
Richard has five grandchildren, the oldest of which is 4. They love to visit grandpa in his RV and make s'mores with him around the campfire.
As someone who has dreamed of writing children's books myself, I really enjoyed Richard's story about Grandpa's S'Mores Mobile. I thought it was a delightful way for a grandparent to chronicle all his adventures in a way that his grandkids could understand and appreciate.
The book compares Richard's motorhome to a turtle that has its house wherever it travels. The story explains that an RV is also like a covered wagon which was used to cross the prairie long ago, but even better. He wrote the book specifically so his daughters could read it to his grandchildren to remind them of their time together.
Richard offered some good advice for other Workampers about adapting to various job conditions. He explained that Workampers sometimes allow pride to get in the way by thinking they're above certain types of work. He recommends that people remind themselves they volunteered do specific work at a certain place. Since it's only short-term, they should just make the best of it and move on to a better opportunity when the current job ends.
For example, Richard had not washed dishes since he was a teenager, but wound up doing just that for a recent job because it gave him time during the day to help his son-in-law build a house. So, if the job makes it easy and affordable to do something you want to do, then Richard suggests just putting up with little quirks and going with the flow.
He also made a very important warning to people about posting negative things regarding employers online. Before making a job offer, many employers check out social media to get a feeling for applicants. It does not help them secure job offers if a potential employer hops on Facebook and sees the applicant bashing their old employer or the company.
I really enjoyed speaking with Richard today and listening to his advice and fun stories. I wish him the best of luck in all his travels.
People can connect with Richard by emailing [email protected], or check out his children's book at smoresmobile.net.
Today's episode is brought to you by the featured employers at Workamper.com.  These Workamper employers have taken an extra step to share some photos and detailed information about their Workamper programs.
Opportunities exist for solos, couples and families, whether they are full-time, part-time, seasonal and even long-term jobs. Some are income opportunities and others involve volunteering at locations throughout the United States. Go to workamper.com/fe to meet the featured employers today.
Employers who are seeking to hire Workampers can learn about the benefits of year-round recruiting by becoming a featured employer. More information about featured employers is available at workamper.com/fedetails.
That's all I have for this week's show. Please join me again next week for a new episode of The Workamper Show. Thanks for listening!