Podcast Episodes
In Episode 086, Kelly Calmes describes the Amazon CamperForce Program and jobs available this fall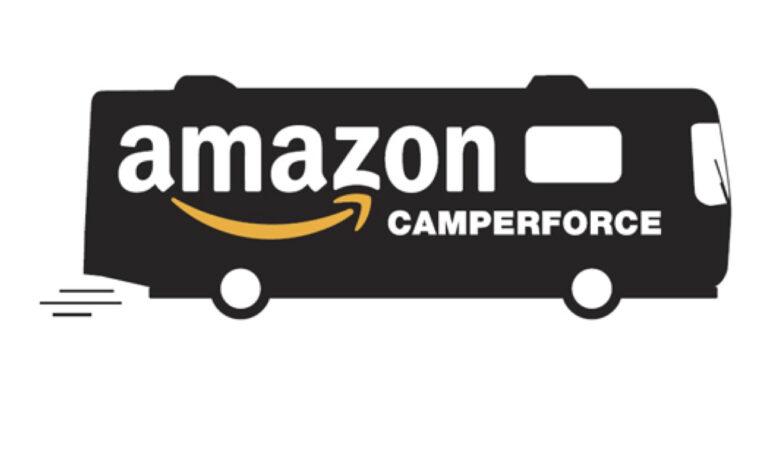 Podcast: Play in new window | Download | Embed
Subscribe: Google Podcasts | Spotify | TuneIn | RSS
We have a shorter episode for you today, but it offers a lot of important information about working for one of Workampers largest employers.
Amazon, the online retail giant, has been hiring Workampers for years as part of its CamperForce program. It's a community of enthusiastic RVers who work seasonal jobs picking, packing, stowing and receiving products at one of 11 warehouses in eight states.
Those warehouses are located in Oregon, Nevada, Arizona, New Jersey, Pennsylvania, Virginia, Kentucky and Tennessee.
Kelly Calmes has been involved in the program since its inception more than 12 years ago. He started as a trainer within the CamperForce program and then moved into human resources administration.
He outlines some of the ways Amazon works to ensure that employees remain safe during the COVID environment, and describes the plan for training new associates.
Workampers earn $15 per hour plus an assignment completion bonus if they fulfill their commitment. The bonus is 50 cents for every regular hour worked and an extra $1 for every overtime hour. Workers also receive basic life insurance as well as accidental death and dismemberment insurance with Amazon paying the premiums after 30 days.
When staying at an Amazon-approved campground, Workampers receive $550 per month to cover the cost of an RV site.
To be part of the Amazon CamperForce program, Workampers need only have a high school diploma or GED. There are no special skills or qualifications required. In fact, they'll pick up skills by learning to work with Amazon's robotic technology and automation systems.
I had the opportunity to take a warehouse tour in Texas a few years ago and it really is an interesting work environment with humans working alongside robots to find and store products.
Amazon is hiring now for jobs to start in mid-October or just before Christmas. But, get your applications in quickly because the deadline for applying is this week.
The application process is relatively simple and can be completed online in less than an hour, including picking the shift you'd like to work.
Once hired, Workampers have an appointment to confirm their identity and eligibility to work. After that, they attend a new hire orientation to learn specifics about the jobs they'll be performing. All associates also receive six hours of safety training.
To ensure they start their jobs quickly and without problems, each Workamper is matched to an experienced ambassador for at least a week. They can also join a closed Facebook community to ask questions, share experiences and get to know other associates.
For more information, visit www.amazon.com/camperforce.
Workamper News, a magazine and online publication that connects RVers to full- and part-time jobs around the country. Whether it is running a business from your RV or working short-term jobs for a variety of employers, Workamper News can give you information to help plan a course to live your own dream and get you on the road faster than you thought possible.
For more information about opportunities to live, work and play in your RV, visit www.workampernews.com.
This episode is sponsored by the National RV Training Academy in Athens, Texas. The academy's one-week live training or home study course will teach you everything you need to know to fix about 80 percent of the problems people experience with their RVs.
You can also sign up for additional training to become an RV inspector, campground technician or to provide mobile RV service. For more information, visit www.nrvta.com.