Podcast Episodes
Episode 047 – Howard and Linda Payne describe 14 years of Workamping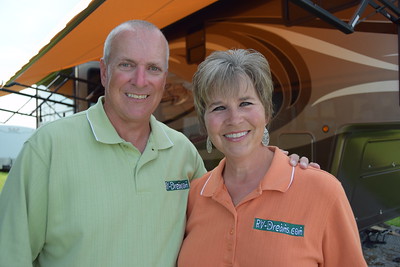 Podcast: Play in new window | Download
Subscribe: Google Podcasts | Spotify | Stitcher | TuneIn | RSS
Today we are going to talk with a couple who has been RVing and Workamping since 2005.
Howard and Linda Payne are natives of Louisville, KY. They both worked professional jobs when, in 2005, they turned 42 and realized they wanted more freedom and flexibility in their lives.
The motivation behind the move was interesting, as was the speed in which they embraced the change as everything fell into place.
They bought an RV and hit the road in August of that year. Since then, they have worked nine different Workamping jobs – some of them more than once.
The Paynes describe many of the jobs they have had, and offer advice on how they researched positions and applied for new opportunities.
They also describe some of the silly things that have happened to them along the way, as well as some of the mistakes they made.
They've lived in a fifth wheel and a motorhome, and explain the advantages and disadvantages of each.
Today, they are staunch advocates for the RV lifestyle and Workamping to the point they train others on how to do what they did. In fact, they describe a rally coming up in April where people can learn more.
Howard and Linda also founded the website RV-Dreams.com, which provides a detailed journal about their travels as well as other information about their Workamping experiences.
I loved that they opted to travel at a much slower pace by driving segments of 150 to 200 miles before stopping to explore that area for a while.
Some people like to have their itinerary planned out months or years in advance, but the Paynes like to decide where to go, and then look for jobs in those areas. Many times, the jobs start just a few months later.
I really liked their advice to take time not only to interview prospective employers to make sure that the job is compatible and that Workampers understand the commitment that is required. Then, send a follow-up email with a written understanding of the important aspects of the conversation.
That works to cut down a lot of misunderstandings and regrets that may occur when the Workampers have certain expectations based on a conversation that the employer didn't mean to convey or conveyed in a way that wasn't clear.
It just takes a few minutes to send out a memo of understanding, if you will, which I think helps ensure everyone is on the same page before starting a job.
People who are just thinking about getting into the Workamping and RVing lifestyle, but who don't want to wait until the end of October to participate in the Workamper Rendezvous, can attend the Payne's upcoming rally April 20 to 26 near Pigeon Forge, TN.
For more information about Howard and Linda, or about the upcoming rally, be sure to visit their website at www.rv-dreams.com.
Workamper News, a magazine and online publication that connects RVers to full- and part-time jobs around the country, can also help you get started in the right direction.
Whether it is running a business from your RV or working short-term jobs for a variety of employers, Workamper News can give you information to help plan a course to live your own dream and get you on the road faster than you thought possible.
For more information about opportunities to live, work and play in your RV, visit www.workampernews.com.