Podcast Episodes
Ed Bridgman describes a Workamper position for high-tech Homestead RV Community in Episode 216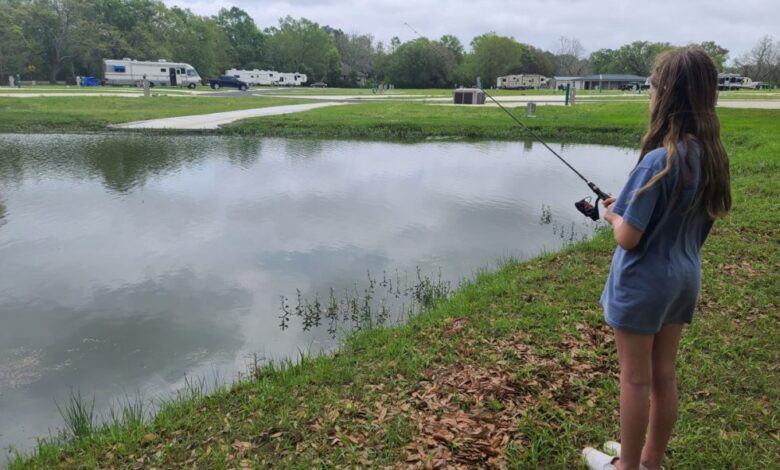 Podcast: Play in new window | Download | Embed
Subscribe: Google Podcasts | Spotify | Stitcher | TuneIn | RSS
Today I will be interviewing a man who operates a high-tech RV community in Alabama and is looking for a long-term Workamper to help him keep it running smoothly.
I interviewed Ed Bridgeman, the founder of Homestead RV Community, a few years ago. He is a developer who is building high-tech RV communities around the country, but also owns one near Mobile, Ala.
He calls it the most technologically-advanced RV destination in the world. For example, when someone checks in or out of the site, the water and electric meters are automatically recorded so nobody has to drive out to get the numbers. His system automatically generates bills. People order products from the on-site store, which are delivered to the RV within minutes. The app sends messages to all residents about what's happening that day, weather alerts and even what's available for dinner.
Ed is a big advocate of RV communities, which are different from RV parks. He said RV parks are located along major highways. They are designed ror short-term stays and offer few amenities. RV communities are created for longer stays and offer the same types of amenities people may find in retirement or gated communities, such as high-speed, fiber-optic internet, larger spaces, and more recreation opportunities.
Homestead is a 20-acre RV community with 59 sites and will be adding another 100 sites soon. However, the smallest concrete pad is 20-feet-wide-by-70-feet-long. Its laundry facility is controlled by an app. Its showers are cleaned in minutes, and guests can even rent portable Jacuzzis. It is not a complicated operation, but it is sophisticated.
Ed is looking for a Workamper to learn how to operate the state-of-the-art reservation system and corresponding app as well as welcome guests and escort them to their sites. He also needs the Workamper to help maintain landscaping. He is planning several major renovations to the property, and is expecting to spend more time traveling as he develops other RV communities.
So, Ed is looking for someone he can trust to run the park during his absence in a way that retains the level of service which gives the community 230 Google reviews averaging 4.9 stars.
In return, the Workamper or couple would get a free site at the community, $150 of free electricity every month and a $300 monthly stipend during the 90-day training period. After that, the stipend would rise to around $1,500 per month. Ed predicts the Workamper would need to put in about 40 hours of work per week.
The technologically-sophisticated RV community has a lot of automation that make managing and maintaining it easy enough for one person to do alone in 40 hours a week. The workload could be split by a couple.
The key thing is that this is an opportunity for the right person to learn the sophisticated system and treat guests in a manner worthy of a five-star community.
If these type of RV communities are going to become the wave of the future, this sounds like a ground floor opportunity for someone to learn the intricacies of RV community management and work with Ed to expand the concept.
There are a lot of things for people to do in the area around Homestead RV Community when they aren't working. The facility is only 20 miles south of Mobile, Ala., and 20 miles from Dauphin Island, a beautiful barrier island on the Gulf of Mexico. Homestead is one hour from Pensacola, Fla., and two hours from New Orleans.
If you are a self-starter who doesn't require a lot of supervision after learning a new system, and you want an opportunity to be part of a new way of RV living, this may be the job you're looking for. For more information, visit www.homervc.com.
Today's episode is sponsored by Workamper News. With its Diamond and Platinum membership tools, Workamper News is much more than just a job-listing website. When you put the tools of this professional service into action, you'll find out just how easy it can be to turn your Workamping dreams into reality.
The one-year memberships open the door to a one-stop-shop for all-things Workamping. Being the original resource for Workamping, you'll find the largest number of job listings, be able to connect with a community of Workampers, and view resources compiled by experts who have been enjoying the RV lifestyle for many years.
If you're serious about leading a successful and enjoyable Workamping lifestyle, then a Diamond or Platinum membership is for you.  You can even get started with a free 30-day trial by visiting www.workamper.com/trial. Embark on new adventures today with the support of Workamper News behind you!
That's all for this week's show. Next week I will be speaking with a Workamper who serves as a functional nutritionist working with people to get their bodies healthy and keep them that way to enjoy a better quality of life. I'll have that interview on the next episode of The Workamper Show. Thanks for listening.