Podcast Episodes
In Episode 156, Terry DeRouchey describes opportunities to work at the Crazy Horse Memorial in South Dakota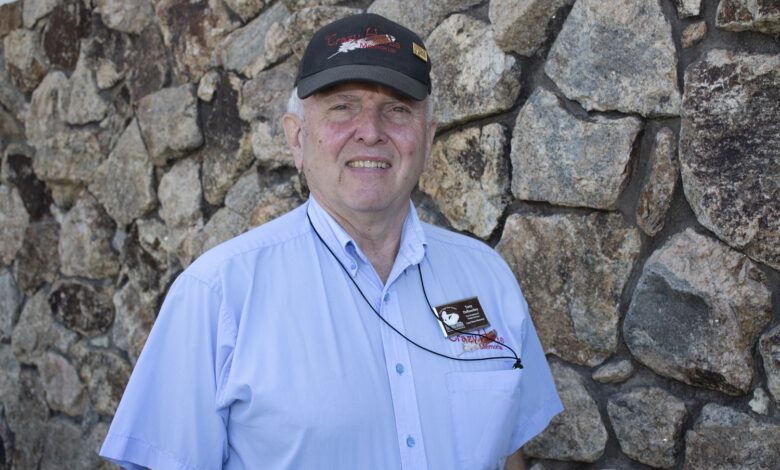 Podcast: Play in new window | Download | Embed
Subscribe: Google Podcasts | Spotify | TuneIn | RSS
Today I am interviewing someone from Crazy Horse Memorial who will talk about Workamping opportunities this summer in South Dakota.
Terry DeRouchey became the vice president of visitor services for Crazy Horse Memorial in 2015 and has been hiring Workampers every year since then.
The educational and humanitarian project doesn't accept government funding, so it is fully supported by missions and private donations. Yet the organization hires about three dozen Workampers annually and pays them starting at $15 per hour. They also receive a $550 bonus after 90 days and, if they fulfill their agreement, Workampers receive an end-of-season bonus amounting to 25 cents for every hour they worked.
A full-hookup RV site is provided for $6 per day plus tax; however Workampers enjoy a 25% discount at the restaurant and gift shop. They also receive a VIP card that gives them free or deeply discounted admission to many attractions and restaurants in the Black Hills and Badlands area.
Workampers serve as information booth attendants and help to host a laser light show every night. They also work as cultural center attendants, campground attendants, perform maintenance at the restaurant or work as cooks, waiters and waitresses, cashiers, dishwashers, and staff a gift shop. Some Workampers drive a bus that takes guests on tours of the operation.
Crazy Horse Memorial hires couples and solo Workampers who start work the first week of May and continue until weather forces the campground to close for the season sometime in October.
The primary focus of the site is the Crazy Horse monument of the famous Indian riding a horse. Started in 1948, it will be 563 feet tall by 641 feet wide when completed many years from now. That will make it 8 feet taller than the Washington Monument.
Hundreds of thousands of people visit the site every year to watch workers as they carve out the monument and to learn about Native American culture.
Terry is looking for dozens of positive and enthusiastic people to serve visitors coming to the site to admire the gigantic monument-in-the-making and to learn about Native American culture.
Workampers don't really require any special skills or training for the jobs other than being team players with a desire to help guests learn about Crazy Horse and the memorial's significance.
Terry is still looking for some Workampers to fill jobs this season. They can apply online by visiting www.crazyhorsememorial.org.
Once Terry receives the application, he forwards it the appropriate department head based on a Workamper's job preferences. If the manager still needs staff, Terry interviews the Workamper and makes the hiring decision. Then the human resources office sends a letter of agreement outlining the start and end days as well as the wage and bonuses.
Once Workampers arrive in May, they undergo orientation and on-the-job training for specific positions they were hired to perform.
Workampers who want their applications to stand out should do some preliminary research about Crazy Horse Memorial, its history and mission, and use that to describe why they want to work at the cultural site.
There are a lot of things for Workampers to do in that area when they aren't working. Mount Rushmore is only 13 miles away. There are several other national parks less than an hour away, and people can view bison at Custer State Park. There are a lot of historical and cultural attractions nearby as well as activities like horseback riding and visiting the movie set for Dances With Wolves.
People can learn about the now-extinct mammoths by visiting an excavation site where more than 60 skeletons of the giant beasts have been unearthed. Crazy Horse Memorial is only 45 minutes from Rapid City, which is a big city offering many shopping, dining and entertainment options.
For more information about Workamping opportunities at Crazy Horse Memorial, visit www.crazyhorsememorial.org.
If you're just exploring the RV lifestyle and Workamping options, consider enrolling in The Dreamer's Journey, a new online course produced by Workamper News. Life is way too short to keep your dreams on hold, so don't be held back by fear because you were designed for more!  Get started with the RV lifestyle the right way with this comprehensive guide.
For just $29.95 for one year of access, Dreamers have unlimited viewing of 50+ videos to learn things like what type of RV to buy, goal setting, how to budget for the adventure, developing a positive mindset, setting up a domicile, operating a small business on the road, plus all about Workamping and how to find the right job for you. Each video is 30-90 minutes long giving in-depth coverage on each topic.
There's no wrong time to get started.  For more information, visit www.rvdreamersjourney.com.
That's all I have for today's show. Next week, I'll be speaking with an employer from Alaska about Workamping opportunities to help other people enjoy a true wilderness adventure. I'll have details on the next episode of The Workamper Show. Thanks for listening.