Podcast Episodes
Episode 181 features Daniel Banks with Habitat For Humanity's RV Care-A-Vanners group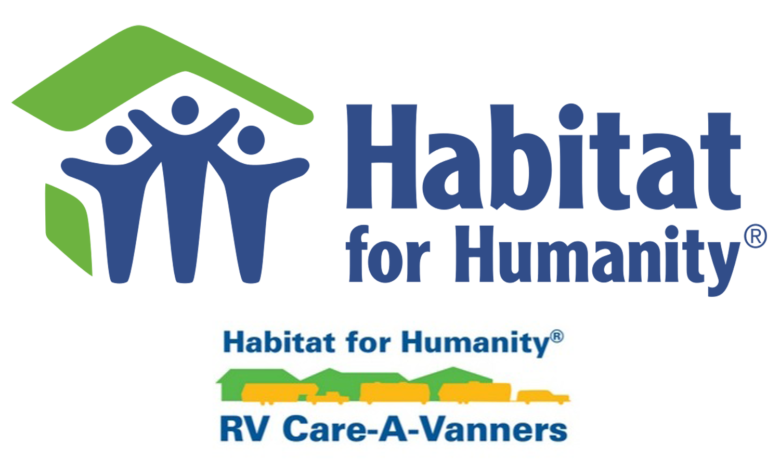 Podcast: Play in new window | Download
Subscribe: Google Podcasts | Spotify | Stitcher | TuneIn | RSS
This week I will be speaking with a man who is involved in the Habitat For Humanity RV Care-A-Vanners group. Their members travel in nearly every state helping to build lower-cost homes which people later buy.
Daniel Banks and his wife started building homes for Habitat For Humanity on weekends in 1993. They have been doing it as full-time RVers since they retired from their day jobs in 2008. They usually participate in two dozen home builds every year.
He said that one of the most popular misconceptions about Habitat For Humanity is that the group builds homes only to give them away. That's not true because people buy them at cost, but the cost is considerably lower than conventionally-built homes simply because most of the labor to build them is donated.
The cost for some of the materials used in construction may be covered by corporate partners or donated by local businesses. Many times, homebuyers also qualify for an interest-free mortgage. But, in all cases, the homes are sold, not given away, to private buyers.
To be eligible to buy a Habitat For Humanity home, people go through an application process where they not only demonstrate a need for a low-cost home, but must also prove they have the means to make monthly payments. The money generated from those payments is used to buy supplies to build other homes in a process of paying it forward.
Daniel said there are 1,200 Habitat For Humanity affiliates in the United States in communities of all sizes. While groups in larger cities often don't have any problem attracting volunteers to build homes, the RV Care-A-Vanners make a big difference by bringing volunteer labor to smaller communities.
RVers can visit the Care-A-Vanners website to see all the upcoming projects and the length of commitment needed to participate. Volunteers can sign up to work on any project anywhere as long as they are capable of honoring that commitment. The projects are short-term in nature where help is needed for a week or up to a month.
Many Care-A-Vanners are full-time RVers who take advantage of the free or low-cost RV sites volunteers receive for participating in the project. A few of the affiliate sites build so many homes that they have a continual need for volunteers, so they develop their own RV park to accommodate them.
Some volunteers stay in one area for a while so they can participate in multiple home builds. It's a good way to reduce RV expenses while still enjoying an opportunity to explore the area.
The Care-A-Vanners program was developed to appeal specifically to Workampers who enjoy working short-term gigs and moving on to other jobs or activities. Tools are provided for volunteers to use, although they are allowed to use their own tools as long as they are OSHA-approved.
Volunteers don't have to be experienced in any trade. They just show up at a scheduled job site and they'll be trained on what to do and how to do it. Yet, Daniel said people can learn valuable skills that they can later apply to a variety of maintenance and building projects of their own.
This is not a type of Extreme Makeover situation where a house is built from start to finish in a few days. The projects take weeks to complete. However, there are various stages in the building process where volunteers are needed to do specific things, and they can volunteer to help with only those stages. For example, some Care-A-Vanners may be used to frame a house and erect walls, while others will be used to shingle roofs and paint walls.
At most projects, Care-A-Vanners put in six-hour days for five days, then take a few days off and start all over again. In disaster areas, people may work longer hours and more days just because of the tremendous pressure to build homes. However, most projects are not as time sensitive.
There are always multiple people participating in one of the building projects. It's not as though a husband and wife show up by themselves and are expected to construct the building. Most job sites have eight or more Care-A-Vanners working at the same time.
For more information about Habitat For Humanity and the RV Care-A-Vanners program, people can visit www.habitat.org/rv. On that page, there is a link for people to view upcoming projects, the number of RV sites that are available and whether they or free or offered at a lower cost.
Volunteering to build houses is a wonderful way for Workampers to fill in a few weeks between job assignments or to simply help make the world a better place.
Today's episode is sponsored by Workamper News. With its Diamond and Platinum membership tools, Workamper News is much more than just a job-listing website. When you put the tools of this professional service into action, you'll find out just how easy it can be to turn your Workamping dreams into reality.
The one-year memberships open the door to a one-stop-shop for all-things Workamping. Being the original resource for Workamping, you'll find the largest number of job listings, be able to connect with a community of Workampers, and view resources compiled by experts who have been enjoying the RV lifestyle for many years.
If you're serious about leading a successful and enjoyable Workamping lifestyle, then a Diamond or Platinum membership is for you.  You can even get started with a free 30-day trial by visiting www.workamper.com/trial. Embark on new adventures today with the support of Workamper News behind you!