Podcast Episodes
Amalgamated Sugar staff describe beet harvest opportunities on Episode 182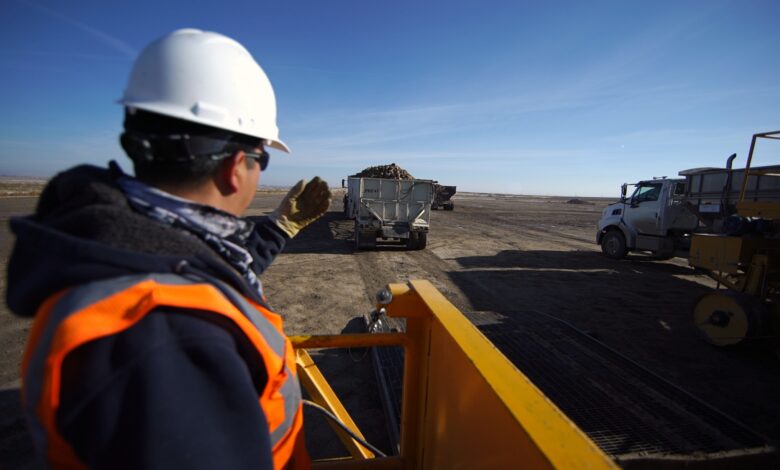 Podcast: Play in new window | Download
Subscribe: Google Podcasts | Spotify | Stitcher | TuneIn | RSS
Today I am speaking with two people from a company in the Pacific northwest which will hire a bunch of Workampers to help with its sugar beet harvest this fall.
Aaron Firth is a district manager for Amalgamated Sugar, which has locations primarily in southern Idaho, but also in Washington State and Oregon. He oversees growing the beets, their harvest and delivering beets to factories.
He is joined by Taren Hutchinson, a human resources specialist, who is responsible for hiring people to fill all the roles involved in various aspects of sugar beet production.
Harvest is a time when the company experiences a real time crunch to extract beets from the ground, bag them up and get them into storage so they can be delivered to factories later and transformed into sugar products. During fall months, the staff more than doubles in size starting in early August and continuing through the middle of November.
Workampers generally get involved starting in late September for harvesting operations taking place in October. They are not involved in extracting beets from the ground. Rather, Workampers help with activity near piling equipment by controlling traffic in the area, cleaning up, and taking samples from every truck load of beets arriving at the facility. All of that work takes place outdoors and often during daylight hours.
Some Workampers are hired to help in a quality control lab that measures beet samples for sugar content and other parameters. All that work is done indoors, and the lab facility is operating around the clock.
It's not difficult work, but it often requires a lot of standing. Workampers receive training for all the positions, but those who are applying with experience in harvesting operations tend to stand out. People who have experience operating skid steers and other heavy equipment are also needed.
This job is a way for Workampers to make some significant money relatively quickly. They generally average 60 hours of work per week by working 10- to 12-hour days Monday through Saturday. The minimum starting wage is $16.30 for the first 40 hours and overtime pay at time and a half after that.
Plus, if a Workamper has to drive more than 20 miles from their campsite to a piling station, the company gives them an additional 65 cents for every hour they work.
Amalgamated Sugar contracts with several campgrounds near their facilities to provide free full-hookup sites for Workampers. Some of the campgrounds will even fill an RV's propane tanks while the Workamper is on the job. RVers pay for the propane, of course, but they don't have to worry about working a full day and then trying to figure out how to fill their tanks when they get back to the RV.
The company typically hires 30 Workampers every year, but it's an especially tight labor market this year, so they may need to hire even more. Amalgamated Sugar is hiring right now for jobs starting in late September that will wrap up by the middle of November. However, the company has some flexibility to accommodate Workampers who may need to arrive a bit later or leave a bit earlier.
The area around Paul, Idaho, may appear to be isolated on a map, but there is a Walmart and other stores a few minutes away in Burley, Idaho, and even more options 30 miles away in Twin Falls. Both Boise, Idaho, and Salt Lake City, Utah are about two and a half hours away.
The area is well-known for its fishing and hiking. Craters of the Moon National Park is within driving distance.
For more information about the job or Amalgamated Sugar, visit amalsugar.com. To apply for one of the Workamper positions, email [email protected].
Aaron said Workampers can make between $1,300 and $1,500 per week, which would give them some nice spending money for Christmas or pay for some fun excursions over the winter. I encourage you to check out the opportunity soon because the firm is hiring people right now.
Today's episode is sponsored by Workamper News. With its Diamond and Platinum membership tools, Workamper News is much more than just a job-listing website. When you put the tools of this professional service into action, you'll find out just how easy it can be to turn your Workamping dreams into reality.
The one-year memberships open the door to a one-stop-shop for all-things Workamping. Being the original resource for Workamping, you'll find the largest number of job listings, be able to connect with a community of Workampers, and view resources compiled by experts who have been enjoying the RV lifestyle for many years.
If you're serious about leading a successful and enjoyable Workamping lifestyle, then a Diamond or Platinum membership is for you.  You can even get started with a free 30-day trial by visiting www.workamper.com/trial. Embark on new adventures today with the support of Workamper News behind you!
That's all I have for this week's show. Next week, I'm speaking with a Workamper who makes a living on the road by helping small businesses manage their social media advertising. I'll have that interview on the next episode of The Workamper Show.
Note: I apologize in advance for the slight echo that appears on my end during the interview. A tech challenge required me to record it on Zoom rather than using my typical podcasting equipment.