Podcast Episodes
David Story from Alaska Wildland Adventures describes a way to enjoy a very memorable summer in Episode 157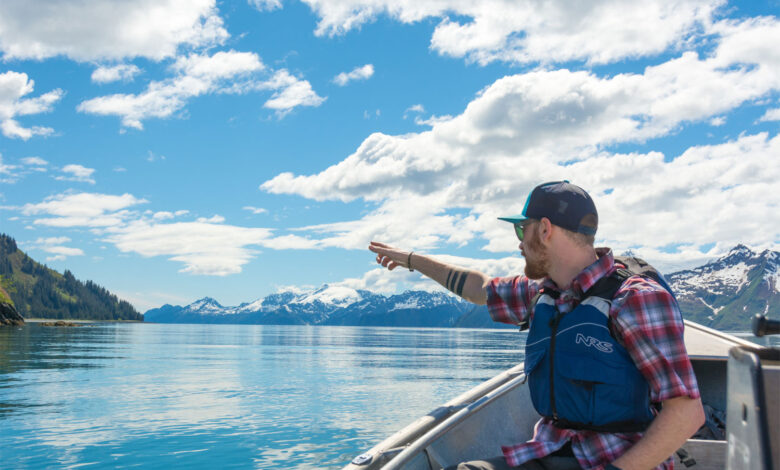 Podcast: Play in new window | Download
Subscribe: Google Podcasts | Spotify | Stitcher | TuneIn | RSS
Today I am interviewing an employer from Alaska who is looking for adventurous people to help others enjoy an adventure of their lifetime.
David Story is the operations manager for Cooper Landing, one of several locations maintained by Alaska Wildland Adventures. The company specializes in providing travel experiences for small groups of people visiting Alaska. They stay in one of the company's three lodges located on the Kenai Peninsula.
It's an all-inclusive experience for guests on trips ranging up to 12 days. The staff at Alaska Wildland Adventures take care of all the details a guest requires, like lodging, food and transportation, so they can simply have a good time enjoying a variety of activities. Guests have options to relax at the lodges or go on fully-guided kayaking, rafting and hiking excursions. There are also some sport-fishing opportunities available.
The staff lead people on multi-day, multi-activity trips. It's primarily lodge-based travel, meaning that the lodges serve as a starting base for all kinds of adventures. They are located in some very pristine areas. For example, the Kenai Riverside Lodge is the only one located near a road. The others are located in the Kenai National Wildlife Refuge or the Kenai Fjords National Park and are only accessible by boat.
The company only employs 13 year-round staff members, so David hires about 100 people every year to serve as housekeepers, food servers, shuttle drivers, maintenance workers, and even boat captains and raft guides. The company also needs course guides to describe the area and point out wildlife and landmarks to guests.
The season for Workampers generally begins in mid-May and runs through mid-September. The company tries to limit work hours to 40 a week so they have a paycheck they can count on as well as a weekend they can count on to truly experience all that Alaska has to offer. In fact, Workampers usually have the same two days consecutive days off every week so they can plan their own adventures.
Alaska Wildland Adventures hires couples as well as solo Workampers. All the jobs are paid starting at $15 per hour. Best of all, food is provided. David said the company wants staff to concentrate on providing exceptional guest service.
There is plenty to do when Workampers are off the clock. For example, they can borrow one of the company's drift boats and head down the river to "fill the freezer" with sockeye salmon or just enjoy an outdoor experience.
Unless the Workampers are engaged in highly-technical jobs, such as maintenance, or require special licensing, such as boat captains, most jobs require nothing more than a good attitude and a desire to work in a communal camp environment. He said being a good person who is willing to lift others up before themselves is probably the most important quality the company is looking for in any staff member.
The other important trait for Workampers is flexibility. Being an outdoor-oriented company, changing weather can force itinerary changes at any time and that requires staff and guests to respond accordingly. For example, if a storm is predicted, a planned excursion might need to be cut short or postponed with a different activity taking place that day.
Alaska Wildland Adventures schedules a two-week training period early in the season for Workampers to learn their specific jobs and understand how everyone is expected to work together to deliver a memorable guest experience.
The company starts recruiting for Workampers early in the new year, so people who want to take advantage of this unique opportunity should submit an application soon. The first step is to visit www.alaskawildland.com and look for the employment tab. There are instructions on that page about how to submit and application and information about any open positions.
Those Workampers who are flexible and willing to jump in to help out wherever they're needed will really stand out in the application process. Some of the jobs are entry-level positions, so people who have never been to Alaska can get their feet wet before jumping into more challenging jobs.
All RVers will work out of Cooper Landing. There is a combination general store and grocery in that community. But, larger stores are about an hour away while Anchorage is about two hours away. Don't forget, Alaska Wildland Adventures provides food for Workampers. In fact, David said the food is so delicious and plentiful that many people may gain a few pounds.
For more information about Alaska Wildland Adventures, visit www.alaskawildland.com.
Today's episode is sponsored by Workamper News. With its Diamond and Platinum membership tools, Workamper News is much more than just a job-listing website. When you put the tools of this professional service into action, you'll find out just how easy it can be to turn your Workamping dreams into reality.
The one-year memberships open the door to a one-stop-shop for all-things Workamping. Being the original resource for Workamping, you'll find the largest number of job listings, be able to connect with a community of Workampers, and view resources compiled by experts who have been enjoying the RV lifestyle for many years.
If you're serious about leading a successful and enjoyable Workamping lifestyle, then a Diamond or Platinum membership is for you.  You can even get started with a free 30-day trial by visiting www.workamper.com/trial. Embark on new adventures today with the support of Workamper News behind you!
That's all I have for this week's show. Next week, I'll be talking with a different employer who is hiring Workampers for several locations in the western part of America. I'll share those details on the next episode of The Workamper Show.