Podcast Episodes
In Episode 154, Adrian Mudd describes opportunities to work in New York at Six Flags Darien Lake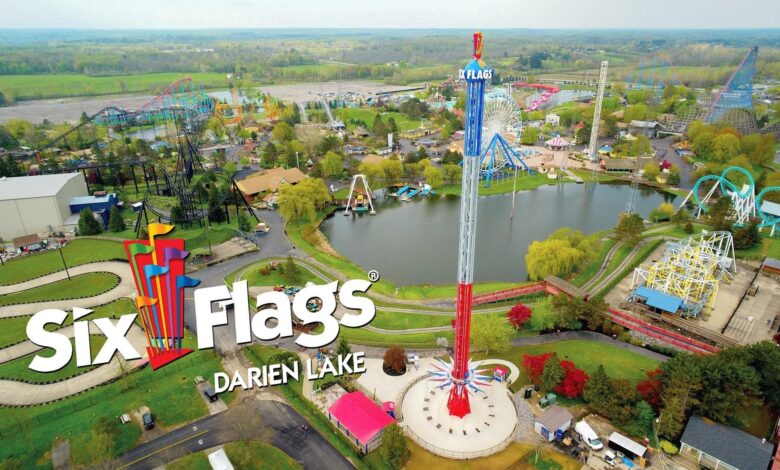 Podcast: Play in new window | Download | Embed
Subscribe: Google Podcasts | Spotify | Stitcher | TuneIn | RSS
Today I will speak with a representative from Six Flags Darien Lake, which is an amusement park, water park, hotel, campground and amphitheater located in western New York state.
Adrian Mudd is a human resources supervisor for Six Flags Darien Lake. He has been with the company for almost five years and oversees the park's on-site work programs that recruit Workampers and international students to spend a season performing a variety of jobs.
Six Flags needs ride operators, food and beverage workers, people to sell tickets and work at the front gates, staff retail stores, run games and provide other support services, such as cleaning the park. At the hotel and campground, the park needs front desk staff to check guests in an out, and also to serve as housekeepers, groundskeepers and camp hosts.
There are 60 RV sites set aside for use by Workampers, so Adrian is hoping to hire between 100 and 120 people this coming season. The jobs are open to couples, solo Workampers and teenagers traveling with their parents.
Workampers are expected to put in at least 35 hours per week and they are paid for every hour starting at $15 per hour. Overtime is sometimes available at a time-and-a-half rate.
Six Flags Darien Lake has been using Workampers since 2014 and the park has regularly expanded the number of opportunities available to Workampers every year since then. Adrian likes using Workampers because they are a tremendous help in getting the park ready for the season and they can work when traditional high school and college-age employees are not available because they're either in class or heading back to school.
Adrian likes employing older Workampers because they often have an interesting work history and lots of experience. Consequently, they tend to serve as mentors for younger folks. In fact, he said some of the younger workers return for several years just because they want to work with specific Workampers. Last year, employees ranged from 14 all the way to 94 years of age.
Adrian is hiring people now to work this season. The park opens on May 6th, but only on Fridays, Saturdays and Sundays until late June when schools are out for the summer break. Then, the park is open seven days a week until Labor Day, when it scales back to weekends once again until the end of October. At that time, the park hosts a super-fun Freight Fest event for Halloween to close out the season.
This is an ideal opportunity for Workampers because, for six weeks in the spring and again in the fall, they only need to work weekends when the park is open. That gives them plenty of time to explore the region, which includes Niagara Falls, which is an hour away, and the gorgeous Finger Lakes region, which is about two hours east.
Cleveland, Ohio, is about three and a half hours away and there are a lot of big museums in that city. If you want to experience a different culture, Toronto is only two and a half hours away. Western New York is a night-to-day difference between the busyness of the big cities of eastern New York, like New York City. And don't forget about Lake Ontario and Lake Erie because there are a lot of coastal or water-related things to do around those Great Lakes.
But, you don't even have to travel far to have fun because Workampers get free admission to Six Flags Darien Lake, and there is enough going on at the park to keep them busy in the summer when they don't have as much time off.
A big attraction at the park is the Ride of Steel, which is 208 feet tall and reaches speeds up to 75 miles per hour. There are dozens of other rides to enjoy as well as live shows, concerts, restaurants and a full-size water park. There you can enjoy wet-and-wild tube rides, a wave pool or simply float along a lazy river.
Either way, there are plenty of things to do when Workamping at Six Flags Darien Lake. To apply, visit www.sixflagsjobs.com and click on Darien Lake. There is information on that site about all the jobs available this summer. You can also complete an online job application.
Anyone attending the Tampa RV Supershow Jan. 18 to 23 will be able to speak with Adrian and some other Workampers who have spent a season at Six Flags Darien Lake.
I encourage you to check out the website and get an application in early so you can enjoy a fun summer helping others enjoy their time off.
Today's episode is sponsored by The Dreamer's Journey, it is an online course and community produced by Workamper News. Life is way too short to keep your dreams on hold, so don't be held back by fear because you were designed for more!  Get started in the RV lifestyle the right way with this comprehensive guide.
For just $29.95 for one year of access, Dreamers have unlimited viewing of 50-plus videos to learn things like what type of RV to buy, goal setting, how to budget for the adventure, developing a positive mindset, setting up a domicile and operating a small business on the road, plus everything about Workamping and how to find the right job for you. Each video is 30-90 minutes long to give in-depth coverage on each topic.
There's no wrong time to get started.  For more information, visit www.rvdreamersjourney.com.
That's all I have for this week's show. Next week, I'll be speaking to a health coach who is a full-time RVer about things to do in order to eat healthy and stay healthy while traveling. It will help us kick off some healthy habits in the new year. I'll have that interview on the next episode of The Workamper Show. Thanks for listening!