Podcast Episodes
In Episode 195, Roland Friedl describes his experiences RVing around Europe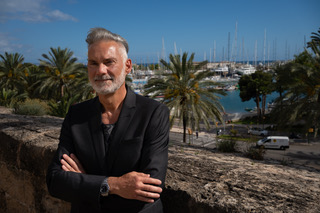 Podcast: Play in new window | Download
Subscribe: Google Podcasts | Spotify | Stitcher | TuneIn | RSS
Today I will be speaking with a gentleman who is traveling all over Europe while he runs his business from the road.
When I caught up with Roland Friedl, he was parked in western Spain in the community where he attended college more than 30 years ago.
This spring, he moved full-time into his motorhome, or caravan as they call them in Europe. Prior to that, he had only used the caravan for vacations, but opted to go full-time in April. Roland travels with his dog and cat in what appears to be a Class C motorhome.
He can do his business anywhere he has electricity and an internet connection. Roland produces television shows online and also serves as a consultant and coach.
For the past 14 years, Roland had been living on an island in Spain. He has always traveled extensively for work and sometimes he would be gone for six to eight weeks at a time. But, he always missed his dog. This year, he decided to take his pets with him on his travels.
So far, Roland has traveled through the southern part of France as well as Poland, Portugal and Austria on his way back to Spain. From there, he plans to visit Italy and the Balkan peninsula.
Like many Americans, Roland loves traveling in his caravan because of the flexibility it offers. For example, he did not plan to visit France this year. However, he was very close on one of his trips, so he stopped to visit for a few days and wound up spending several weeks.
He loves the community that develops around campgrounds. Roland loves to cook for other RVers and they often invite him over for meals, too.
It has to be very different to travel through Europe. The countries are so close together than traveling between them is often as easy as driving from state to state. However, the cultures are vastly different from one country to the next.
Fortunately, many of the countries have adopted English as sort of a common language and changes to the European Union have virtually eliminated borders between the countries. Norway still has some special restrictions, but all member countries of the European Union has opened their borders to citizens of those nations. Ironically, the only passports are needed by animals, which includes vaccination dates and health status.
Roland admitted to having some challenges on his journey, especially when his engine had mechanical problems. Fixing his motorhome was difficult because repair centers are generally located only in larger cities. Internet connections are relatively good because many of the countries have built their networks from scratch.
Because the RVs or caravans are smaller in Europe than they are in America, generally people have more places to park, especially on public lands. However, many private property owners are willing to allow RVers to boondock for a night on their land so long as they don't require any services, like electricity or water, and they take their trash with them. It's also frowned upon to turn a boondocking site into a campsite by setting out chairs and firing up a barbecue grill.
I enjoyed interviewing Roland because he offered a different perspective on RVing in a foreign country. He said that it's possible to rent RVs in Europe for a few weeks or even a few months. So, American RVers looking or a unique experience, might consider spending time overseas.
However, there is not a network of Workampers in Europe, so you'd have to be financially self-sufficient to make it work. There are several companies offering rental RVs in Europe. Simply search online for "rent RV in Europe" for more information.
For people who want to connect with him, Roland's email address is [email protected]
Today's episode is sponsored by Workamper News. With its Diamond and Platinum membership tools, Workamper News is much more than just a job-listing website. When you put the tools of this professional service into action, you'll find out just how easy it can be to turn your Workamping dreams into reality.
The one-year memberships open the door to a one-stop-shop for all-things Workamping. Being the original resource for Workamping, you'll find the largest number of job listings, be able to connect with a community of Workampers, and view resources compiled by experts who have been enjoying the RV lifestyle for many years.
If you're serious about leading a successful and enjoyable Workamping lifestyle, then a Diamond or Platinum membership is for you.  You can even get started with a free 30-day trial by visiting www.workamper.com/trial. Embark on new adventures today with the support of Workamper News behind you!
That's all I have for this week's show. If you have a story about your Workamping experience that you'd like to share, I'd be happy to schedule an interview. Send me an email at [email protected]. Thanks for tuning in to today's episode of The Workamper Show.