Podcast Episodes
Trish Parker with Digi-Key describes an immediate need for 300 Workampers in western Minnesota for a moving project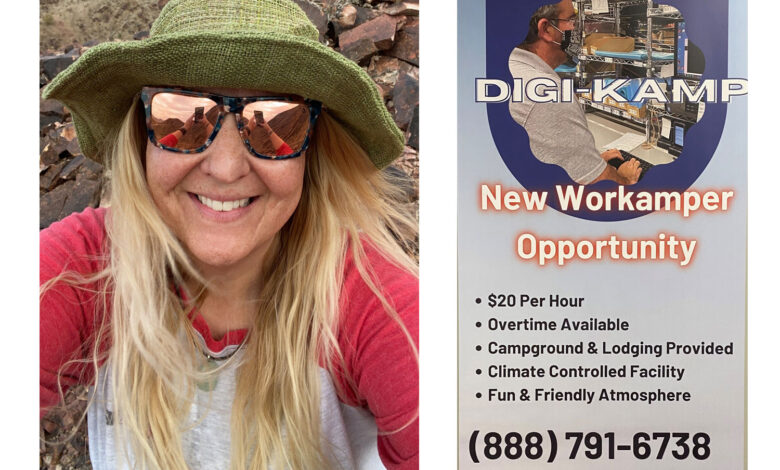 Podcast: Play in new window | Download
Subscribe: Google Podcasts | Spotify | Stitcher | TuneIn | RSS
I closed last week's show by saying I'd be interviewing a Workamper this week who produces curriculum from her RV, but I'll need to change that up because there is an immediate need for 300 Workampers to work on a moving project in Minnesota.
Trish Parker works for Express Professionals in Grand Forks, N.D. One of their clients, Digi-Key, is moving into a new location in Thief River Falls, Minn., which is about an hour east of Grand Forks. The company is a world-class electronics distribution company.
Workampers are needed to help move existing inventory to a new climate-controlled product distribution center down the road from the current location. Using handheld scanners, they'll be tracking inventory from its current spaces to the new storage areas. They'll be working overnight, but the pay is really good.
Workampers need the ability to stand for eight to 10 hours per shift and occasionally lift at least 35 pounds. Plus, they'll be moving frequently while working.
They are paid $20 per hour to work from 8:30 p.m. to 5 a.m. All their lodging is paid for, too. Because Digi-Key needs at least 300 people to help with this project, the company is opening the opportunity not only to RVers who can stay in local campgrounds, but to anyone else who can stay in a local hotel.
Workampers will need to make a three-month commitment, but they do have the option to extend beyond that. In fact, Express Professionals will hire a bunch of Workampers to help with the sugar beet harvest this fall. So, it's possible for people to spend the summer working for Digi-Key and continue working this fall to harvest beets.
Trish is hiring people right now to start within a few weeks. People can choose to start on April 4, April 18 and May 2.
Workampers have to undergo quite a bit of training before they can start their jobs. After all, it's essential that the right products be moved to the right bins in the new facility.
People can choose to work from Monday through Friday or from Sunday to Thursday. The good news is they have the same two days off every week. Overtime hours are available. So, this is an excellent opportunity to make a significant amount of income in a relatively short time.
Workampers will need basic computer and typing skills, and they'll need to pass a background check. They should also enjoy working with people of different ages and backgrounds.
There are a lot of things to do in that part of the country when you're not working. There are many nearby lakes for fishing, boating and paddlesports. Winnipeg, Manitoba, is less than three hours away, and Fargo, N.D., is about two hours south. Summertime in Minnesota is fun because of all the small-town festivals, fairs and concerts that take place.
More information is available at www.theunbeetableexperience.com/dk, including a webinar conducted for Workamper News that you can listen to online. You can also fill out an application, which I encourage you to do right away because the hiring window will close soon.
Today's episode is sponsored by The Dreamer's Journey, it is an online course and community produced by Workamper News. Life is way too short to keep your dreams on hold, so don't be held back by fear because you were designed for more!  Get started in the RV lifestyle the right way with this comprehensive guide.
For just $29.95 for one year of access, Dreamers have unlimited viewing of 50-plus videos to learn things like what type of RV to buy, goal setting, how to budget for the adventure, developing a positive mindset, setting up a domicile and operating a small business on the road, plus everything about Workamping and how to find the right job for you. Each video is 30-90 minutes long to give in-depth coverage on each topic.
There's no wrong time to get started.  For more information, visit www.rvdreamersjourney.com.
That's all I have for this week. Next week, I'll be talking with an employer in South Dakota who has immediate openings for people with construction experience to work on a project to build an entire community out of an old Army base. I'll have more details on the next episode of The Workamper Show. Thank you for listening.