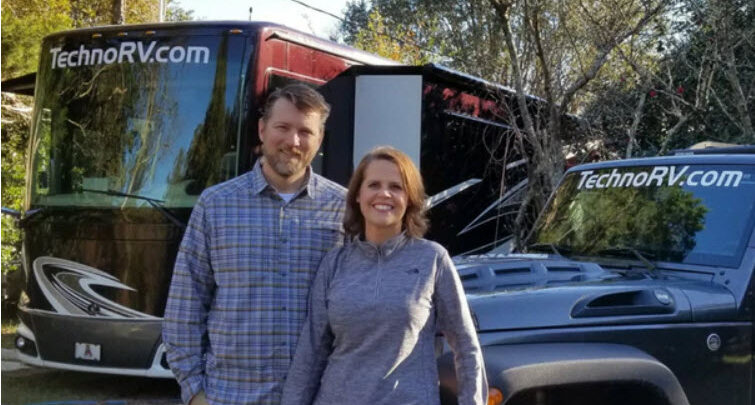 Podcast: Play in new window | Download
Subscribe: Google Podcasts | Spotify | Stitcher | TuneIn | RSS
A lot of people seek to become workampers when they decide to pursue the RV lifestyle. But, some people start businesses while others figure out ways to bring a current business with them.
Eric and Tami Johnson opted to buy an existing business, and use that to finance their travel dreams. They still qualify as workampers because they are living and working from their RVs.
They explain why buying an existing business was the best choice for them because they knew it would provide cash flow from Day One.
They own an online retail business, but describe how they manage a staff and maintain a warehouse of products from wherever they are that day. They talk about some of the challenges in running a business from the road, and how they overcame those challenges.
The Johnsons describe TechnoRV and the ways it can help new and experienced RVers by educating people on various categories of products while providing reviews of specific items. They even recommend a few of their favorite essential products.
People love technology, but they are often confused by the various products and they don't fully understand how to take full advantage of all the features and benefits those products offer.
Plus, people are often confused about why one product may cost significantly more than the much less expensive knock off.
That's where TechnoRV becomes a very valuable ally in enjoying the RV lifestyle. Eric and Tami can explain how the products work and why one product is better than another for doing what you'd expect it to perform.
In this interview, the Johnsons opened my eyes to the advantages of buying an existing business rather than starting a new one. Eric was right in explaining that it was much easier to maintain a business that was already in motion vs. trying to get a new business in motion.
Their advice on promoting a business was helpful, as were their suggestions for overcoming challenges in ordering and shipping products, managing staff and handling day-to-day tasks like banking and mail.
For more information about the Johnsons and their company, visit www.technorv.com.
Whether it is running a business from your RV or working short-term jobs for a variety of employers, Workamper News can give you information to help plan a course to live your own dream and get you on the road faster than you thought possible.
For more information about opportunities to live, work and play in your RV, visit www.workampernews.com.