Podcast Episodes
Podcast host Greg Gerber describes his own Workamping experiences from 2014 to 2017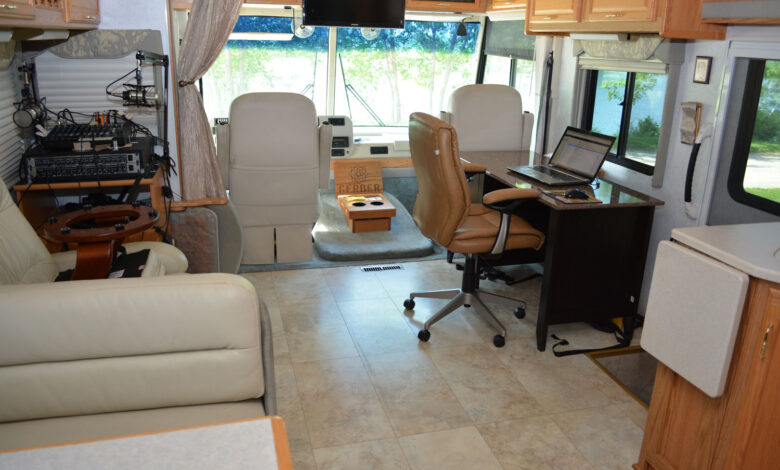 Podcast: Play in new window | Download | Embed
Subscribe: Google Podcasts | Spotify | Stitcher | TuneIn | RSS
Today, we're going to turn the tables a bit and I'm going to be interviewed about my experience as a Workamper.
I was living in Arizona in 2014 when I was working as the editor of a now-defunct online news platform called RV Daily Report. When attending the Quartzsite RV show in January that year, I bumped into two big-time advocates for Workamping and the RV lifestyle.
John and Kathy Huggins, founders of Living the RV Dream, were also attending the Quartzsite show the same day I was there. I had arranged to interview them about their platform and how they got involved in RVing. After the interview was completed, they asked me two questions:
Why didn't I have a podcast of my own?
Why wasn't I living and working out of an RV?
Two months later, I had both. I was living full-time in a Winnebago motorhome and I had launched a podcast called RV Industry News, for which I was traveling around the nation interviewing RV dealers, manufacturers, suppliers, campground owners and RVers themselves.
In doing so, I had become a Workamper.
For this special episode of The Workamper Show, the owners of Workamper.com, Jody and Luke Duquette, interview me about my own experiences and how I became connected to their organization. Here's the interview recorded a few weeks ago when I was visiting the Workamper office in Heber Springs, Ark.
It seems rather silly to thank myself for being a guest on a show I have hosted for almost four years. So I'll say I was thankful of the opportunity to share my story with other Workampers.
There are a few takeaways from my own experience.
First, despite the Workamper movement being 36 years old, many people still don't understand what Workamping is all about. I was an influential editor of a major RV industry news publication and I still wasn't sure until I encountered John and Kathy Huggins at an RV rally.
In fact, although I had published press releases from Workamper News for 14 years, I didn't meet anyone from the organization until I was Workamping myself. When Workampers describe their experiences with others who are involved in or interested in learning about the RV lifestyle, that's how Workamping continues to grow.
The second takeaway is that people think Workamping only involves working at campgrounds in exchange for a free RV site. While that may have been the case when Workamper News started in 1987, the advancement of laptop computers and, more importantly, cellular internet service, has opened the door to many, many more Workamping opportunities.
We define Workamping as doing any type of work while living in an RV. That includes paid jobs as well as volunteer gigs. Many people today operate businesses of their own from an RV while experiencing a variety of cultures, historic places and scenic areas.
Personally, I think Workamper News has done more than any other company or RV industry advertising campaign to drive down the average age of RV ownership. For generations, many people have dreamed of owning an RV and traveling around the country "someday" when they retire. When I started working in the RV industry as a journalist, the average age of first ownership experience was 65.
Thanks to making short-term jobs available to thousands of RVers, more people than ever are opting to embrace the RV lifestyle while they are still young enough to truly enjoy everything the experience has to offer.
It was fun being interviewed about my own experiences on a podcast I typically host. I appreciate Jody and Luke Duquette for coming up with the idea.
Today's episode is brought to you by Workamper News. Since 1987, they've been helping businesses of all types find and recruit Workampers, who serve in a variety of positions around the country to help further the mission of great businesses like yours.
When you become an employer member at Workamper.com, you'll have access to resources and support to help you develop and implement your Workamper-recruiting strategy.
In today's market, it is more challenging than ever to keep a flow of applicants coming in. Workamper News recommends advertising your current and future Workamper job openings frequently throughout the year, as well as scheduling some time to regularly search the Workamper Resume Database because new Workampers are joining daily.
Workampers like to plan many months ahead, so now is the time to take action to begin developing your Workamper team. You can earn more and download a quick-start guide for employers at www.workamper.com/employer.
That's all for this week's show. Next week, we will be talking about the features and benefits of Workamper membership. If you'd like to share your own experiences as a Workamper, I'd be happy to interview you. Just send me a message at [email protected] to get it set up. I hope you're enjoying a great start to your summer RVing experiences. Thanks for listening!