Podcast Episodes
Jill & Randy Shepard describe how full-time RVing helps their relationship and saves her company money in Episode 132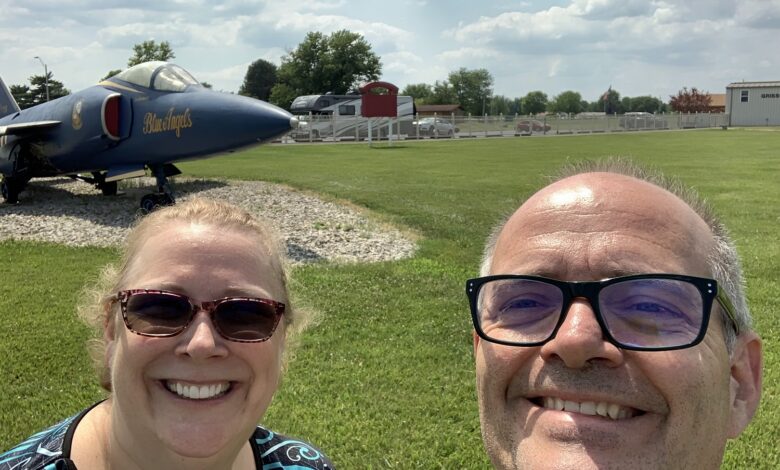 Podcast: Play in new window | Download
Subscribe: Google Podcasts | Spotify | Stitcher | TuneIn | RSS
In this episode, we interview a couple from North Carolina. He is semi-retired, but she is still actively working for a company. In fact, she encouraged the firm to let her go RVing full time as a way to save money and time.
Jill and Randy Shepard are from Raleigh, NC, which is their domicile state. They have been RVing for a little over a year after having started out of necessity during the COVID lockdowns.
They had been looking for a specific RV for quite some time when Jill was notified on Easter Sunday that a rig she liked was for sale at a price she wanted.
They opted for a Class C motorhome because the Class Bs were too small for what they wanted to do as full-time RVers and Class As were too big.
They found a unit with upgraded leather furniture and automatic levelers. So they booked a flight to California, picked up the RV in the dark, tried spending their first night in a Walmart parking lot and then made their way to Raleigh via St. Louis.
Jill works in a sales position for Senior Living, a company with 120 locations around the country which provides care and housing for seasoned citizens. She is assigned to work at 14 of those locations where she remains onsite for 10 days in a row, then has four days off and repeats the cycle.
The company gives her a stipend that helps pay for her RV site and food every day. She opened the company's eyes to how cost-effective and efficient living in an RV would be for the type of work she was doing. The company contemplated the idea and eventually agreed.
It costs the firm far less money to pay for some of the RV expenses than it would cost to pay for airline tickets, hotels, rental cars and restaurant meals.
Although Randy is semi-retired, he works as Jill's chauffeur driving her from location to location around the country. His mission is to support her by having dinner ready and keeping the RV in top-top shape.
He also plans all the travel, including selecting routes and finding campsites along the way as well as one to stay at for a few weeks when they arrive at their new destination.
Randy admits he was very hesitant about the idea at first and it took him more than a year to even go to an RV show to look at units. He explains what finally convinced him to jump into the RV lifestyle.
Randy has videotaped several of their adventures, especially the times they've spent staying at Harvest Hosts sites.
Jill was really smart to pitch the cost-saving aspects of staying in an RV full-time to her employer. She estimates that even by paying her a stipend for food and campgrounds in order to stay in an RV, she saves the company $2,000 per month. Plus, she and Randy get to see each other every day rather than four days every two weeks.
For them, RVing full-time has been a lifesaver in maintaining a great relationship and it allows Jill to go "home" so she can get a good rest in order to be sharp and effective at work the next day. She can focus her time on getting things done rather than worrying about the logistics for her next trip.
There has never been a better time for disciplined, self-motivated workers to do their jobs anywhere they wish to travel as long as they have a laptop, electricity and internet connection. RVing makes working remotely much more fun.
Randy and Jill like to plot out their trips so they are driving no more than 350 miles a day and they're often off the road by 3:30 in the afternoon. That's a reasonable distance so they can arrive early enough at their new location to have a few hours to unwind and check out the area.
I have talked to many full-time RVers, like Jill and Randy, who really enjoy staying at Harvest Hosts locations when they are moving from Point A to Point B. They seem to enjoy the time they have spent at Harvest Host locations they've visited. You can check out some of the videos Randy has produced by going to YouTube and searching for DJ Cycle Path.
I wish the Shepards the best of luck as they crisscross the country having fun while Jill provides a valuable and important service for Senior Living.
Not everyone needs a job to be able to work out of an RV. You can own your own business, too. The Small Business RVer School is a course, developed by the co-creator of The National RV Training Academy, designed specifically for entrepreneurs on the move. It helps them build a business they can run anytime from anywhere.
The self-directed course helps you be your own boss while reducing stress and saving on taxes. Through a series of online videos and monthly calls, you are taught the steps necessary to build and manage a successful mobile business.
Life is too short. So, choose what you want to do and when you want to do it by starting a business of your own.
For more information, visit www.smallbizrver.com.