Podcast Episodes
Leah Moskovitz describes Workamping opportunities at Cherry Republic in Episode 117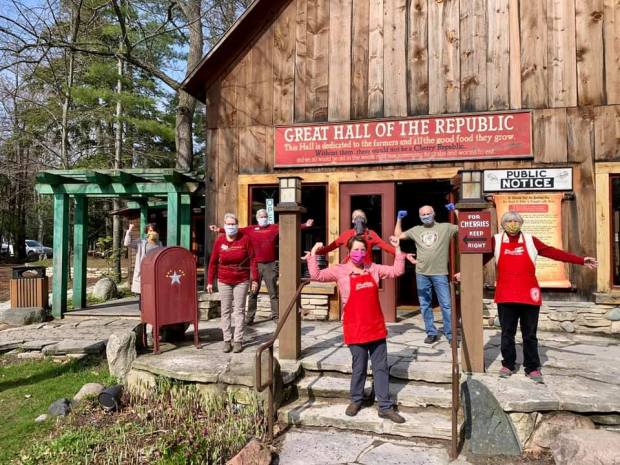 Podcast: Play in new window | Download
Subscribe: Google Podcasts | Spotify | Stitcher | TuneIn | RSS
Today I will be speaking with an employer from the great state of Michigan who is planning to expand the company's Workamper program in 2022.
Leah Moskovitz is the workgroups and housing supervisor at Cherry Republic, a company that sells just about anything related to cherries, those delicious fruits Leah refers to as "ruby red morsels of joy."
The company is headquartered in Glen Arbor, Mich., which is in the far northwest corner of lower Michigan along the shores of Lake Michigan. It is one of the prettiest areas in the Midwest.
Cherry Republic operates six retail stores throughout Michigan, but hires 10 Workampers for its headquarters campus which is also home to the packing and distribution center.
Not only does the company sell cherries, but it also sells foods made with cherries, such as salsa, chocolate covered cherries, gummies, candy, soda, barbecue sauce, jams, pies and, of course, cherry wine. Cherry Republic staffs a Public House restaurant in Glen Arbor.
Workampers are utilized in the retail store, but also to serve samples or full glasses of wine to guests. In the distribution center, they assemble and label products before packing them for shipping. The company has employed Workampers for three years but will be expanding the job opportunities next year to include working at the retail center in Traverse City, Mich.
Workampers stay at the nearby Indigo Bluffs RV Park and Resort, which is about 10 minutes from the Cherry Republic campus. The RV site is included in the compensation, and Workampers earn $10 per hour for every hour they work, which is generally 32 to 40 hours a week.
The season starts in late April and continues through the end of October.
It sounds like a fun opportunity for free-spirited people who are self-driven go-getters and who would love to share the joys of northern Michigan.
The company will begin recruiting for the 2022 season this October. Retail experience is helpful, but not required. Leah prefers hiring people who like to have fun helping other people have fun on their vacations.
Workampers will work hard, but have ample opportunity to play hard, too. Kayaking along the Crystal River is a favorite activity as is playing along the dunes where people can enjoy short, easy walks along the beach or more challenging day hikes.
Michigan Hwy. 119 is one of the prettiest drives in America as it follows the Lake Michigan shoreline along a 16-mile scenic road through what is called the Tunnel of Trees. It's a great route for biking, too.
There are dozens of wineries scattered throughout that region of Michigan as well as a number of farmers markets. Many local restaurants serve fresh farm-to-table food with menus changing throughout the season as produce is harvested.
The National Cherry Festival takes place around Independence Day in Traverse City and the annual film festival starts a few weeks later.
Historic Mackinaw Island is located only three hours away and requires driving across the famous Mackinaw Bridge, a five-mile suspended bridge which is the fifth largest of its kind in the world. From there, Sault Saint Marie is only an hour further north, which is a point-of-entry to Ontario, Canada.
I really liked Leah's advice on how Workampers can stand out with their applications. They should do a little research on Cherry Republic. Then, when submitting a resume, include a note describing something they found interesting from the company's website, catalogs or the orchard reports. Workampers should use that information to explain why they would like to work for the company.
People can apply for a job by visiting www.cherryrepublic.com.
Today's episode is sponsored by The Dreamer's Journey, a new online course and community produced by Workamper News. Life is way too short to keep your dreams on hold, so don't be held back by fear because you were designed for more!  Get started with the RV lifestyle the right way with this comprehensive guide.
For just $29.95 for 90 days access, Dreamers have unlimited viewing of 50+ videos to learn things like what type of RV to buy, goal setting, how to budget for the adventure, developing a positive mindset, setting up a domicile, operating a small business on the road, plus all about Workamping and how to find the right job for you. Each video is 30-90 minutes long giving in-depth coverage on each topic.
There's no wrong time to get started.  For more information, visit www.rvdreamersjourney.com.