Podcast Episodes
Episode 061 features a Workamping opportunity at Camp Riverview in Texas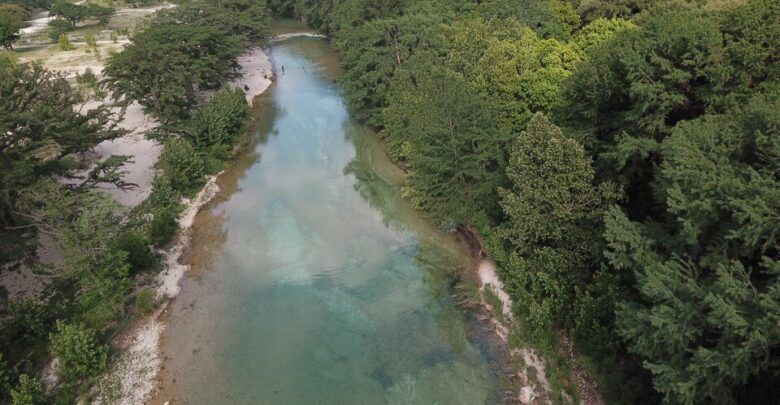 Podcast: Play in new window | Download | Embed
Subscribe: Google Podcasts | Spotify | Stitcher | TuneIn | RSS
Today we will talk with a group of folks from Texas who are looking for Workampers to help with their adventure campground near San Antonio.
Mike and Melissa Cummings own Camp Riverview along the Frio River, which is a very popular destination for river tubing excursions. They are joined by Brian and Tina Bourgeois, who manage the camp.
The campground is located in Concan, about 90 miles west of San Antonio, in the beautiful hill country of Texas. There are 75 campsites and 23 cabins to maintain.
The river is a spring-fed, shallow waterway that isn't really deep enough for boating, but it is ideal for fishing and gently floating down the river on giant inflatable tubes.
The campground needs Workampers this summer to help process reservations, check guests in and out, operate the camp store, and perform outside work as well.  They will also assist guests with arts and crafts, hayrides and laser tag in addition to the water activities.
Bilingual Workampers are especially welcome.
Camp Riverview is open all year. During the winter months, Workampers with specialty trades are needed to help with various projects. During the summer, they are mostly focused on serving customers.
The season officially kicks off around Memorial Day and continues through Labor Day; however, the campground attracts a decent crowd during the shoulder seasons.
There are lots of things for people to do in their time off. Bird watching is popular because the campground is located along a big migration route, but hunting and fishing are also popular. Since it's only 90 miles away, visiting the historic sites and unique San Antonio Riverwalk is also a fun thing to do.
Working at Camp Riverview in Concan, Texas, sounds like a spectacular way to spend the summer in one of the prettiest parts of Texas.
These full-time paid positions involve interacting with guests as they have a great time relaxing on the river. But, there are opportunities for people with construction-related skills to help out during the shoulder seasons and winter months.
If you are bilingual in English and Spanish, that would be a real plus for getting the job.
It's a relatively small campground, so it is easy to help people have lots of fun. In addition to tubing, hayrides and laser tag, there is a variety of things for Workampers and guests to do as well. Motorcycling, bicycling, bird watching and stargazing are just a few. Workampers also get free access to use the tubes, too.
Because it's the hill country, there are a lot of wineries and little farmers markets to visit in the area. San Antonio is a fun city to visit and there are a lot of small towns to check out. The campground is less than two hours from Mexico and a few hours from the Padre Islands.
I'd like to thank Mike and Melissa Cummings as well as Brian and Tina Bourgeois for coming on the show to tell us more.
If you'd like more information about the campground, be sure to check out their website at www.friocampriverview.com.
There are still several jobs available this summer. Workamper News, a magazine and online publication, can connect RVers to full- and part-time jobs around the country. Whether it is running a business from your RV or working short-term jobs for a variety of employers, Workamper News can give you information to help plan a course to live your own dream and get you on the road faster than you thought possible.
For more information about opportunities to live, work and play in your RV, visit www.workampernews.com.