Podcast Episodes
In Episode 128, Solo Workamper Nina Delk shares her experiences as a train host with Georgia State Parks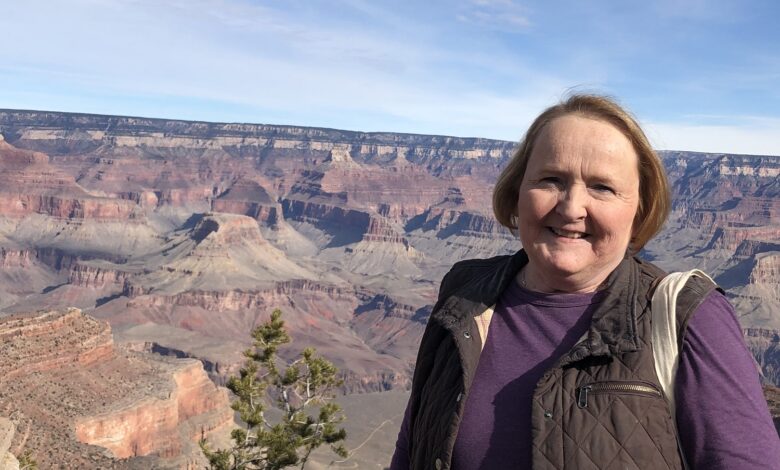 Podcast: Play in new window | Download
Subscribe: Google Podcasts | Spotify | Stitcher | TuneIn | RSS
Today, I speak with a woman who has a fascinating job as a host on an excursion train operating within the Georgia State Parks system.
There are lots of hosting positions available in the Workamping lifestyle. There are campground hosts and museum hosts, and even hosts at restaurants. But, I have never heard of a train host.
Nina Dalk is originally from Savannah, GA, and moved to Atlanta in 2008. Then, a little more than a decade later, she retired and hit the road in her RV.
This summer, Nina is working at the Georgia Veterans State Park where she works as a host aboard the SAM Shortline Excursion Train. Passengers sit in air conditioned and reconditioned 1949 vintage railroad cars as the train visits quaint towns, including Plains, GA, the home of former President Jimmy Carter.
Nina gets to hand out brochures, sell tickets and answer questions passengers may have. She also works in the commissary car, which means she gets to fix and serve lunch as well as prepare snacks. Her most important job is to help people have a great time as they enjoy a glimpse of what train travel was like in the 1950s.
A former kindergarten teacher and principal, Nina started Workamping in 2019 at the urging of several friends who had been camping for many years. So, she bought a 22-foot travel trailer and headed to Texas for her first assignment.
Since then, she has hauled her RV to Workamping jobs in Montana, Colorado and Arizona. All of the jobs she's had required her to work directly with people.
Nina loves being able to travel and take her own home with her. She loves the short-term aspect of Workamping jobs that let her visit new places and experience different types of work.
As a solo traveler, she has discovered that people are always willing to help her figure things out. Nina has been lucky in that she hasn't experienced any major problems on the road, other than some pretty high winds upon occasion when trying to tow her RV.
She shared the reaction of fellow Workampers who were surprised to learn she hooks up the RV by herself, sets up the campsite by herself and pretty much handles everything that comes her way all by herself. Nina has always found her neighbors to be friendly, helpful people who will step in to give her a hand if she needs assistance.
She loves Workamping not only because of the ability to travel to different places to see and do new things, but also for some of the perks the jobs offer. Workampers often get free use of amenities that other guests at campgrounds have to pay to enjoy.
Nina generally accepts jobs that include a full-hookup campsite, which saves her a lot of money on her adventures. She's worked both paid and volunteer positions, but likes volunteer jobs best of all.
She really encourages people contemplating the RVing and Workamping lifestyle to follow their hearts and their passion to create a lifestyle of travel and adventure. I appreciate Nina Delk for sharing her story.
You don't have to start the RVing or Workamping lifestyle on your own. You can tap into decades worth of experiences enjoyed by other people who have perfected the lifestyle.
In fact, The Dreamer's Journey can help get you started on the right foot. It is an online course produced by Workamper News. Life is way too short to keep your dreams on hold, so don't be held back by fear because you were designed for more!  Get started in the RV lifestyle the right way with this comprehensive guide.
For just $29.95 for 90 days access, Dreamers have unlimited viewing of 50-plus videos to learn things like what type of RV to buy, goal setting, how to budget for the adventure, developing a positive mindset, setting up a domicile, operating a small business on the road, plus everything about Workamping and how to find the right job for you. Each video is 30-90 minutes long giving in-depth coverage on each topic.
There's no wrong time to get started.  For more information, visit www.rvdreamersjourney.com.
That's all I have for this week's show. Knowing that many Workampers travel with dogs, next week I am going to interview a veterinarian for advice on how to make traveling with dogs enjoyable and stress free. She'll offer lots of great advice on the next episode of The Workamper Show.