Podcast Episodes
In Episode 209, Lou Axt describes Workamping opportunities at Iowa's Adventureland amusement park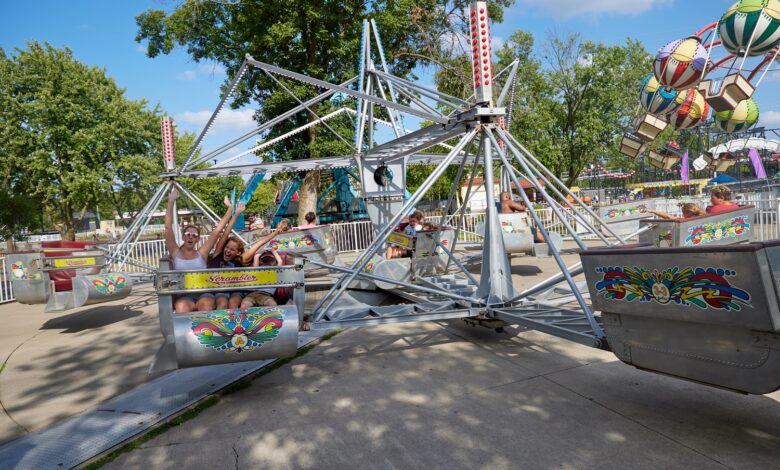 Podcast: Play in new window | Download
Subscribe: Google Podcasts | Spotify | Stitcher | TuneIn | RSS
Today I will be speaking with a long-time Workamper employer. Adventureland near Des Moines, Iowa, has been employing Workampers for decades and the company needs even more help this summer.
Lou Axt is the rides operations manager for Adventureland amusement park, which is located in Altoona, Iowa, near the center of the state. Adventureland features more than 100 attractions, shows, rides and eateries. There is also a full-size waterpark at the facility.
What makes Lou so unique is that he and his wife served as Workampers starting in 2013. They have held a variety of jobs, but kept coming back to Adventureland every summer.  Today, he is a full-time, year-round member of the staff. Lou's job is to oversee all the rides at the park. A significant part of that role involves recruiting people to work.
Adventureland typically hires between 150 and 180 Workampers each season. The company created a 310-site campground just for Workampers. That means Adventureland hires a lot of solo Workampers, too, as well as families with teenagers.
There are three main areas that employ Workampers at Adventureland. There is Lou's domain, which is rides and attractions, where people are needed to greet the guests, help them onto the ride, check their restraints and help them off when the ride is completed.
The food department hires Workampers to help with prep work, cooking food, taking orders and serving it at full-service restaurants, various snack shacks and smaller food stands. Some people are hired to be bussers who clear tables and keep the facilities clean.
The park services department uses Workampers to complete janitorial duties around the park to ensure that it always looks nice. Lou said this is a great option for people who like to roam around and not be confined to the same place all day.
There are no special skills required for either of the jobs. In fact, specific job-related training is provided for all positions. If you enjoy being outdoors, talking to people and helping them to have fun, then you'll love working for Adventureland.
Lou is looking for Workampers right now to work this summer helping people enjoy the rides and food or the clean atmosphere around the park. The season starts in early May when the park officially opens. However, Workampers can access the campground as early as April 6 and start work preparing Adventureland for the avalanche of guests to arrive. They can also work during the weekends the park is open during the pre-season.
There are no contracts to work at Adventureland. You can work just part of the season and move on or stay until the season ends in October.
Workampers are expected to put in a minimum of 32 hours a week.  Depending upon the needs of the department, people are usually scheduled for shorter shifts over a five- or six-day period. Wages start at $12 to $14 per hour for adults, and $9 to $14 per hour for teens under 18. Workampers can work as many hours as they want, but there is no special overtime rate, according to state law.
Best of all, the job comes with a completely free RV site in the exclusive Workampers-only campground. Water, sewer and electric are included, but wi-fi is available only in the common areas. Workampers also get full access to the amusement park and waterpark when they aren't working.
The company offers arrival and departure bonuses to encourage Workampers to arrive earlier in the season and stay after the younger workers return to college.  More information is available in a downloadable PDF on the Adventureland website at www.adventurelandresort.com. Then click on Information followed by Workamper Program under the employment heading.
We have interviewed Workampers in the past who have had jobs at Adventureland and a common theme is that Iowa residents are generally nice and friendly. To join the fun, submit your application today at www.adventurelandresort.com.
Today's episode is sponsored by The Dreamer's Journey, it is an online course and community produced by Workamper News. Life is way too short to keep your dreams on hold, so don't be held back by fear because you were designed for more!  Get started in the RV lifestyle the right way with this comprehensive guide.
For just $29.95 for one year of access, Dreamers have unlimited viewing of 50-plus videos to learn things like what type of RV to buy, goal setting, how to budget for the adventure, developing a positive mindset, setting up a domicile and operating a small business on the road, plus everything about Workamping and how to find the right job for you. Each video is 30-90 minutes long to give in-depth coverage on each topic.
There's no wrong time to get started.  For more information, visit www.rvdreamersjourney.com.
That's all for today's show. Next week, I'll be speaking with a man whose company offers a tremendous healthcare program for traveling nomads. I'll have details on the next episode of The Workamper Show. Thanks for listening!