Podcast Episodes
In Episode 224, Jennifer Schillaci describes a decade of RVing with seven kids, Workamping and running businesses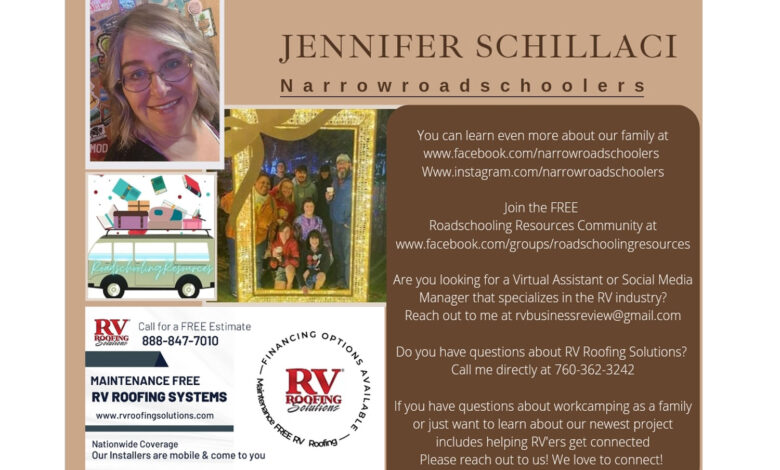 Podcast: Play in new window | Download | Embed
Subscribe: Google Podcasts | Spotify | Stitcher | TuneIn | RSS
Today I am speaking with a woman who has been RVing with her husband and up to seven children for more than 10 years. They support their lifestyle through Workamping jobs, serving as a virtual assistant, and by operating a mobile RV roofing business.
Jennifer Schillaci and her family launched on a full-time RVing adventure in July 2013. At the time, they had seven children. Today, five of the children are still in the RV, but now a granddaughter joins them upon occasion. They also travel with three dogs.
The family has done all their traveling in a 39-foot fifth wheel. They modified the bunk room to accommodate five beds and added a day bed to the main living area. It's cozy, but comfortable, and the children certainly do not have the obsession with accumulating things that kids in sticks-and-bricks homes often do.
The two oldest kids, who still choose to travel with the family, are 21 and 18, and they help with the business. The youngest children are 16, 13 and 11.
Jennifer's husband, Frank, is a retired Marine who gets a military pension, which also helps support their travel lifestyle. About nine years ago, he started working with RV roofing companies to add a hard-coating to traditional RV roofs that offers great protection and makes the roof maintenance-free. It also works to stop leaking and damage from falling objects, like tree branches.
Yet, the family has had many Workamping jobs over the years, too. In fact, several of the jobs allowed the teenagers to work there as well. The oldest children worked for Amazon when the CamperForce program was still in operation. In fact, their son, Mike, was the youngest Workamper to participate in CamperForce when he started working three days after his 18th birthday.
Jennifer also works as a virtual assistant for several clients managing contracts for them and helping with social media posts. Diversifying income has been the best way for the family to afford the RV lifestyle.
Their RVing experiences enhanced the lives of their children in many ways. Not only did they get to see things most other children only read about, but they learned life skills that will help them for many years to come. It must have been loads of fun to be Workamping as a family in a place like Yellowstone where nearly every person had a job.
Jennifer and Frank have also set a different example for their children by demonstrating how to make money in businesses of their own. By diversifying their income with a military pension, Workamping jobs, Jennifer's business as a virtual assistant and Frank's business installing RV roofs, they are able to weather just about any financial storm.
Frank also trains other Workampers to become RV roof installers, which allows them to make money anywhere they'd like to visit. Often, roof installations are scheduled in a way that several can be done in one area. It's like having a Workamping job, except the stints are shorter than a full season. Installers work in one area for a few weeks or months before changing locations.
Among challenges the family faced, Jennifer discovered she must make often campground reservations months in advance because there are many more RVers today and a lot of campgrounds have more seasonal sites than overnight spaces.
She also encouraged Workampers to be friendly and reach out to people they meet in campgrounds. Her family has formed several lasting relationships that way. Jennifer really enjoys revisiting her favorite places and engaging in different activities than they did in previous trips.
Jennifer put her 20 years of homeschooling experience to work by forming a Facebook group to help other families who are roadschooling their children. Search for Roadschooling Resources. People can also follow the family's adventures on Facebook and Instagram by searching for Narrow Road Schoolers.
If you'd like to schedule a roof installation or learn how to make money doing the installations yourself, visit www.rvroofingsolutions.com. To hire Jennifer as a virtual assistant, email her at [email protected].
Today's episode is sponsored by Workamper News. With its Diamond and Platinum membership tools, Workamper News is much more than just a job-listing website. When you put the tools of this professional service into action, you'll find out just how easy it can be to turn your Workamping dreams into reality.
The one-year memberships open the door to a one-stop-shop for all-things Workamping. Being the original resource for Workamping, you'll find the largest number of job listings, be able to connect with a community of Workampers, and view resources compiled by experts who have been enjoying the RV lifestyle for many years.
If you're serious about leading a successful and enjoyable Workamping lifestyle, then a Diamond or Platinum membership is for you.  You can even get started with a free 30-day trial by visiting www.workamper.com/trial. Embark on new adventures today with the support of Workamper News behind you!
That's all I have for today's show. Next week I will be speaking with the president of an RV supply company that provides unique lithium-ion batteries and solar equipment to give RVers more options to visit places without needing to be plugged in to shore power. I'll have that interview on the next episode of The Workamper Show. Thanks for listening.