Podcast Episodes
Coach Jennie and Meredyth describe living an 'untethered' life in Episode 171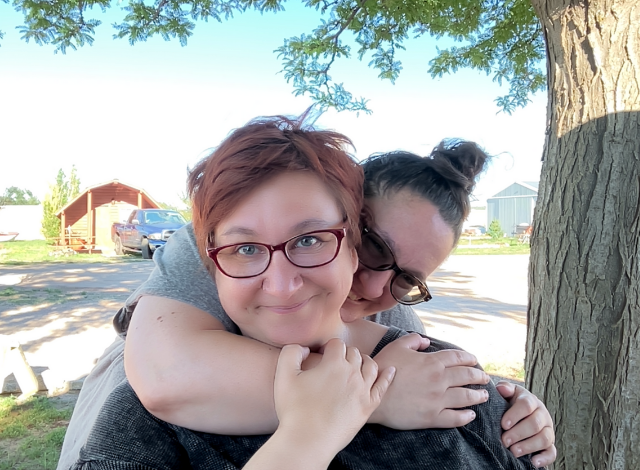 Podcast: Play in new window | Download
Subscribe: Google Podcasts | Spotify | Stitcher | TuneIn | RSS
Today I will be interviewing two women who tow a 28-foot Airstream while operating a personal coaching business to help people break through the fear that holds their ambitions hostage.
Jennie and Meredyth Mustafa-Julock started full-time RVing about a year ago. Jennie has worked as a personal life coach since 2006 and Meredyth serves as the CEO to manage and promote the business.
As a coach, Jennie applies her natural curiosity to helping people identify their purpose and then planning a path to pursue it. She calls it "impatient ambition" when people in their 40s and 50s, who have already accomplished a lot in their lives, but still want to do more.
Jennie helps them get out of their own way to achieve their dreams by silencing the irksome, obnoxious voice in the back of their heads, which she affectionately calls Hilda, that tells people they can't really do anything and shouldn't even try.
She actually completed advanced courses in coaching while obtaining a master's degree in public administration. Most of Jennie's coaching sessions take place online using Zoom, which is something she did long before COVID made it a necessity.
Meredyth, on the other hand, was a special education teacher and principal who specialized in teaching deaf people before embracing adult learning and, eventually, taking over administrative responsibilities for the Coach Jennie business. In fact, both women are fluent in sign language.
The 28-foot travel trailer is a big upgrade from the 16-foot Airstream they had when beginning their adventure. The first RV was just too small for their needs. They love the RVing lifestyle because it allows them to be untethered. In fact, they often enjoy working outside wherever they travel.
By exchanging their apartment in downtown Los Angeles for an Airstream, Jennie and Meredyth were able to reduce their monthly expenses by 40 percent, which made a travel lifestyle more affordable.
Their biggest challenge is usually trying to maintain a stable internet connection, but their cellular data plan available through the Family Motor Coach Association has been relatively reliable. However, because good internet connections are essential to the effective operation of their business, they describe some redundancies they have put in place.
Their story is inspirational in that they didn't wait until they were "old enough" to retire and start traveling. Rather, they saw an opportunity to be location independent with their business and they jumped at the ability to enjoy a change of scenery every few days.
Their approach to life on the road is relatively unique. They don't have a travel strategy because that implies they have everything figured out, their plans are well made, and there is a guaranteed outcome to those plans – which is not generally the case for full-time RVing.
So, Jennie and Meredyth adopted an experiential approach instead, which was more like a fourth-grade science experiment.
They had a thesis about what might happen on the road, and developed a plan to test their theory. But, they certainly didn't feel a need to know everything before jumping into the RV lifestyle. Yes, they joined Facebook groups and watched a lot of YouTube videos, but they generally figured it out step-by-step as they went along.
Meredyth encourages people to embrace RVing the same way because if they think about it too long and imagine everything that could go wrong, it works to talk people out of doing anything. It's the confidence gained through completing baby steps that motivated Jennie and Meredyth to take the next step.
They kept an open mind about what RVing would be like and promised they would not make a formal decision on whether to stick with it until they arrived in Alabama a few months after launching. Yet, by the time they made it to Flagstaff, Ariz., which is about seven hours from Los Angeles, they were hooked.
Since then, they have adopted what they call the "three-thirty rule" in that they never travel more than 330 miles and always try to arrive by 3:30 p.m. so they have time to explore the new area.
If you'd like to follow Jennie and Meredyth's adventures or connect with them about coaching, visit www.coachjennie.com.
Today's episode is sponsored by The Dreamer's Journey, it is an online course and community produced by Workamper News. Life is way too short to keep your dreams on hold, so don't be held back by fear because you were designed for more!  Get started in the RV lifestyle the right way with this comprehensive guide.
For just $29.95 for one year of access, Dreamers have unlimited viewing of 50-plus videos to learn things like what type of RV to buy, goal setting, how to budget for the adventure, developing a positive mindset, setting up a domicile and operating a small business on the road, plus everything about Workamping and how to find the right job for you. Each video is 30-90 minutes long to give in-depth coverage on each topic.
There's no wrong time to get started.  For more information, visit www.rvdreamersjourney.com.
That's all I have planned for today's show. On the next episode, I will be speaking with an employer who is looking for campground help this spring near Rapid City, S.D. I'll provide more details on the next episode of The Workamper Show.