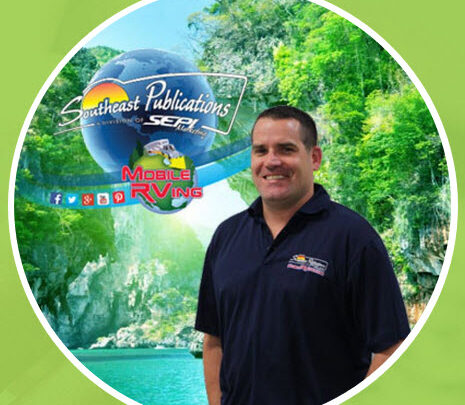 Podcast: Play in new window | Download
Subscribe: Google Podcasts | Spotify | Stitcher | TuneIn | RSS
What do salespeople do when they want to slow down, but still have the drive and skill to succeed in sales? We'll talk to a workamper employer who is looking for people who are experienced in sales and marketing to work short-term assignments around the country.
Our guest today is Brian McGuinn, the director of business development for Southeast Publications, a company based in Deerfield Beach, Fla.
The firm produces guides that are distributed free to people when they check into campgrounds and RV parks. The guides often include a map of the facility, the location of various amenities, a list of rules and policies, suggestions for things to do in the local area and addresses for key business, like churches, hospitals, veterinarians, etc.
One of the best features of the directories are the ads from local businesses promoting places to eat and shop, as well as various attractions in the area. Campers find the directories to be valuable tools, especially if they have never been to that campground.
Brian hires people to visit a campground for a few weeks and solicit advertisements from local businesses. Firms catering to tourists understand the value of those advertisements and in getting information to campers.
Sales representatives have to be able to describe the campground and the clientele it serves, and show business owners how it is a win-win for the firm to partner with the RV park to assist those guests. Brian said 80 percent of the advertisers renew their ads year after year.
There are also new businesses opening that need to be educated about the campground, and the sales reps encourage those companies to purchase ads, too.
Southeast Publications has developed a virtual office to assist reps in selling ads, as well as an online platform that draws even more attention to the businesses and allows them to connect with campers as well – even if the RVers are just passing through the area.
Brian says his firm pays the highest commission rate in the industry, and it's a job that can be done by couples, families and singles of all ages.
I was unaware of the different ways in which salespeople can earn commissions through Southeast Publications. Their online training and mentorship program help people get off to a quick start on the road to success.
For more information about Southeast Publications, visit www.southeastpublications.com or call (800) 832-3292 to speak with Brian.
Whether it is running a business from your RV or working short-term jobs for a variety of employers, Workamper News can give you information to help plan a course to live your own dream and get you on the road faster than you thought possible. For more information about opportunities to live, work and play in your RV, visit www.workampernews.com.