Podcast Episodes
Episode 039 features Dennis & Tracie Utley plus Robert & Jessica Weyman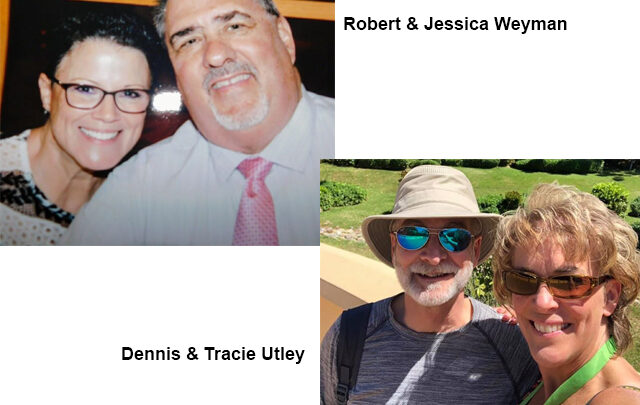 Podcast: Play in new window | Download
Subscribe: Google Podcasts | Spotify | Stitcher | TuneIn | RSS
Today we are going to talk with two couples who are active dreamers in that they are gathering information and developing a plan to hit the road on adventure.
Dennis and Tracie Utley have lived in Peoria, IL, for most of their lives where they raised four children, who are all married and starting families of their own.
The Utleys have entered a phase in their lives where they want to embrace RVing and the Workamping lifestyle.
Retirement is still a few years away, but they are actively investigating what it would take to transition into that nomadic life.
Dennis was a motorcoach driver who guided tour groups around the country. In fact, he once completed 17 back-to-back Route 66 tours with Tracie serving as his tour guide.
The travel gave them the desire to tour around the country themselves, but on their own schedule and to destinations on their own bucket list. They've visited a number of popular tourist destinations, but want to return to some of their favorite areas to really explore those parts of the country.
The Utleys enjoyed tent camping for many years, but are looking to upgrade into a fifth wheel and are exploring options now as they get ready to put their home on the market.
They are looking at Workamping as a way to support the travel lifestyle. However, as firearms instructors, the Utleys believe they can make money teaching carry-and-conceal classes wherever they go.
They are investing time now to get training on what type of RV to buy, what state to make their legal domicile, how to set up a small business to support their travel, and looking for Workamping jobs to cover many of their weekly expenses.
The second couple, Robert and Jessica Weyman, is from Texas, and they are also planning to hit the road soon. Robert worked as a high school principal and Jessica worked as a dental hygienist.
They have already purchased an RV and moved into it late last summer along with their pets as Jessica prepares to retire.
Robert grew up as an Army brat, so he has seen a lot of the world, but never really had an opportunity to really dive in and experience the cultures. After they were married, Robert connected with in-laws who traveled in an RV and planted a seed that has been germinating for 35 years.
Robert was able to convince Jessica to embrace the RV lifestyle by promising that she could set the itinerary, and the first place she wants to visit is Idaho.
They, too, want to travel to various places and settle into the area for months at a time, rather than swooping in for a one or two-week vacation. One place they both want to explore is Yellowstone National Park, and they're looking for opportunities in that area.
As baseball fans, they'd also like to head to Arizona for the annual spring training ritual.
The Weymans have relatives scattered around the country and visiting them in an RV is a way to spend more time with them without being an inconvenient burden. By bringing their own home with them, everyone has more space.
Having an RV will be helpful when traveling with pets, especially a giant 85-pound dog.
They Weymans are like many people who dream for years about getting an RV and hitting the open road. The freedom to visit destinations they've heard about over the years, and doing odd jobs along the way to pay for tickets and attractions, really is a dream of a lot of people.
The couple is easing into the RV lifestyle, but are attracted to it by the opportunity to try out new jobs for a few months. It's all part of the experience.
Workamper News, a magazine and online publication, connects RVers to full and part-time jobs around the country. Whether it is running a business from your RV or working short-term jobs for a variety of employers, Workamper News can give you information to help plan a course to live your own dream and get you on the road faster than you thought possible.
For more information about opportunities to live, work and play in your RV, visit www.workampernews.com.