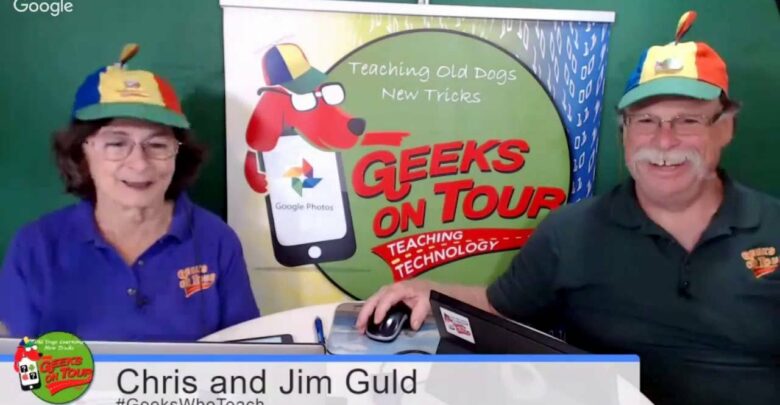 Podcast: Play in new window | Download
Subscribe: Google Podcasts | Spotify | Stitcher | TuneIn | RSS
Today we are going to talk with a couple of heavy-duty geeks who make a good living on the road helping others better understand technology and use it to their advantage.
Chris and Jim Guld are the owners of Geeks on Tour, a company they started in 2003. They were full-time RVers for 14 years, and recently downgraded to a Class B motorhome. They now spend 50 percent of the year on the road meeting people at rallies and other events.
The Gulds bought one of the first IBM personal computers off the assembly line at a cost of $5,000, which was an incredible sum of money in the early 1980s for a machine with one floppy disk and a green screen with no graphic capability at all.
As computers evolved, the Gulds evolved, too. Their passion is to help people better understand how technology works in a basic sense, and how various apps can make their lives easier.
They are experts in using Google maps and Google Photos. In fact, Chris wrote a book on the topic – Mrs. Geek's Guide to Google Photos — that is has been updated several times over the years.
They also developed a YouTube channel with hundreds of video tutorials. Their most popular episodes are titled "What Does This Button Do?" The Gulds like to say they are teaching old dogs new tricks with technology.
I caught up to them at the Workamper Rendezvous in late October and asked them to record an interview for this podcast.
In it, they offer some advice on how to record, store and retrieve the thousands of images RVers seem to take as they experience one adventure after another over many years.
Technology is great, but the really frustrating part for me is when all the software and apps are upgraded and settings that I relied upon in the past suddenly disappear. I wind up searching for a particular setting only to learn that it has been renamed, or it is now controlled by two or more other settings.
People like Chris and Jim Guld play an invaluable role in helping people stay on top of all the technology impacting our lives today.
They are natural teachers who make learning a lot of fun. Plus, they're always willing to help people understand how their smartphones work.
Chris' advice to look at the geotag on a photo to help remember where the scene was photographed has already helped me sort through a giant folder of electronic images so that I can retrace my journeys.
In the past, I had always stored images on my computer and backed them up on an external hard drive. Then, one day, the hard drive broke and years' worth of documents and images were lost forever.
So their advice to back up these images on the cloud is a very practical idea. They recommend using Google Drive, which gives you 15 gigabytes of free storage. You can buy extra storage capacity from 100 gigabytes for $20 per year to two terabytes for $100 per year.
I use Dropbox and their pricing is comparable. Whatever you use, you can rest assured you will never lose another document or image again.
For more information about Geeks on Tour and to sign up to receive their free tutorials and newsletters, visit www.geeksontour.com.  Learn something new today. You'll be glad you did.
Workamper News is a magazine and online publication that connects RVers to full- and part-time jobs around the country. Whether it is running a business from your RV or working short-term jobs for a variety of employers, Workamper News can give you information to help plan a course to live your own dream and get you on the road faster than you thought possible.
For more information about opportunities to live, work and play in your RV, visit www.workampernews.com.