Podcast Episodes
In Episode 072, Kathy Chefas describes an opportunity to sell Christmas trees in south Florida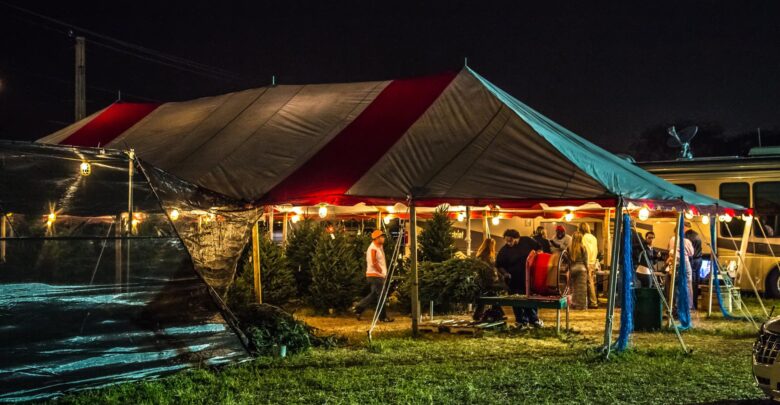 Podcast: Play in new window | Download
Subscribe: Google Podcasts | Spotify | Stitcher | TuneIn | RSS
Today we are going to talk with a woman who owns a Christmas tree farm in North Carolina, but hires Workampers to sell trees from lots in south Florida.
Kathy Chefas and her husband, John, own Hart-T-Tree Farms, a company that is tucked away in the Blue Ridge Mountains near Grassy Creek, N.C., and a stone's throw from the Virginia state line. The farm specializes in growing Fraser firs, which make spectacular Christmas trees.
John grew up selling trees in Chicago and shortly after meeting Kathy, he bought property near Hart, Mich., to begin growing his own trees. That's how Hart-T-Tree farm got its name.
Later, they discovered an opportunity to sell their trees to people in Florida, and set up a network of tree lots in Broward and Palm Beach counties, along Florida's eastern coast. It proved to be the right move.
Eventually the couple acquired land and moved the farming operation to North Carolina. Still, they hire several Workampers each year to sell trees from just before Thanksgiving through Christmas Eve.
The company operates more than a dozen Florida tree lots in cooperation with local businesses, charities and churches.
Workampers live in their RVs right at the tree lot where electricity is brought in along with water. A honey wagon service pumps the tanks for the RVers once a week.
Hart-T-Trees provides training the week before Thanksgiving when all the other Workampers get to meet each other and form relationships that can be beneficial during the selling season.
The Workampers are guaranteed a minimum base income, but they earn additional money based on the number of trees they sell. They are required to water the trees each night, but they also have the ability to hire their own part-time workers to assist on busy days.
Selling Christmas trees is certainly a unique opportunity for Workampers and a great way to earn some money just before the holidays.
Spending the Christmas season in south Florida would be a dream for many people. Thanks to Hart-T-Tree farms, it's possible to make money at the same time.
The company offer a great opportunity for entrepreneurial couples who can provide excellent customer service, and use a little savvy to sell Christmas trees to Floridians, especially the snowbirds who arrive from northern states each fall.
It's almost like having a turn-key, short-term business, where you partner with Hart-T-Tree farms to sell their harvest of trees. The Workampers learn to care for the trees and set prices.
After completing four days of training in Florida, the Workampers pretty much have independence to work their plans and run the lots knowing that help is available from the owners and other nearby Workampers upon occasion.
I really appreciate Kathy's honesty in explaining what people can expect, what she expects, what is involved in the process, and how she oversees Workampers.
Like she said, it's not a job for everyone. The hours can be long and some days are really hectic, especially as it gets closer to Christmas. But, if you have some business experience or sales skills, it's a great opportunity to pick up a little Christmas cash.
For more information about this opportunity, send Kathy an email to kchefas@hotmail.com. She'll review your resume and respond with an introductory video to give you an even better understanding of the work entailed.
Also, keep an eye out for their Workamper Hotline notices because the family occasionally hires Workampers to help out at the farm in North Carolina.
Workamper News, a magazine and online publication, connects RVers to full- and part-time jobs around the country. Whether it is running a business from your RV or working short-term jobs for a variety of employers, Workamper News can give you information to help plan a course to live your own dream and get you on the road faster than you thought possible.
For more information about opportunities to live, work and play in your RV, visit www.workampernews.com.