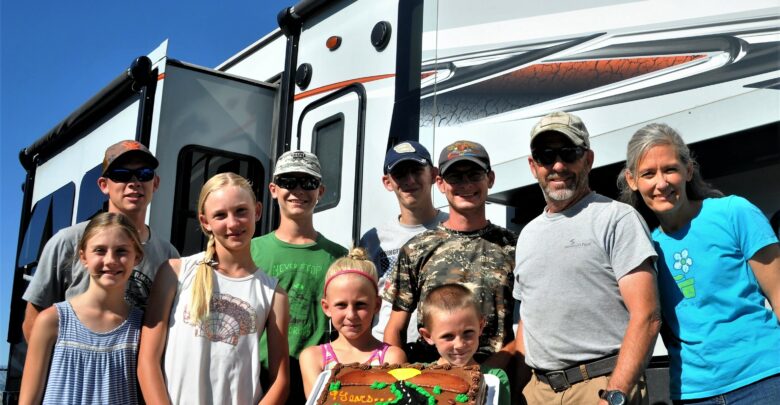 Podcast: Play in new window | Download
Subscribe: Google Podcasts | Spotify | Stitcher | TuneIn | RSS
We're going to talk about a different way to Workamp today. A lot of people think that workamping means you work at a campground just to get a free RV site. That is not always the case.
If you work or run a business while in an RV, then you're workamping.
When you're living the RV dream, every day is a weekend. That's especially the case when you own your own business and can set your own hours.
Dana Ticknor and her husband, Vaughn, have been full-time RVing for 10 years. What makes their situation so unique is that they've been full-timing with 12 children – seven boys and five girls.
In the past, they worked construction jobs to finance their travel adventures.
With a base in Helena, Mont., the family would return home every spring. They'd work on construction projects and save their pennies so they could take off and play all winter in warm climates.
A few years ago, one of Dana's daughters wanted to sell hair accessories at campground shows, so Dana signed up to become a distributor for Lilla Rose products.
What started as a part-time venture for her kids to make money has morphed into a big business that now fully funds the family's lifestyle.
Now, they're no longer tied to summer construction projects. So, they can use their construction skills in pursuit of a new passion to help people recover from disasters.
Whenever a tornado, flood, hurricane or other natural disaster impacts a community, the family packs up the RV and races to scene. They'll help clean up the area, and then begin rebuilding the lives of others.
In this episode, Dana Ticknor explains how the family makes money running a small business affiliated with Lilla Rose, a direct sales company providing hair accessories.
She also describes some of the challenges they have faced as a large family on the road.
The Ticknor Tribe, as they like to be called, will inspire you to venture out on your own to live the lifestyle you've always dreamed of enjoying.
Dana's story just fascinates me. I've been following their adventures for many years. I have had the opportunity to meet up with them several times along their journey.
The Ticknor Tribe is a fabulous, wholesome family. Those 12 kids have done more, seen more and experienced more in 10 years than most adults will ever do in their entire lives.
We'll probably need to have Dana back again with her husband, Vaughn, to provide more details about how they actually make RVing work for a family of that size.
You should see their RV. They pretty much gut a new toy hauler and remodel it to fit their family's needs. The kids sleep in elevated bunks, leaving the rest of the space for family living.
They are a closely-bonded family with big hearts to serve others.
When they spend money, they opt to spend it on experiences that create a lifetime of memories.
The kids are roadschooled, and some of the smartest, most polite children I've had the pleasure of meeting.
You can meet the family at www.ourtravelingtribe.com.
In this interview, we sort of jump right in talking about her business. However, she covers a lot of material in about 35 minutes.
I like this episode because it shows that it is possible for a family of any size to enjoy this lifestyle.
It also shows that workamping doesn't always involve a job, it involves a business.
Workamper News can help you plan a course to live your own dream and get you on the road faster than you thought possible.
For more information about opportunities to live, work and play in your RV, visit www.workampernews.com.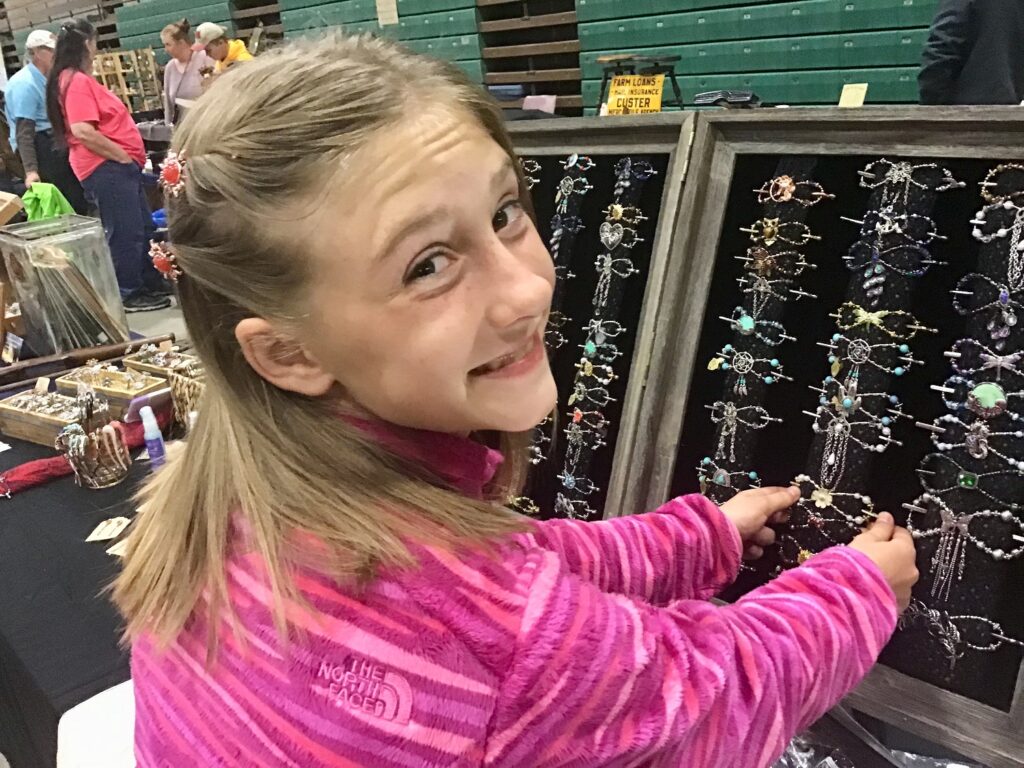 *** TRANSCRIPT ***
Greg Gerber:                     So, tell us Lilla Rose and how you came about involved in it.
Dana Ticknor:                    Lilla Rose is a direct sales hair accessories company. And I actually discovered the company on a blog. At the time I wasn't really looking for a business, they were just beautiful hair accessories that I thought my five girls and I would like. And so, I actually signed my daughter up to sell them. She was 15 and I could sign her up a minor up with her own security social security number. And so, I signed her up thinking it would be some little fun thing she could do at craft shows at the campgrounds or something like that. We never really intended it for a business. It was just something for her to do on the road. And because I'm a very frugal person, I wanted to be able to buy the hair clips at a discount.
Dana Ticknor:                    That was my whole reason for signing up and she kind of played around with it. We fell in love with the product. Three years later when she moved out of the RV and took all her Lilla Rose stuff with her because she was, indeed, kind of running it as a business off and on. Then I decided that I needed to have the inside scoop on the new products. I needed to still be able to order it at a discount, and it was so much fun meeting all these people at the campgrounds. Because, at the time, we just did little events that I wanted for the little girls, my younger daughter's and I to still be able to do that. So I signed up and I started to do these shows and it just kind of exploded. It just works really great for us because the product travels really well. It's direct sales. I focus on selling the product to the customer. That's where I make my income. And so it's, it's just worked out really good for us on the road.
Greg Gerber:                     Very good. So, do you do shows at the campgrounds or are you just doing like local RV shows or craft shows that might be in whatever area you happen to be in at the time?
Dana Ticknor:                    Yeah, so that has morphed a lot over the years. When I first started doing it myself instead of my daughter doing it, I just continued doing what we had done together, which was like little craft show in Palm Springs or something like it at our local campground and I didn't really seek out shows. But now I realized that business kind of grew on its own because of the product. And so it really morphed into this bigger thing all on its own without any guidance from me. But I did start to see the potential for income. So it's a mobile business and I can take it anywhere. That really appealed to me. And so now I actually do some really large shows. I don't do craft shows at campgrounds anymore. There's been occasions where I will leave some of my inventory and one of my teenage daughters will do shows at the campground, but on Saturday mornings, I'm usually off at some sort of a festival, Renaissance fair, a women's expo, something like that. I'm no longer in the campgrounds. Because now I'm doing shows that run anywhere from 20,000 to 65,000 people.
Greg Gerber:                     Oh my, that's pretty big. Yeah. And how do you find these shows?
Dana Ticknor:                    Some websites online generally. Every once in a while, I'll hear about a show that I'm super curious about and those ones usually tend to be really fun shows. Like we did a pig wrestling festival and my kids loved it. Food festivals are super popular with us. So occasionally I will hear of a festival and we will make a point to go there. We will make a route that takes us there. Sometimes it will be where we're at where we want to go. There are some websites online or I will just Google if we have a special, a certain city or area that I want to go to, then we will type in festivals or craft shows or food fairs, anything like that in that location. We just search out the shows that way.
Greg Gerber:                     So, you determine where you're going to be pretty much and then you look for things within an hour or two driving distance.
Dana Ticknor:                    Yes, for the most part. There have been times when we will change our route for a show. We prefer to find shows where we want to go. But there have also been times where we have had an opportunity to do something somewhere and I've already signed up for a show. It's a good one because I've either done it before or just know enough about it that I don't want to miss it. Or, it was super expensive and I will drive to that show and leave my family wherever we're parked. Last winter we were working in North Carolina. My husband was helping a friend remodel a church camp and I had already signed up for a rattlesnake festival in Texas.
Dana Ticknor:                   We'd already signed up for it because we do it every year. So, I rented a suburban and took which kids wanted to go with me and we drove from North Carolina to Texas to do that festival because financially it's a good income show. I also didn't want to lose this show. So yeah, occasionally it works out that it's not a good thing that I signed up for shows at a time. So typically, I like to sign up for shows last minute, but I do have some anchor shows that I do every year and wherever we're at, I will rent a car and drive to wherever that show is.
Greg Gerber:                     I should probably get some details about your family because you use this business to support your family and it's not a typical family, it's rather large. So why don't you describe how that all works?
Dana Ticknor:                    So, we my husband and I started RVing about a little over 10 years ago. At the time we had just had our 11th child. We had another baby on the road, so we have 12 kids altogether. They have all traveled with us full time, but they're starting to grow up and get their own lives. And so we are down to seven kids at home and some of them will come help me with my shows. It's like everything is pretty expensive for our family.
Greg Gerber:                     I can imagine. And what's the mix of boys and girls?
Dana Ticknor:                    Altogether we have seven boys and five girls.
Greg Gerber:                     Very good. And you've re you do a lot of construction. In fact, that's pretty much what funds your travel, correct? Every summer we're going to be involved in some sort of construction projects up in Montana typically, unless there's a natural disaster somewhere.
Dana Ticknor:                    Yes and no. So, when we first started construction, which is what my husband had done before we started full-time RVing, it was our main income. He was a carpenter. When we got on the road, because we did not have any debt, we were able to work in the summers. We would come back to at Montana and he would work all summer and we would save our pennies so that we could go play down South in the winter. But because we're not here all year, it is harder to maintain your customer base because he doesn't advertise. He doesn't want to work for just anybody. So, our source of income has kind of morphed. Now a lot of our income, the majority of our income, comes from Lilla Rose We do still do some, my husband and the boys still do some construction work here in Montana in the summers.
Dana Ticknor:                    Right now, this is what the end of one of the things that we have gotten involved with since we started our being is disaster relief work. It's a passion to go into an area and help clean up and help these people rebuild our lives. If we want to be able to do that, we need this flexibility. So like right now my husband has been in The Bahamas for three weeks and so he doesn't have that same income as if he were here doing construction.
Greg Gerber:                     Well, that's a good thing then because you have this side business. So your primary income used to be construction and you, if I'm remembering correctly, of all the conversations we've had over the years, is that you would do a lot of work that your husband and the boys generally would work a lot of construction jobs in the summer. And then before the first snowfall fell in Montana, you'd be in that RV and you'd be heading South and the work from construction would fund all the travel for that winter, isn't it?
Dana Ticknor:                    Now it's more to where in the summer, Vaughn and the boys still do construction, but it generally pays for things like tires or our insurance for the year or stuff like one-time bills. And I can still do my business wherever I am, so I can do it when I'm parked here in the summer, but then I can do it different places every week on the road. It's kind of morphed to where we earn a lot more from this direct sales business than we do from construction and ya know, Vaughn's getting older so he doesn't enjoy roofing or doing concrete as much as he wants did. So, it's nice to be able to take that focus off of him having to work huge amounts of hours during the summer so that we could take the winter off.
Greg Gerber:                     But you are able to support a family of seven kids living in the RV with you and your husband primarily from Lilla Rose now?
Dana Ticknor:                    Yes.
Greg Gerber:                     Very good. I'm sure a lot of people will find that helpful or interesting to know that they can do this because it's one of the first questions everybody asks when they're thinking of going full timing is how do we make money on the road? So with this direct sales business, there's no inventory for you to stock because it's hair supplies and accessories. Correct?
Dana Ticknor:                    Yes. With Lilla Rose, I actually do have a lot of the inventory. I run about $12,000 to $15,000 worth of inventory, but because our products are these little tiny hair clips, they don't take up very much space at all. So, it is super easy for us to have totes. I put all my products in fishing tackle boxes sorted by size and I can just haul it everywhere with me. It doesn't deteriorate, so it can stay in the vehicle. I don't have to unload it every time I get home like I would with food or something like that. You do not have to carry inventory with this company. There are people who only do online sales. So they will do a lot of Facebook Live or YouTube videos and stuff to show different, to show people how to use the hair accessories and they work with their customers that way. I am my comfort zone. I like to go to the festivals because I have the most fun meeting all those women. And, just like at my last show, somebody came in and said, "Oh, so this is the fun booth." And that's true. And so yeah, it's very interactive. It's a lot of fun. And so I choose that as my main focus. But, it isn't for everybody. Not everybody carries inventory. And I don't really anybody that carries as much inventory as I do.
Greg Gerber:                     So when you're just starting out in this business, if other people were interested in doing that, it's possible for them to get involved. They would not need $12,000 to $15,000 worth of inventory. Maybe a couple hundred bucks.
Dana Ticknor:                    Yes. It's really inexpensive to get into it. Our kit is fabulous and it costs $89. That gives you a little bit of everything from all our different products. And then you can do an add on kit called a Fast Start. That does cost $500, but you get $1,100 worth of product. That is really only for people who either want a lot of cash-and-carry sales, or they want to do shows like I do. It took me years to build up to the level of the inventory that I have. Part of the reason that I carry so much inventory is because of the way we travel. So if I sell $4,000 one weekend, but we're traveling the whole week, I don't want to have to stop and wait for more inventory to catch up to me. So, it is a personal preference, based on how much we like to travel. If we stayed in one area a little bit longer than I would not need to carry nearly that much inventory. But my goal is to be able to do three shows without having to wait for inventory to catch up to me.
Greg Gerber:                     You're building this inventory over time. You're taking profits that you made from the sale of some of the hair supplies and accessories, and then some of it goes to support the family and you're investing the rest of it back into your business.
Dana Ticknor:                    Yes. I always order a few more products than what I sold and that gives me the ability to gift some, to bless somebody with some who maybe can't afford it or something like that. I'm just growing my inventory, but my goal is always to keep growing. And it's kind of funny because you think about it. When I started, I had this goal that I'd love to have $3,000 worth of inventory. Well you get to $3,000 and then you're like, well, it'd be really nice if I had $4,500.
Greg Gerber:                     And then it keeps growing and growing. But having that kind of inventory allows you to go to these kinds of shows and sell a bunch of product. So how many hours a week would you typically say that you would be investing in your business?
Dana Ticknor:                    I try to invest an hour a day and that's in writing thank you notes. It's connecting with people online. It is posting to social media. It might be following up to connect with contacts that I received at the last festival that I worked. I try to invest an hour a day in my business and that's kind of optional. I might not do anything on my day to work, and go out to play, so I might put in a little more time on Tuesday. My work week really is the weekends. So, some weekends I might work all day Friday, Saturday and Sunday. Other weekends, my show might only be on Saturday. And then of course some weekends I take off. Especially if we're doing disaster relief when we kind of set down in that area. Then I work more online trying to build up those online orders because I earned the same amount with no fees. Like no booth costs, no fuel or that kind of stuff.
Greg Gerber:                     Right. That'd be a nice way to make money. Is this a business that your kids can help you with?
Dana Ticknor:                    Yes, they do all the time. So they will help me organize. They generally stock my inventory for me. Somebody comes to every one of my shows with me. If it's an outside show we have to set up a canopy. So then I usually take one of the boys for muscles. I have a son that is a natural salesman, so I like to take him on the outside super busy shows because he is really gifted, even though it's hair clips, he works so good with people. And then my girls right now are 10, 12, and 14, and so they kind of alternate who goes with me. So I'll take one or two of them. And they actually help customers. They know how to run my credit card machine. We use them as hair models all the time. They help customers because they know how to do all the demos. They help people figure out what size hair clips they need, all that kind of stuff. They can run my booth as well as I can.
Greg Gerber:                     That's really nice. Yeah, that helps you a lot. And it also makes it a family business. So they grow up seeing that they're working and how it's impacting the family, how they're able to take a play a role in that.
Dana Ticknor:                    Right. And it gives them an income on the road, too, because they get paid for helping me. Depending on how busy the show is and how much help they were. It's an incentive-based income here, but it gets them a chance to earn money on the road. They learned some great people skills. And it really teaches them initiative because the harder they work. The kids get paid anyway. But, we have a deal that if somebody comes to my booth and the kids help them and the customer commends the kids, then they get a bonus. A lot of people are really floored that my kids can count back change or that they can add things in their head or that they know just a lot of this information. So, we have a deal that if somebody comes in, purchases an item, the kids were taking care of them and the customer says they did a good job, then they get paid more. Or even if I checked out that person and he or she said, "Hey, your daughter did a really good job" or something along those lines, then they get a buck for every positive comment. That cost me $35 in one day for one kid.
Greg Gerber:                     Good incentive. That's the way business should work. Absolutely. And so what kinds of products does Lilla Rose provide? I know you said hair accessories. Can you describe them?
Dana Ticknor:                    Yes. So, we have one-piece patented hair clips. We have decorative bobby pins. We have these great hair bands that go all the way around your head and they're adjustable so they don't give you headaches. We have hair forks. Everything that we have is for in your hair and doing your hair. And we're starting to do consumable products as well. Lilla Rose water or sea salt spray where people are going to want to reorder those every month. We have a little bit of both consumable and long-term products.
Greg Gerber:                     So other people who are looking at this as a possible way to make some money when they're on the road, if they don't want to do the shows like you do, is it still possible for them to do it while they're traveling?
Dana Ticknor:                    Absolutely. I think to do that well, and to provide an income that is substantial, you would need to be comfortable using social media. And I would highly encourage that person — if they want to make an actual income out of it instead of just fun money — to be comfortable or get comfortable doing videos. Because let's just be honest, if you are looking for information, where do we all go? We go to the internet and we Google and people are watching videos. There's certain YouTube for help on stuff, so if you don't want to do the in-person stuff, then that's really where you could build a business. And there is so much potential because there really aren't very many stylists. There are about 1,200 active stylists with Lilla Rose in the entire country.
Greg Gerber:                     Wow. So, there's plenty of opportunity out there. People can start this business just by working their own circle of influence that they've already established online through the social media. Because most of them know other women or women who have daughters or grandmothers or just females of all kinds. I don't know if a guy like me would ever use something like that, but I would certainly be in the market to buy something like that as a gift for my spouse or my daughters.
Dana Ticknor:                    I sold a lot, especially to dads for their girls. We go to Texas every winter and a large percentage of my customers are winter Texans. They are taking back gifts for their kids because a lot of them have shorter hair. We have clips that also work on scarves. So, a lot of those ladies who have shorter hair like to wear scarves and they make beautiful stuff. There's a lot of opportunities there.
Greg Gerber:                     Now, Dana, let me ask a really difficult question for you. I know that multilevel marketing gets a really bad name. But it is possible for you to make money by helping other people start businesses on their own. Is that correct?
Dana Ticknor:                    It is correct. And so there are two different focuses on a business. Like a lot of people don't understand the difference between multilevel marketing and direct sales. And I think Lilla Rose is more of a direct sales company because our goal is to get product into the hands of other people. Multilevel marketing a lot of time focuses on signing people up under you. So, they buy stuff every month and then you earn a commission off of their monthly orders. With Lilla Rose, a lot of our products on non-consumable. In fact, our hair clip, which is our biggest seller, is made out of piano wire. So, it is super non-consumable. They last for years, but we're always coming out with new ones. So repeat sales occur when current customers decide I need this one. But we do have the option to grow teams as well.
Dana Ticknor:                    And I actually have a team of about a hundred ladies. But, I am not a recruiter because that's not my focus. I love my ladies. A lot of them have become really good friends. But my passion is doing those booths and having fun with the women and actually selling them the product. I do have a passive income from my downline who I help to sell the products as well. There are other women who signed up earlier than I did or who are better recruiters than I am, and they make the majority of their income off of their downlines. While the focus is still getting product into the hands of the end user, you absolutely do have the ability to earn an income by helping other women sell Lilla Rose as well.
Greg Gerber:                     I guess what I'm getting at is that if somebody was interested in starting one of these businesses, they could reach out to you and you would help them not only start it, but get it running off the ground, making money and profitable to support their own families and their own travel. And you do that through product sales, not by recruiting additional salespeople. So it's something that I think is sustainable, to be totally honest. When I've looked at other multilevel marketing or direct sales businesses that are focused solely on recruiting downline, eventually it all seems to collapse. But you are helping people to start businesses of their own — I mean legitimate businesses – selling a product and offering a service, right? You're making a little bit of money by helping others fulfill their dreams and I don't see anything wrong with that. Based on your experience, it helps them become successful as well. You can answer their questions, you can give them marketing tips and things like that. So I would encourage anyone who is looking for a way to make some money on the road to give you a jingle.
Dana Ticknor:                    Well, thank you. I appreciate it. It's an incredible company. It's a small company. We still have just a huge potential for growth. I think the thing that I love most about it is that it's very personable. This is not my first involvement with direct sales companies. And this one is different because when you call headquarters or the corporate office, you get the same three ladies who answer the phone. They know you by name and they're just neat people. You are a person, you're not a number. So, and we kind of have what we call a sister code. We have some social media like Facebook groups and there's a big one that pretty much everybody belongs to. There some offshoots of that, too. I have one for my team where we all connect and offer training and support. There's even a prayer group and it's like a family. We call it a sisterhood. Everybody helps each other. It is not super competitive. I have done very well with the company which floors me because I'm not a salesman. I got into it because I love the product. But for the last two years I've been No. 1 in sales company wide.
Greg Gerber:                     Wow.
Dana Ticknor:                    I would have never guessed that. That's not why I chose to sign up. But if I can do that, then anybody can. If you have a vision for your family, you could do this.
Greg Gerber:                     And it is portable so you can do it anywhere in the country where you want to visit. That sounds very encouraging for a lot of folks. Can you offer some encouragement for people who might be thinking of hitting the road and embracing the RV lifestyle, but they're concerned about finances? Is it possible for them to live this dream?
Dana Ticknor:                    Yes. So, for somebody who is considering it, but they haven't worked out the finances, then look at our family. If we can do it, anybody can because at the time that we started full timing, we had 11 kids. We did not ever consider living in our travel trailer. What happened was that we sold our house and we were going to build another one. We knew that people don't rent houses to people with 11 kids. But we do love to camp. So, we packed our kids in our RV and pulled it out to a friend's land because the only RV parks here won't let us in because we have too many kids. So, we did absolutely nothing to prepare for this lifestyle. We didn't find land before. This was middle of July.
Dana Ticknor:                    We didn't find land in time to put up a garage to live in for the winter. We decided to build our house in the spring. So, we just decided we would head South in our little travel trailer and we would just camp for the winter and come back in the spring and build our house. We got out to the Oregon coast and had to take a little detour down Hwy. 101. And we were out there for about two and a half weeks when we had a family pal come out to see how everybody was doing living in a 30-foot bunkhouse. And it was actually our kids who said, "Do we have to go home and build another house?" Now that was over 10 years ago. So, we never did build that house. We stayed out on the road because we loved it and we wanted it bad enough that we made it happen.
Dana Ticknor:                    We worked it out even though it meant coming back here in the summers to work. But I always say if we could do it, anybody can. But, to do it easier than what it took for us to stay out on the road, I would encourage people to find an income stream that is mobile. In fact, if you can do more than one that's ideal. If it is something that you enjoy, you're going to make more money if it's a passion instead of a chore. So, do something that you enjoy. But I would start working on that income stream. We knew nothing about traveling in our RV. I look back and just cringe at how much money we wasted the first year because we didn't know what we were doing. We were awesome tourists, but we wasted a lot of money.
Dana Ticknor:                    But yes, it's an incredible lifestyle. It is not for everybody long term. But if you can give your kids the experience of being able to travel for even six or 12 months, then it's something that I think everybody should go for because it is just a memorable, precious time. Almost all families grow closer together. You build incredible memories. Yeah. So I would encourage people to do what it takes to make it happen. There are a lot of women out here who do direct sales that work it as a family business, and they are either able to solely support the family through that income or it is the majority of their income.
Greg Gerber:                     Where do you find places to park then when you're traveling that accept that many kids?
Dana Ticknor:                    When we first started traveling, being turned down by parks because we had so many kids was kind of a shocker because we had never considered that that would be an issue at all. It just never occurred to us. It wasn't on our radar. And so we ended up staying at a lot of state parks and federal campgrounds. One thing I found very helpful when we go stay at a private campgrounds, we don't call them, we email them with a picture of our rig and our family and maybe a link to our blog. That way they can see we're not scary. Because people always think that if you have a big family, that means your kids are wild and you don't give enough attention to of them or whatever.
Dana Ticknor:                    And it tends to be the opposite. When people see what we drive — unfortunately that is a factor sometimes in getting into a park — what we drive, and what our family looks like, it helps. I'll include a link to our Facebook page and they go on and see that we're just a typical family. A lot of times that will get us in, whereas if I were to just call them on the phone, they would say no.
Dana Ticknor:                    Our family loves Thousand Trails. So, we have a Thousand Trails membership and they don't really care. The limit for them is 10 people. But even when we were traveling with like 13 kids, they would just say put 10 in your reservations and nobody ever cares. So that was really handy.
Greg Gerber:                     You have also developed a reputation with that company and the campground. When you stayed at some of those places, and the kids weren't misbehaving and you often left it better than it was when you arrived by fixing things around the campground, I am sure that helps as well when you are looking to find another place to stay.
Dana Ticknor:                    We have our favorite campgrounds where we know that if we go, they know us and they know our kids. They know that we're not going to cause problems or whatever. And being on the road for so long, it's really nice to be able to do that.
Dana Ticknor:                    So yes, for a family of our size, it's nice to go back to the same places because they know what to expect and we know what to expect. Because we have been in some uncomfortable situations where and it's usually for shorter stays where they don't get to know us where we felt like the kids couldn't really go out and play and stuff. But that's not common. Usually we feel pretty much at home. We love that at a lot of campgrounds, there are kind of an older segment of people staying there because they really like do great things for our kids. Our kids hung out with the older crowd, and that has helped them to mature. It's been really nice because it gets rid of a lot of the negative influences that may be happening with a younger crowd. Yes, we love to return to the same campgrounds because then it goes both ways that we both know what to expect.
Greg Gerber:                     Very good. I think a lot of people might know what workamping is and that's where you rent yourself out to somebody in exchange for money. But another aspect of workamping is running a business from an RV.
Dana Ticknor:                    For us, we have actually workamped where we were camp hosts. And a lot of it had to do with the two different campgrounds that we did is that they were BLM campgrounds in Montana. And we would not choose to do that again cause going out at 2 a.m. to shut down a drunk group is not something that we enjoy. And so Lilla Rose is something where we get to choose our hours. If we want to go to the zoo during the day, I can wait and connect with my customers that night. If we maybe want to sleep in for the day, I can get my work out of the way and then we can head to the pool and take just take a down day and rest. So I get to pick what hours, when and what days I want to invest in my business. I'm not set to somebody else's schedule of being some place at a certain time…
Greg Gerber:                     And, you probably make more money.
Dana Ticknor:                    I do,
Greg Gerber:                     So where are you guys going to spend the winter?
Dana Ticknor:                    Well, we're not sure. I always have some shows I do in Texas in the spring, so we know we'll be there in the spring. Last year we spent the year in North Carolina. This year I think we're hitting California first for a pickle ball tournament. One of our sons wants to go to and then we'll probably head over to Arizona. We have family in Arizona and some activities that we did the first years we were traveling that our little kids either didn't get to do then or don't remember doing them. So, we really need to go back and like revisit Papago Peak and the Sonoran Desert Museum and all those things we did with our older kids, but this time take the little kids. Then in Texas, I don't know, we'll probably visit Civil War battlefields tour or head east after one of my favorite shows at the beginning of April if it's in Texas.
Greg Gerber:                     Very good. If people wanted more information about you and to learn how you're enjoying your lifestyle, do you have a blog and where people can find that information?
Dana Ticknor:                    Our blog address is www.ourtravelingtribe.com. And then we also have a Facebook page that's called the Ticknor Tribe.
Greg Gerber:                     Okay, very good. And if people wanted more information about Lilla Rose and the opportunity that you talked about here, how could they get in touch with you?
Dana Ticknor:                    So there is a there is a button on the right hand side bar on our blog that is about Lilla Rose They can also message us through our Facebook page, or they can go to my Lilla Rose site, which is www.lillarose.biz/danat.
Greg Gerber:                    Very good. Well, thank you so much, Dana. I really appreciate it and I appreciate you taking time to talk to us.