Podcast Episodes
In Episode 220, Ann Streber describes Workamping and hiring others for Trophy Gardens RV Resort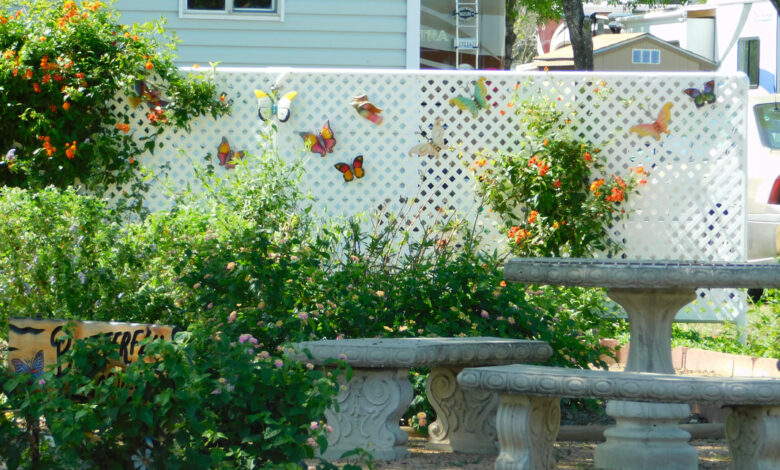 Podcast: Play in new window | Download | Embed
Subscribe: Google Podcasts | Spotify | Stitcher | TuneIn | RSS
Today I will be interviewing Workamper who now recruits other Workampers to help at an RV resort located in the Rio Grande valley of Texas, less than 15 miles from the Mexican border.
Ann Steber had been a Workamper herself since 2014. Today, she is responsible for recruiting Workampers for the 720-site Trophy Gardens RV Resort in Alamo, Texas. It is located about 90 miles west of South Padre Island, and it is about as far south in Texas as you can get.
She and her husband had been traveling in a fifth wheel when they took a job at Trophy Gardens in 2022, fell in love with the area, and agreed to stay on full-time. Although they live in a park model at the resort, the couple still uses their RV for recreational trips.
Trophy Gardens is a combination RV park and mobile home community. It features a swimming pool, two hot tubs, a gymnasium, two sewing rooms with heavy-duty equipment, a nine-hole golf course, pickleball courts, woodshop and what they call a cozy room used by knitters and people who like to play cards. The resort plans entertainment every Thursday and Sunday nights, and hosts dancing every Saturday night.
It is located just 15 miles from Mexico and many residents of the park like to walk across the footbridge to go shopping and enjoy truly authentic Mexican food.
Right now, there are five Workampers helping at the resort, and Ann is looking for people who would like to spend the winter of 2023 in south Texas. She will need about six Workampers next winter to help with the resort and restaurant.
The Workampers are involved in housekeeping, landscaping and painting on days when there isn't a lot of wind. They also help maintain the recreation areas. Workampers are needed from November through April, when demand is highest. However, the resort is open year-round.
There is no financial compensation to work at Trophy Gardens; however, Workampers generally put in only 15 hours per week, per person, to get a full-hookup site with free electricity. Workampers also get free access to laundry facilities and receive complimentary tickets to dances and other events at the resort.
There are no special skills required to work at Trophy Gardens RV Resort, but Ann can really use people who enjoy painting. The application process involves an interview to see what types of things Workampers like to do and if they have personalities that will fit nicely with the other guests at the park.
People who want to stand out with their applications can do so by reviewing information from the resort's website and explaining how they could fit into the community.
There is a lot to do in that area, including a large art museum and library in the vicinity. Another museum features stained glass windows from churches around the world. The Santa Ana National Wildlife Refuge and several other nature centers are also located within a few minutes of the resort.
The very popular tourist area of South Padre Island is only 90 minutes away, and the exquisite San Antonio Riverwalk is less than three hours away.
For more information about Trophy Gardens, visit www.rvresorts.com/trophy-gardens. You can find the resort's telephone number and email address on that page.
I also enjoyed the tales Ann shared about her own RV adventures and the places she has worked as a Workamper. I especially enjoyed the story about how she was selling candles at a car show in Michigan nine years ago when she encountered a Workamper who was selling sunglasses at various events in the summer and heading to Arizona for the winter months.
Even though they were in their 30s, It didn't take long for Ann and her husband to realize they could take their candle business on the road as well. To connect with Ann, visit www.facebook.com/AppleAnniesCandles.
Today's episode is sponsored by Workamper News. With its Diamond and Platinum membership tools, Workamper News is much more than just a job-listing website. When you put the tools of this professional service into action, you'll find out just how easy it can be to turn your Workamping dreams into reality.
The one-year memberships open the door to a one-stop-shop for all-things Workamping. Being the original resource for Workamping, you'll find the largest number of job listings, be able to connect with a community of Workampers, and view resources compiled by experts who have been enjoying the RV lifestyle for many years.
If you're serious about leading a successful and enjoyable Workamping lifestyle, then a Diamond or Platinum membership is for you.  You can even get started with a free 30-day trial by visiting www.workamper.com/trial. Embark on new adventures today with the support of Workamper News behind you!
That's all I have for this week's show. Next week, I promise to feature the interview with a woman who is traveling and Workamping with her children. I'll share their experiences on the next episode of The Workamper Show. Thanks for listening!