Podcast Episodes
In episode 136, Ranger Jessica Heath talks about volunteer jobs at the Lake Red Rock USACE project in Iowa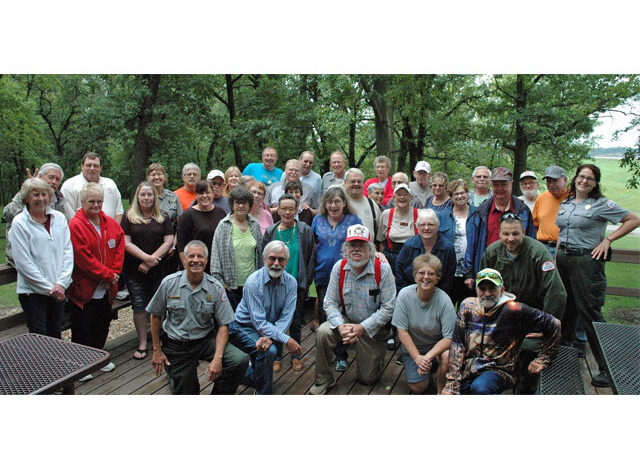 Podcast: Play in new window | Download
Subscribe: Google Podcasts | Spotify | Stitcher | TuneIn | RSS
Today I will be speaking with an employer from Iowa who is looking for volunteer Workampers for the 2022 season to work in a remote part of the state, but not too far from Des Moines.
Jessica Heath is a park ranger with the U.S. Army Corps of Engineers project at Lake Red Rock, Iowa. Nestled in central Iowa, about 35 minutes southeast of Des Moines, Lake Red Rock is the largest lake in the state.
It was made in 1969 when the U.S. Army Corps of Engineers (USACE) erected a dam along the Des Moines River to create an 11-mile-long lake and 35,000 acres of surrounding land offering bountiful recreation opportunities.
The project is home to six federally-managed campgrounds as well as three others operated by the state and county, including a primitive wilderness campground managed by USACE that is accessible by paddleboat or a short hike. There are 641 campsites at Lake Red Rock.
In addition to camping, many people enjoy boating, canoeing, kayaking and swimming. The lake is known for catfish and striped bass. Spring and fall seasons attract a number of hunters seeking white-tail deer and turkeys.
An 18-mile, paved bike trail guides visitors along one side of Lake Red Rock where they can enjoy some spectacular vistas of surrounding countryside. There are also 10 marked hiking trails and even a water trail for paddlers.
The project is technically open year-round because water below the dam never freezes and people like to fish in all seasons. It's for that reason that eagles like to hang out at the lake.
Ranger Heath hires about 60 Workampers every year to staff campgrounds, day-use areas or the visitor's center from mid-April through October. At that time, the weather can turn cold, which forces staff to winterize campgrounds.
Jobs are scattered throughout the project, but center around five developed campgrounds. Most Workampers typically live in the campground they are assigned or near the recreation areas they oversee.
Some jobs involve custodial work taking care of bathrooms and shower houses as well as keeping sites free of litter. They also take care of fire pits at the park. Workampers use Gators, or side-by-side utility vehicles, to travel around the park or along trails looking for debris.
Gate attendants collect fees from visitors, check people into campsites and serve as hosts at the main recreation areas. They drive through the park several times a day ensuring there aren't any problems and helping to educate visitors about park rules.
Maintenance jobs require Workampers to fix things, refurbish picnic tables and help with landscaping chores, like brush removal.
People working at the visitor's center answer phones, sell passes, greet people seeking information, pass out literature and look after various displays and animals.
Ranger Heath starts looking for Workampers for next season in early November, just after the current season draws to a close.
Whether the job is staffed by a couple or solo, Workampers typically volunteer a minimum of 20 hours per week, per position. Couples have the option of splitting job responsibilities between themselves, such as each performing 10 hours of work apiece. However, Lake Red Rock also actively recruits solo Workampers each season.
All Workamping jobs are volunteer; however, they receive a free full-hookup campsite with water, sewer and 30- or 50-amp power connections.
Although the nearby marina is not managed by USACE, its contractors do offer discounts on pontoon boat rentals to Workampers.
Rangers host a potluck dinner for Workampers early in the season to help them get to know each other, and another one toward season's end to recognize volunteers for their work. They also receive small gifts, like windsocks, metal yard signs or engraved glass coffee mugs, as well a framed certificate highlighting the total number of volunteer hours contributed to USACE.
Volunteers also plan their own potluck gatherings with other Workampers throughout the summer.
There are no special skills required to work at Lake Red Rock. Training regarding safety and specific job duties is provided for all positions.
Because Workampers will be working directly with the public, Ranger Heath said it would be good to have interpersonal skills to speak with them. One of the biggest traits she looks for is a positive attitude and someone who enjoys working well with others.
Because so many people are depending upon Workampers to help run the park, it could feel like a real job some days. However, the staff tries to balance that work with plenty of time off for relaxation and recreation so that everybody enjoys being here, said Ranger Heath.
To apply, you can get the ball rolling by emailing Ranger Heath at [email protected] or give her a call at (641) 426-0115. More information about the project is available at the U.S. Army Corps of Engineer's website.
Who knows, after a summer in Iowa, you might be asking the big question from the movie Field of Dreams – Is this heaven?
Today's episode is sponsored by The Dreamer's Journey, it is an online course and community produced by Workamper News. Life is way too short to keep your dreams on hold, so don't be held back by fear because you were designed for more!  Get started in the RV lifestyle the right way with this comprehensive guide.
For just $29.95 for 90 days access, Dreamers have unlimited viewing of 50-plus videos to learn things like what type of RV to buy, goal setting, how to budget for the adventure, developing a positive mindset, setting up a domicile and operating a small business on the road, plus everything about Workamping and how to find the right job for you. Each video is 30-90 minutes long to give in-depth coverage on each topic.
There's no wrong time to get started.  For more information, visit www.rvdreamersjourney.com.
That's all I have for this week's show. Next week, I'll be interviewing a volunteer who spent the summer right next door at a state park in Wisconsin. He'll tell us all about his first Workamping job on the next episode of The Workamper Show. Until then, have a safe, enjoyable Labor Day weekend to mark the end of another summer season. Thanks for listening!