Podcast Episodes
In Episode 137, novice Workamper Richard Ruppel describes his first assignments as a state park camp host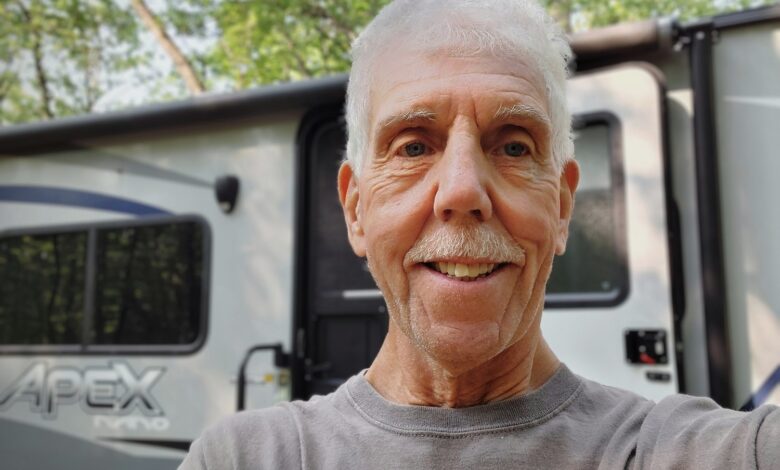 Podcast: Play in new window | Download | Embed
Subscribe: Google Podcasts | Spotify | Stitcher | TuneIn | RSS
Today I will be speaking with a Workamper who just wrapped up his second assignment, this one working at a state park in Wisconsin and he's heading to a new job at the other end of the state. He was celebrating his 67th birthday the day we recorded the interview.
Richard Ruppel is a former truck driver and HVAC installer from Milwaukee, WI, who just started Workamping this summer. He had three back-to-back assignments and is really getting the hang of the RV and Workamping lifestyle.
Before he retired, Richard had a travel partner for quite some time who enjoyed taking short-term trips with him until she developed a serious illness that pulled her off the road. So, Richard talks a bit about adjusting to traveling alone and about taking care of a pet that his friend was no longer able to care for herself.
He describes some of his typical daily duties as a campground host as well as what attracted him to Workamping and volunteering at various parks. He also describes the rather unique steps he followed to research and apply for specific jobs. It all comes down to being proactive and going after jobs rather than waiting to see if something opens up.
Richard talks about his travel trailer and one of the unique modifications he made to give him more room in an RV without slides.
Even though he has been Workamping for just a few months, Richard did a lot of research on the RV and Workamping lifestyle before he decided to pursue it. As a result, he has some really good advice for people pertaining to maintaining resumes, honoring commitments, contending with loneliness and pets on the road, and researching the practical aspects of Workamping assignments before making commitments.
He may be a novice Workamper, but Richard already has a good understanding of what it takes to enjoy a successful experience.
He told a great story about maintaining an up-to-date resume and ensuring that it is visible on the Workamper website. He described getting a phone call from a prospective employer within two days of ensuring that his information was available to employers looking for Workampers. That was impressive, but it's the type of success people have as members of the Workamper organization.
I appreciated Richard's advice that when he accepts a job, he is making a commitment not only to the employer but to all the other people the employer hires who depend on Workampers to do the work they're hired to perform. He said that Workampers owe it to their employers and fellow employees to maintain a positive, helpful attitude and he's right!
Richard also encouraged people to really evaluate every aspect of the job before accepting a position. While the job might sound ideal, it is important to investigate whether the infrastructure and amenities work for their particular lifestyle. For example, if you're used to being able to go online every day at will, but take a job in a remote area where internet service and cell phone signals are spotty or nonexistent, then you're in for a miserable couple of months.
Life interfered with Richard and his friend's travel plans to the point that she was unable to join him when he finally started Workamping. It's a good reminder that we are not guaranteed a tomorrow, so if you've been dreaming of a life of travel, it's best to act on it while you're still young and healthy. The only regret most full-time RVers have is that they should have started earlier.
So, do whatever you can to make it work for you. Fortunately you don't have to do it alone, you have an entire organization to help you every step along the way.
With its Diamond and Platinum membership tools, Workamper News is much more than just a job-listing website. When you put the tools of this professional service into action, you'll find out just how easy it can be to turn your Workamping dreams into reality.
The one-year memberships open the door to the one-stop-shop for all-things Workamping. Being the original resource for Workamping, you'll find the largest number of job listings, be able to connect with a community of Workampers, and peruse resources compiled by experts who have enjoyed the lifestyle for many years.
Most Diamond and Platinum members receive inquiries from their online resumes within a day of being posted. The Workamper Experiences section has been piling up reviews of employers since 2007.  Each archived issue of the Workamper News magazine lists hundreds of jobs.  Hotline jobs are emailed right to you, for the states you're most interested in visiting.
If you're serious about leading a successful and enjoyable Workamping lifestyle, then a Diamond or Platinum membership is for you.  You can even get started with a free 30-day trial by visiting www.workamper.com/trial. Embark on new adventures today with the support of Workamper News behind you!
That's all I have for today's show. Next week I am going to speak with a woman who has been traveling extensively with her husband, teenage daughter and rather young daughter who describes their experiences. It will be another great interview on the next episode of The Workamper Show. Thanks for listening!