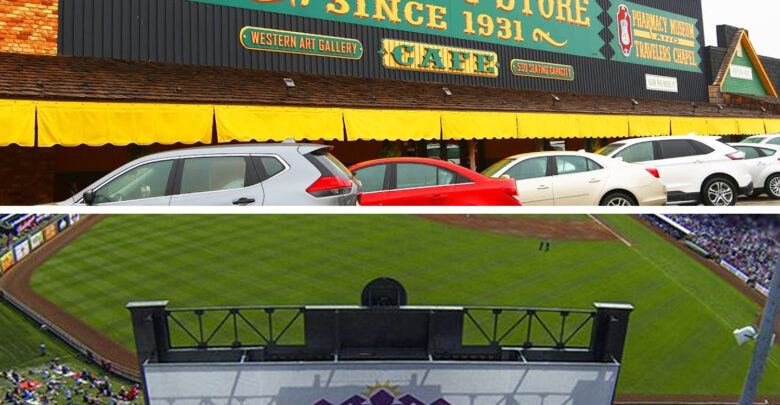 Podcast: Play in new window | Download
Subscribe: Google Podcasts | Spotify | Stitcher | TuneIn | RSS
This episode features two shorter employer interviews for Wall Drug and Aramark.
First up is Anne Spotted Bear, the human resources director for Wall Drug, which is one of the country's most well-known tourist attractions.
Anyone who has done any amount of traveling in the western states has likely heard of Wall Drug. The company has billboards everywhere promoting it as a travel stop.
It started as a simple drug store, but exploded into a landmark by simply offering cross-country travelers free ice water. Today, more than 2 million people visit the attraction annually for a meal, refreshments, souvenirs and, of course, free ice water.
Wall Drug is looking for workampers next year to work in the retail store as well as the very large 530-seat café. The firm offers flexible arrival dates starting in mid-April, and the commitment lasts through September, and even into October.
These are paid jobs that start at $11 per hour. Best of all, Wall Drug can hire teens over the age of 14, which makes it a wonderful location for a family to live and play for a season.
Working retail positions or in the café, Wall Drug's paid jobs allow singles, couples and families to make good money while staying at the historic location.
With RV sites offered at $50 per week, you should be able to replenish your bank account while experiencing the Badlands and the Old West. You can even tour a nearby Minuteman missile site.
For more information about working at Wall Drug, visit www.walldrug.com.
Enjoy spring training in the Phoenix area
Next up, we'll be talking with Barry Holtcamp, who recruits workampers for Aramark. If you like baseball, you'll love this opportunity.
Aramark is looking for people to work at the stadium in Surprise, Ariz., during spring training month.
He is looking for general utility workers, cashiers, cooks, warehouse workers and supervisors. There are more than 100 positions available to work between 25 and 35 hours per week.
The Surprise Stadium is the spring home to the Texas Rangers and the Kansas City Royals. That means there will be a game every day from Feb. 21 to March 21.
That area is a hotbed of activity during spring training month.
There are actually two stadiums within 10 miles of each other. The Surprise Stadium, which we've been talking about, and a stadium in nearby Peoria, Ariz., where the Seattle Mariners and San Diego Padres play their games. There are even more stadiums about 40 minutes away in Mesa Ariz.
If you like baseball, this job is for you. You can work a three- to eight-hour shift, then head down the road and watch more games. Plus, Aramark is offering a bonus of $1.50 for every hour worked and all you need to do to claim that is just show up for your shifts.
Don't forget, the Phoenix weather is absolutely splendid in February and March.
For more information about working some spring training games for Aramark, look for the careers page at www.aramark.com.
Whether it is running a business from your RV or working short-term jobs for a variety of employers, Workamper News can give you information to help plan a course to live your own dream and get you on the road faster than you thought possible. For more information about opportunities to live, work and play in your RV, visit www.workampernews.com.