Podcast Episodes
Dick and Melissa Karnes describe working remotely, fixing RVs and roadschooling their 12-year-old daughter in Episode 144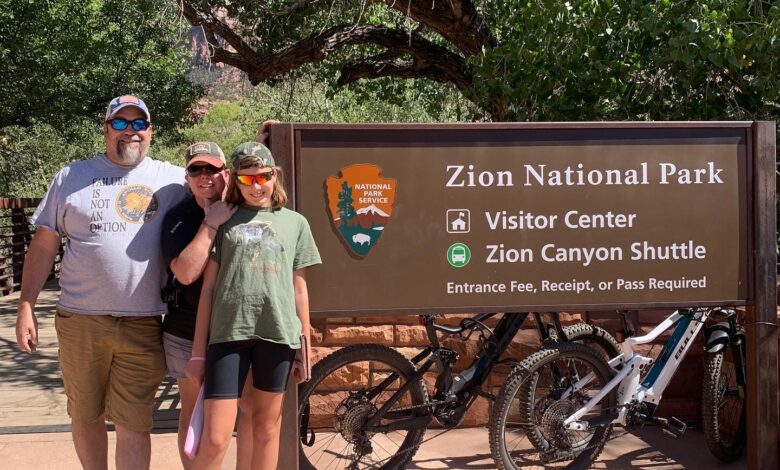 Podcast: Play in new window | Download
Subscribe: Google Podcasts | Spotify | Stitcher | TuneIn | RSS
Today I will speak with a couple who has been traveling around the country with their 12-year-old daughter while working a remote job and servicing RVs at campgrounds they visit.
Dick and Melissa Karnes are originally from Oregon, but they hit the road full-time in June 2018 with their daughter, Madison, as well as two cats and three dogs. Since then, the family has been able to travel anywhere they want to go at any time because of a unique Workamping situation.
Melissa is a mortgage underwriter for a Texas lender. She had been working that job for many years before convincing her employer that she could still do the work from an RV rather than a home office. She explains how she approached her company about the opportunity, and how she ensures all the work gets done with plenty of time remaining for the family to explore an area and enjoy life.
Dick, on the other hand, went through RV service training primarily to keep his own rig in order. The family had too many things planned and places they wanted to visit to have to wait several weeks for to get their RV fixed, if anything were to happen.
But, while attending classes, Dick realized that he could make money to support the family on the road by becoming a certified mobile RV technician. So, both he and Melissa completed training to become certified. That way, she can help him with a repair job when an extra set of trained hands would be helpful.
It is so easy for Dick to find repair jobs in a campground that if the family is only going to be at the location for a night or two, he will remove the magnetic signs promoting his services from his truck. Otherwise, he said he will be inundated with repair requests.
The Karnes will be slowing down a bit in 2022 because Dick just signed on to work with a company completing solar installs for RVs. The firm is so busy that they are booked through 2022 already and will be focusing only on doing installs in southern states and along the eastern seaboard.
Melissa also describes how she is roadschooling Madison and augmenting her education by visiting historical places and allowing her the freedom to study topics she's truly interested in learning. She said Madison is outside more than she ever was in a classroom setting and that's allowing her to be much more creative and to meet many more people.
The family was living in Oregon when they decided they didn't want to live in the state any more, but they were not sure where to move. That's when they stumbled upon some YouTube videos about full-time RVers. Their experiences encouraged the Karnes to hit the road visiting other states to find one that really appealed to them.
After three years of travel, they pretty much settled on Texas as a place to call home, but they realize there is still a lot of America left to explore.
They are members of Fulltime Families, an organization of RVers traveling with children who are school-age and younger. There are various rallies and other events for families to meet each other and for the children to make friends. Melissa said it's surprising how often they run into other families as everyone is crisscrossing the country.
Dick and Melissa highly recommend taking an RV maintenance course just to help you maintain your own RV so that you're not completely reliant upon finding a mobile technician or an RV dealership to repair something you can fix yourself.
They really love the ability to travel wherever they want to go and not be confined to one geographic area for an entire season or longer. If they pull into an area and really like it, there is nothing requiring them to move on. They are free to spend a week or longer just exploring that region.
However, the Karnes have met many people who find the ability to work seasonal jobs to be a very appealing way to earn a little extra money and save money on their RV sites.
But, if you have a job that requires you to drive into work to sit in a cubicle using a computer to do the job – or if you have been working remotely for some time now – you are in an ideal position to take that job on the road.
Melissa offered some suggestions on how to approach employers about working remotely in an RV. If you can maintain the same level of productivity, there really is no reason why you can't work traditional jobs from within an RV.
If full-time RVing has been on your mind for a while, Dick and Melissa urge you to jump in and give it a try. If it doesn't work out for you, you can always go back to a sticks-and-bricks home where you were, or relocate to a place you like even more. Who knows, you may really love the full-time lifestyle and chose to embrace it for several years like a million Workampers currently do.
Best of all, you don't have to blindly jump into the RV lifestyle. The Dreamer's Journey is an online course and community produced by Workamper News. Life is way too short to keep your dreams on hold, so don't be held back by fear because you were designed for more!  Get started in the RV lifestyle the right way with this comprehensive guide.
For just $29.95 for one year of access, Dreamers have unlimited viewing of 50-plus videos to learn things like what type of RV to buy, goal setting, how to budget for the adventure, developing a positive mindset, setting up a domicile and operating a small business on the road, plus everything about Workamping and how to find the right job for you. Each video is 30-90 minutes long to give in-depth coverage on each topic.
There's no wrong time to get started.  For more information, visit www.rvdreamersjourney.com.
That's all I have for this week's show. Our next episode will feature an interview with a man who took time to analyze his spending in a sticks-and-bricks home and realized how little he really needed to live on if he downsized into an RV and worked at jobs that covered his utilities and parking costs. He'll prove that you don't have to be retired or even have a lot of money in savings to embark upon the RV travel lifestyle while you're still young enough to enjoy it.
I'll have that interview on the next episode of The Workamper Show.