Podcast Episodes
Doug Lehman and Donna Hughes describe their fun and harrowing RVing adventures in Episode 135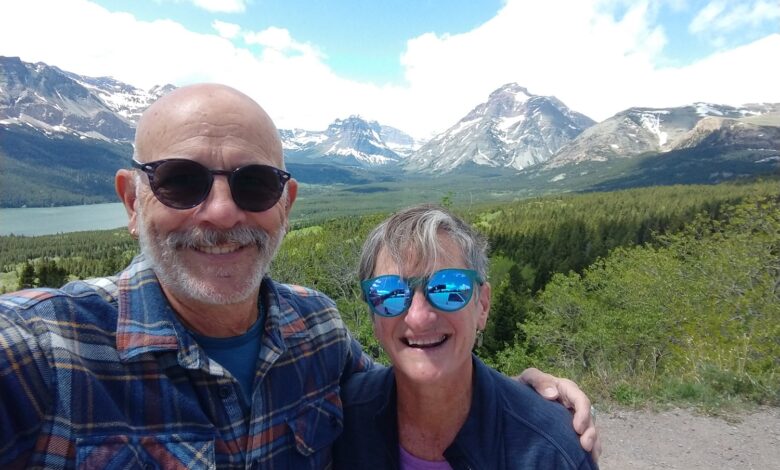 Podcast: Play in new window | Download | Embed
Subscribe: Google Podcasts | Spotify | TuneIn | RSS
Today, I'll be interviewing a couple from Pennsylvania who currently live in Phoenix. They started RVing a little over one year ago after they retired and they will be sharing their story.
Doug Lehman and Donna Hughes had been RVing for five years by taking shorter trips when they opted to go full time once they retired. They started Workamping right away, then took three months off last winter to see what real retirement was like. Neither of them liked it and thought Workamping was a much better option to keep busy and give them a sense of purpose.
They started out living in a Sprinter van, but upgraded to a travel trailer. Then they were smart and took a five-week trip to test out the living conditions. After attending an RV show, the couple learned that travel trailers aren't the ideal vehicles for full-time RVing, so they settled on a fifth wheel.
Doug explained that they didn't see value in having to maintain another drivetrain and engine on a motorhome, if the vehicle wasn't going anywhere.
They like to work as campground hosts and describe some of their experiences at different jobs. One of their favorites was working for a horse rescue facility in southern Arizona where they also got to take care of burrows, mules, goats and geese.
They find jobs by selecting a destination first, then looking to see who is hiring Workampers in that area. The ideal position is one in part of the country they have not visited together in the past.
Another job took them to Columbia Falls, Mont., near Glacier National Park. They described it as a relatively remote location, but a great place for hiking and running. That position was with a bed and breakfast inn with real log cabins where Donna cleaned the cabins and Doug performed maintenance.
Now they are in Phoenix where Donna has a job as a pastor for a small church for the next year and Doug has a frequent opportunity to go skydiving. They talk about both ventures and outline some of the items still on their lists of things to do.
Doug recalled a story where they were working at a camping resort near Fort Collins, Colo., when a wildfire erupted and forced everyone to evacuate the area. They were given a three-hour notice to gather all their belongings, unhook the RV and flee before the wind shifted. I know that must have been a scary situation.
It also draws attention to a valuable RVing tip – and that's to have a grab-n-go bag already prepacked with essential items so that if you even do get a knock on the door, then you won't have to scramble while trying to think of what to take with you. The grab bag would include a supply of medication for you and your pets, device chargers, identification documents like birth certificates and passports, back up drivers' licenses, insurance cards and phone numbers, as well as a change of clothing plus food and water for a few days.
Just having that bag packed and ready to go in a closet or compartment will give you tremendous peace of mind if you are ever caught in a fire, hurricane, tornado, flash flood or a similar situation.
Doug and Donna offered some advice on how to maintain great relationships within the confines of an RV, and it boiled down to making sure each person makes time to take care of themselves, too.
They encourage Workampers to fully understand expectations of a job before accepting a position and that's sound advice. For example, if a position advertises 40 hours of work each week in return for a free campsite, is that 40 hours split between the couple or is each person expected to work 40 hours a week?  Knowing what is expected of the Workampers before accepting the job goes a long way toward ensuring a happy, successful and stress-free experience.
I really appreciate Doug and Donna for sharing their stories and advice, and I wish Donna the best of luck in pastoring the church in Arizona and hope Doug stays safe as he enjoys his skydiving adventures.
That's all for today's show. It's hard to believe summer is almost over! Next week, I'll be speaking with a ranger from a U.S. Army Corps of Engineers property in Iowa who is looking for people to work next summer. It's never too early to start planning for your next assignment! I will have more details on the next episode of The Workamper Show. Thanks for listening!