Podcast Episodes
Author Larry Jorgensen describes a unique money-making opportunity for Workampers in Episode 153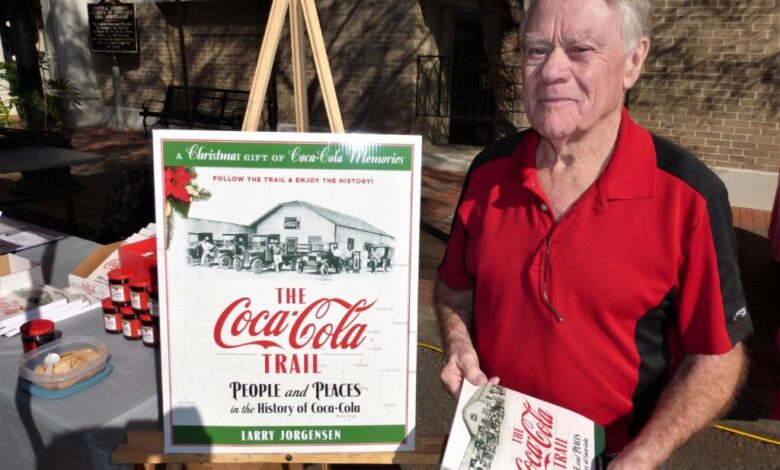 Podcast: Play in new window | Download
Subscribe: Google Podcasts | Spotify | Stitcher | TuneIn | RSS
This week I will be interviewing an author who wrote a history book about Coca-Cola and is looking for Workampers to encourage bookstores to buy the book as well as sell them at local events.
Larry Jorgensen has been a big fan of Coca-Cola for many years, but he was amazed at the network of companies that helped to make it one of the world's most widely-recognized brands. In 2017, he wrote The Coca-Cola Trail: People and Places in the History of Coca-Cola to capture and retain stories behind how the company grew from one man's secret recipe into a multi-national corporation.
It's a book that focuses not so much on the corporation itself, but on interesting and historic places to visit that pertain to Coca-Cola, as well as the people who played a role in growing the company. For example, it describes a place in Vicksburg, Miss., where Coca-Cola was first put in a bottle. The building still exists and people can see old equipment used to first bottle the beverage. It's now a museum of sorts, but it's just one example of what people will read about as they venture along The Coca-Cola Trail.
These are out-of-the-way places RVers may like to visit on their journeys. But, people who simply like history would enjoy reading the book, too.
Larry is looking for Workampers who would like to sell the book independently to other people, like RVers, or by encouraging stores to carry copies. The outlets may include stores at campgrounds, bookstores, souvenir shops, museums, travel centers, etc. They can also sell books at local fairs, flea markets and community events.
Workampers can buy the book at deeply discounted wholesale prices, then resell them while keeping the difference. Larry said they could make up to $10 per book.
The best part is that Workampers don't have to inventory a lot of books. They might want to keep a box handy for when they are traveling around and talk to someone who might want to read the book, or they visit a business where it would be a good tie-in to products they're already selling.
But, if they make a sale for a large order, Workampers simply call Larry and he can have a case shipped directly to the business. When businesses send in their payments, the Workampers receive a commission on the sale.
So, there are two ways to make money. Buying books at wholesale and selling them at retail prices, or earning a 20% commission for simply taking an order and allowing Larry to ship it to whomever ordered the copies.
Larry developed some point-of-sale literature that Workampers can use to entice people to buy the book. Like he said, people who travel a lot, such as full-time RVers, will encounter others would like to read the book or businesses that would like to include the book in their inventory.
As an example, Larry described the many businesses along Route 66 that cater to history buffs and people who want to relive the golden years of travel. These communities made a name by serving travelers during the time when Coca-Cola was developing into a brand people liked to drink at soda fountains, restaurants, gas stations, theaters and travel centers.
Many people have fond memories that include Coca-Cola, and they would be ideal prospects for buying the book. Because the book describes interesting Coke-related things to see all around America, people who like traveling will likely enjoy reading it, too.
Larry actually wrote two books, the other is titled The Return to the Coca-Cola Trail, so he could add more stories about people and places he uncovered after the first book was published. Workampers have an opportunity to sell or get orders for both books.
This opportunity is ideal for a history buff with a special interest in learning more about Coca-Cola and sharing that information with others. The book is a great conversation starter because most people, especially those over 50, have memories they like to share about their experiences with the beverage.
For more information or to contact Larry about the opportunity, visit www.thecocacolatrail.com. Larry's phone number and an online contact form are available on that site.
Workampers won't likely get rich by selling the book or representing it to businesses, but it sounds like a fun way to bring in some extra money. If you're interested in learning more, I encourage you to reach out to Larry.
Today's episode is sponsored by The Dreamer's Journey, it is an online course and community produced by Workamper News. Life is way too short to keep your dreams on hold, so don't be held back by fear because you were designed for more!  Get started in the RV lifestyle the right way with this comprehensive guide.
For just $29.95 for one year of access, Dreamers have unlimited viewing of 50-plus videos to learn things like what type of RV to buy, goal setting, how to budget for the adventure, developing a positive mindset, setting up a domicile and operating a small business on the road, plus everything about Workamping and how to find the right job for you. Each video is 30-90 minutes long to give in-depth coverage on each topic.
There's no wrong time to get started.  For more information, visit www.rvdreamersjourney.com.
That's a wrap for our last episode of 2021. We'll start the new year off with a series of interviews with employers who are looking for Workampers. I also have an interview scheduled with a health coach who is a full-time RVer. He will help folks either get healthy or maintain a healthy lifestyle on the road.
But, next week's episode will feature an interview with a representative from Six Flags at Darien Lake in New York about opportunities to work this summer. I'll share that on the next episode of The Workamper Show. May you enjoy a happy, healthy, productive and memorable new year in 2022. Thank you for listening.