Podcast Episodes
Episode 214 features part-time Workampers Craig and Sharon Butts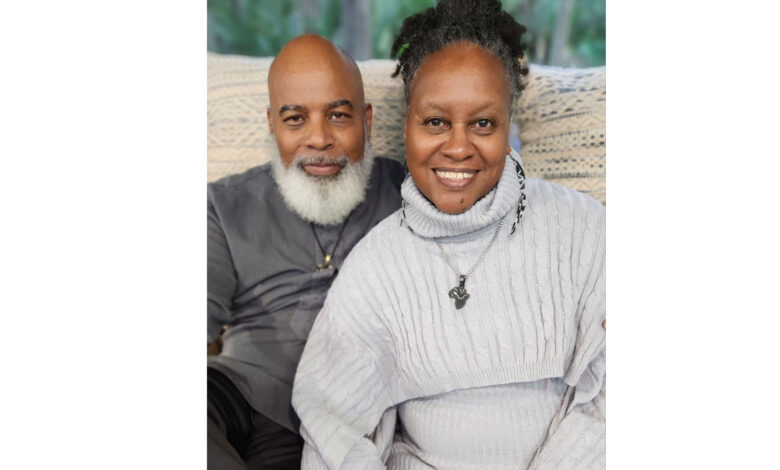 Podcast: Play in new window | Download
Subscribe: Google Podcasts | Spotify | Stitcher | TuneIn | RSS
Today I will be speaking with a couple who is relatively new to Workamping. They are originally from Denver and now living in Savannah, Ga. In addition to Workamping, they are committed to helping couples strengthen their relationships as well as encouraging more African Americans to experience the RV lifestyle.
Craig and Sharon Butts started their RV adventure during the COVID situation. Living in a 39-foot 2003 Winnebago Chieftain motorhome, they have held Workamping jobs during nearly 70% of their time on the road.
Sharon is a high school English teacher and Craig works with computers when he is not serving as the director of a non-profit organization in Savannah called Unity in the Community. Consequently, they are part-time RVers who go out for weeks and months at a time before returning to their home.
They often take Workamping jobs to support their lifestyle when traveling so they can get free full-hookup campsites. As Workampers, they sometimes get a larger RV site as well.
Craig and Sharon started Workamping at Skidaway Island State Park, near Savannah, where they took care of the restrooms and campground. At the moment, they prefer to travel around Georgia and venture into Florida. However, they would really like to spend some time in New England, especially in the Washington, D.C. area.
Of all the benefits to the RVing and Workamping lifestyle, Craig and Sharon said meeting new people is by far their favorite aspect. RVing has a way of mellowing people out, something Craig said he appreciates as a self-described "high-strung" type of person. Being outside in nature helps people relax and release some of tension in their lives.
Craig noted that RVing can either strengthen relationships or work to expose weaknesses. He and Sharon host a weekly radio show, called Taking the Journey Together, which airs Saturday mornings from 9 to 10 a.m. on WRUU. They also host another show streaming live on Facebook and Roku Thursdays at 6 p.m. on the All Things Relevant Network. In each episode, they discuss different elements of a thriving and healthy relationship.
I appreciate Craig and Sharon Butts for sharing their stories about part-time Workamping. Too often, we feature only full-time RVers, but there are a lot of teachers, like Sharon, who invest their summer breaks exploring different parts of America.
Craig encourages people to do a lot of research before jumping into the RV lifestyle. He personally watched hours of YouTube videos to learn about RVs and the various systems on board. When he saw a motorhome pop up on Facebook Marketplace at a price that was too good to be true, he and Sharon decided to stop planning to go RVing "someday" and take the leap of faith to get started.
They changed the flooring, added new lighting and fans, brought in some new furniture, swapped out the TV for a fireplace, and added blackout shades for a bit more privacy. After updating some of the wall colors, they created a cozy atmosphere that suits their lifestyle.
Craig and Sharon have experienced a few challenges as well. The electricity was rather unstable at one of their campgrounds due to an approaching hurricane, which caused them to rely on their generator for power. Craig also made a strong case for a quality surge protector to ensure a sudden power outage or surge doesn't damage electrical components.
Later this spring, the couple will venture back up to Warthen, Ga., where they will serve as camp hosts at a campground owned by an African American couple. They were also approached by the U.S. Army Corps of Engineers about serving at one of their campgrounds, which is an option they are considering, too.
Craig and Sharon are on a mission to encourage other African American families to enter the RV lifestyle. Ideally, they would like to work with a company or organization to become ambassadors of the RV lifestyle to that community.
To connect with Craig and Sharon, visit their website at www.rv-nubezz.com. You can also tune into their Taking the Journey Together radio show Saturday mornings at www.wruu.org, as well as their show on the All Things Relevant Media Facebook group.
Today's episode is sponsored by The Dreamer's Journey, it is an online course and community produced by Workamper News. Life is way too short to keep your dreams on hold, so don't be held back by fear because you were designed for more!  Get started in the RV lifestyle the right way with this comprehensive guide.
For just $29.95 for one year of access, Dreamers have unlimited viewing of 50-plus videos to learn things like what type of RV to buy, goal setting, how to budget for the adventure, developing a positive mindset, setting up a domicile and operating a small business on the road, plus everything about Workamping and how to find the right job for you. Each video is 30-90 minutes long to give in-depth coverage on each topic.
There's no wrong time to get started.  For more information, visit www.rvdreamersjourney.com.
That's all I have for this week's show. Next time, I will be speaking with a couple of Workampers who now recruit Workampers themselves to help out at a beautiful campground near Tyler, Texas. I'll have that interview on the next episode of The Workamper Show. Thanks for listening!