Podcast Episodes
In Episode 124, Lindsey Jaroszek and Tracy King-Garappolo describe Workamping jobs in the western states with Aramark Hospitality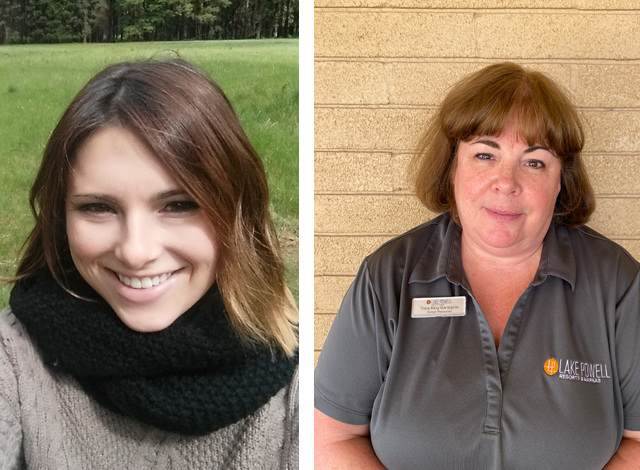 Podcast: Play in new window | Download | Embed
Subscribe: Google Podcasts | Spotify | Stitcher | TuneIn | RSS
Today I will speak with two women from Aramark Hospitality Management about Workamping opportunities at resorts around the country, and specifically, about the need for Workampers in northern Arizona.
Lindsey Jaroszek is a talent acquisition account manager with Aramark Hospitality who is responsible for finding people to work at resorts in several western states. She is joined by Tracy King-Garappolo, who works as an assistant human resources specialist at Lake Powell Resort and Marina.
Aramark contracts with a number of state and national parks to provide hospitality services as they relate to public-facing activities, such as hotels, restaurants and guided tours. Lindsey hires Workampers for four of those parks, including Olympic National Park in Washington, Crater Lake National Park in Oregon, South Lake Tahoe in California, and Lake Powell National Recreation Area at the Arizona/Utah border.
There are a variety of jobs Workampers perform and it depends upon the location as to what jobs are available. Some resorts may hire people to work at the front desk, provide concierge services or do housekeeping jobs. Other sites hire workers to engage guests in various activities or to lead tours.
Some resorts need Workampers in the food and beverage operations, while others serve as campground hosts and in retail centers, like gift shops and grocery stores. There are a few jobs available for bus drivers and experienced boat captains, and all the locations need some type of maintenance help.
Most Workampers put in 40-hour work weeks during summer months, but the work may taper off in the fall. Again it depends upon the location, and there are different shifts available, too.
All the jobs are paid, but the rate depends on the location. Yet, Workampers can take advantage of some great perks, like free or deeply-discounted equipment rentals. Some locations offer completely free RV sites, while others may charge a subsidy to cover utilities.
No special training is required for most jobs, except marine mechanics and boat captains do need the tools and experience to be able to work on boats. Some cross-training is available and promotion into managerial positions is possible, too.
Recruiting Workampers takes place year-round, with a bigger push in the early part of the year. Returning Workampers do enjoy some advantage in the ability to lock in jobs early.
Workampers enjoy a variety of full-time jobs at multiple locations in the western United States.
Once people have worked at one Aramark Hospitality location, it's easy for them to transfer to another resort. That means people have many opportunities to work within the same company, but at different locations.
Tracy and her husband, on the other hand, got jobs at Lake Powell Resort and Marina, fell in love with the desert scenery as well as the lake, so they stayed for many years.
The jobs are open to singles and couples, although some campgrounds may have limited availability for solo Workampers. Teenagers who are at least 16 years old can also get jobs at the resorts. Families with young children are welcome at the parks, too.
All of the jobs will require a background check and pre-employment drug screening. People who will be operating Aramark vehicles will have their driving record reviewed, as well.
All of the Aramark properties are located in high-demand tourist destinations, which means there are plenty of things to do during off-hours. The company even plans and schedules special activities for Workampers and other seasonal staff, especially for those who are working housekeeping positions.
While managers make every effort to set schedules so that couples have the same days off, sometimes they'll only have one day off together, but each Workamper usually enjoys two days off in a row.
People who are interested in applying for a position can find more information at www.borderlesscareers.com. There will also be a schedule posted for virtual hiring events. There are still a few jobs available this season.
So, if you like to work hard and play hard, be sure to check out Workamping opportunities available through Aramark Hospitality Management by visiting www.borderlesscareers.com.
Today's episode is sponsored by The Dreamer's Journey, an online course produced by Workamper News. Life is way too short to keep your dreams on hold, so don't be held back by fear because you were designed for more!  Get started with the RV lifestyle the right way with this comprehensive guide.
For just $29.95 for 90 days access, Dreamers have unlimited viewing of 50+ videos to learn things like what type of RV to buy, goal setting, how to budget for the adventure, developing a positive mindset, setting up a domicile, operating a small business on the road, plus all about Workamping and how to find the right job for you. Each video is 30-90 minutes long giving in-depth coverage on each topic.
There's no wrong time to get started.  For more information, visit www.rvdreamersjourney.com.