Podcast Episodes
Kathy Belge, founder of Solo Women RV, offers inspiration and tips on Episode 162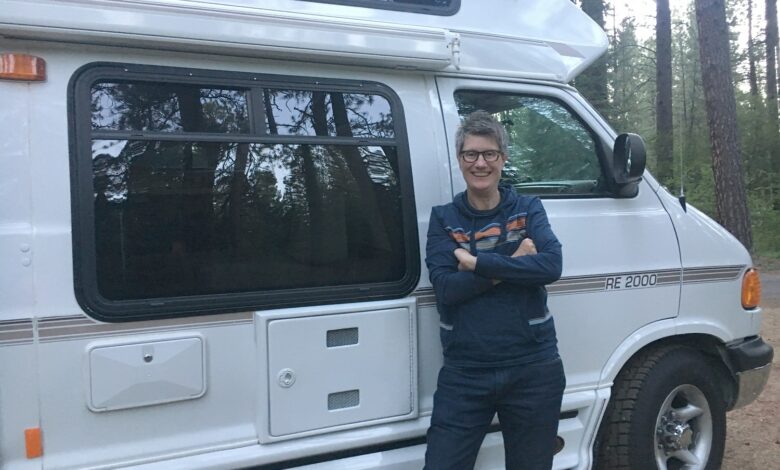 Podcast: Play in new window | Download
Subscribe: Google Podcasts | Spotify | Stitcher | TuneIn | RSS
Today I am interviewing a woman who is passionate about helping other single women discover the joys of RVing and to do so in a safe, memorable way.
Kathy Belge is the founder of Solo Women RV, a platform where she shares stories about her travels and offers advice to inspire women, especially those traveling by themselves, to enjoy the freedom of RVing. She maintains a blog and produces a podcast, too.
Kathy nicknamed her 20-foot 1999 American Cruiser Class B motorhome, Squeaky, because of all the creaks and groans the RV emits as it travels down the road. For many years, she also traveled with Olive, a big Alaskan Malamute, who passed away just a few weeks ago. Now she has a kitten who is getting accustomed to the RV life.
Her passion is to help women build confidence and skills to RV safely whether they travel alone or with someone else. Traveling is something Kathy has done since her 20s when she literally walked across America. She started RVing after renting an RV on her 40th birthday and realized it created many more travel opportunities.
She believes RVing offers healing power to women by helping them overcome limitations they've imposed on their lives. By getting out of their comfort zones and enjoying new experiences, women realize they possess hidden strength and skills that have been dormant for years.
Taking that first step is often the most difficult, but Kathy offers advice on how to muster the courage to do that.
Kathy is from Portland, Ore., and has worked several jobs as a volunteer campground host for the Oregon State Parks system and is hoping to do more Workamping this summer.
RVing offers Kathy a sense of freedom to travel anywhere and stay anywhere, whether it's in a campground, state park, Harvest Host location or even boondocking in a friend's driveway.
She explained the most important considerations for women who want to venture out on their own includes ensuring that they keep their RV or tow vehicle well maintained. The other is for women to trust their gut instincts. If a situation just doesn't feel right, pack up and head down the road.
Women shouldn't be afraid to ask for help. Kathy found that people are often more than willing to help new RVers back into a site or get hooked up properly. Doing so opens the door to friendships and learning even more from others beyond the initial request for help.
By learning as much as she could about how her RV worked, Kathy thinks it helps prevent her from being taken advantage of by mechanics. It's sad, but she has found that taking a male friend to service appointments works to ensure she's treated better.
Living in a relatively small space required Kathy to adapt by creating some unique storage solutions, especially for her bicycle. But she found using storage cubes works well to keep things organized and protected while traveling.
The key takeaway for me from Kathy's interview was to be careful of the voices you chose to listen to, whether they are an internal voice suggesting you don't have the skill, knowledge or ability to do something; or well-meaning friends who say discouraging things out of their own fear.
Just because friends and family members are convinced they couldn't go RVing by themselves, doesn't mean you shouldn't embrace the lifestyle yourself. There are literally tens of thousands of solo women RVers crisscrossing the country every day.
To connect with Kathy, listen to her podcast and follow her adventures, visit www.solowomenrv.com. You can also connect with her on Facebook and Instagram.
I wish Kathy Belge the best of luck as she pursues her mission to help women confidently pursue the RV lifestyle.
Today's episode is sponsored by The Dreamer's Journey, it is an online course and community produced by Workamper News. Life is way too short to keep your dreams on hold, so don't be held back by fear because you were designed for more!  Get started in the RV lifestyle the right way with this comprehensive guide.
For just $29.95 for one year of access, Dreamers have unlimited viewing of 50-plus videos to learn things like what type of RV to buy, goal setting, how to budget for the adventure, developing a positive mindset, setting up a domicile and operating a small business on the road, plus everything about Workamping and how to find the right job for you. Each video is 30-90 minutes long to give in-depth coverage on each topic.
There's no wrong time to get started.  For more information, visit www.rvdreamersjourney.com.
That's all I have for this week's show. Next week, I'll be speaking with someone from an RV park in Georgia about an opportunity live and work along the Atlantic coast. I'll have more details on the next episode of The Workamper Show. Thank you for listening!