Podcast Episodes
Anne, a long-time Workamper, describes opportunities at Southern Retreat RV Park in Brunswick, Ga., in Episode 163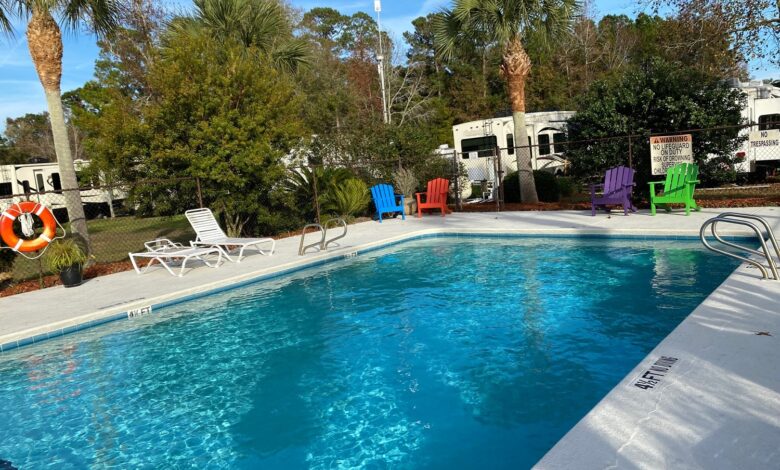 Podcast: Play in new window | Download
Subscribe: Google Podcasts | Spotify | Stitcher | TuneIn | RSS
Today I am going to speak with an employer from Georgia which hires Workampers for a campground near the Atlantic Ocean.
Southern Retreat RV Park is located in Brunswick, Ga., and ideally situated halfway between Savannah, Ga., and Jacksonville, Fla. It's close enough to bigger cities, yet conveniently tucked away in an area that allows people to enjoy the outdoors. It's not on the ocean, but the shore of Jekyll Island is less than 15 miles away.
Today I am going to speak with Anne, who has been Workamper at the RV park for five years. She asked that we don't use her last name, so we'll honor that request.
Ownership of the campground changed in 2019, so the 160-site RV park is planning to double in size this year with an additional 190 RV sites and even more recreation opportunities. There is an on-site restaurant called Fishtails Pub and Grill, which was just approved for a liquor license. The park also features a 4-acre lake set up for fishing and paddle sports. There will soon be two pools at the park, one of which is an infinity pool.
The campground hires Workampers to serve in the front office and kitchen as well as to perform maintenance and housekeeping jobs. Because of the climate in Brunswick, Southern Retreat RV Park is open year-round, but managers want Workampers to commit to stints of four to six months. Workampers can stay longer and return seasonally, if they desire.
There is a good mix of short-term and long-term guests using the park, thanks in part to the elaborate Federal Law Enforcement Training Center, which is 10 miles away.
Workampers put in 24 hours per week in exchange for a free full-hookup campsite, and they are paid for every hour worked beyond that minimum commitment. The deal comes with a nice perk in that Workampers and their spouse receive a free meal at the restaurant every day they work, and discounted meals on their off days.
Of all the qualifications for Workampers, Southern Retreat looks for those who have a positive attitude and a willingness to learn. Managers will provide training for every Workamping job, but really seek people with a sense of humor who enjoy working with others, have great personalities, a pleasant disposition and a willingness to work.
When they're not working, there are plenty of things for Workampers to do in the area. Like I noted at the start of the show, Jekyll Island State Park is only 15 miles away and other ocean beaches are just 10 minutes away. People can also tour lighthouses and museums on nearby St. Simons Island.
Don't forget the bountiful golf courses and the ability to take part in freshwater and ocean fishing. There are plenty of rivers and inlets for people to use for canoeing and kayaking or pleasure boating and simply admiring many animals and birds. There are miles of roads and trails for biking and hiking, too.
Jacksonville, Fla., and Savannah, Ga., are only an hour away and both of those locations are rich in historical and cultural sites. Charleston, S.C., is three hours north and the theme parks of Orlando are three hours south. Atlanta is a little over four hours away as well. So, there are plenty of things to do within close proximity of the campground.
Anne made an interesting observation that many people first arrive at Southern Retreat RV Park as guests and then stay or return to serve as Workampers, which I think says a lot about the atmosphere and culture of the park, and how they value people.
Because the campground is open year-round, Southern Retreat RV Park is constantly recruiting Workampers. Applying is as easy as sending a resume and an email outlining experiences and a desire to work there to southernretreatrv@hotmail.com. The park has openings right now.
That's all I have for this week's show. Next time, I will be speaking with a couple who makes a very good living traveling the country to conduct surveys of various retail and commercial properties.
These aren't opinion surveys, rather detailed descriptions of physical elements on the property, like the location of water outlets and light poles. If you have good attention to detail, this could be a wonderful opportunity for you. I'll have more details on the next episode of The Workamper Show. Thanks for listening!