Podcast Episodes
Terri and Rick Morgan talk about traveling to conduct commercial property surveys on Episode 164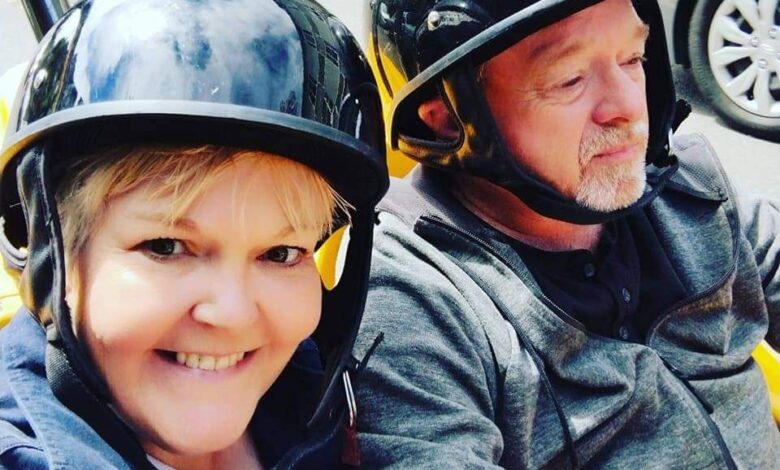 Podcast: Play in new window | Download
Subscribe: Google Podcasts | Spotify | Stitcher | TuneIn | RSS
Today I will be speaking with a couple from Arkansas who make a very good living as Workampers by conducting surveys of retail and commercial properties. These are not public opinion surveys, rather detailed descriptions of office buildings and strip malls which show locations of various features, like light poles, electric meters and sprinklers.
Terri and Rick Morgan are from Texarkana, Ark., and they have been RVing for about three years. When they started, Rick was a commercial plumber employed by company in Baton Rouge, but Terri was bored just sitting round their RV all day. So, she got a Workamping job at the campground's office.
However, the Morgans really enjoyed traveling, but both jobs confined them to one area. So, after seeing an advertisement for a Workamping gig with a company called ID Plans, which is based out of Tampa, Fla., they applied and got the job.
Now they travel around the nation conducting physical surveys of commercial buildings for property management companies. They document square footage, parking spaces, lighting, signage, and meters for water, gas and electricity as well as everything else that can be found in, on or around an office building, retail store or strip mall.
This information is beneficial for property managers because if there is a problem, it's easier for building owners to get it fixed if they can accurately describe the equipment and where it is located.
The couple has permission to boondock in the parking lot at properties they are evaluating during their three- to four-day stays. Then, they move on to their next assignment at whatever pace they desire. There is a lot of flexibility built into the system. For example, they took most of December off just to travel and play.
Training is provided by the company and Workampers given company-owned tablets with special software installed so they know what needs to be documented.
A new couple is matched to experienced surveyors so they can follow along and watch how a survey is completed. Then, at the next assignment, the new couple does the work while an experienced couple offers advice or points out something that was missed.
Terri and Rick have visited all but 10 states on their journey. They get to select assignments in areas they want to visit and the company pays a mileage rate as they drive from Point A to Point B.
They've had some interesting challenges along the way, such as having a generator quit on them during the middle of a job. Terri and Rick have since installed solar power to their RV, which is making their lives even more enjoyable.
Working as surveyors for ID Plans sound like it would be interesting work and relatively easy for someone with good attention to detail.
It pays very well, too. The Morgans earn between $2,000 and $6,000 per week, depending upon the size of the assignment and the level of documentation they need to provide.
Terri and Rick are basically performing detective work in trying to find resources and determine what's powering them, whether the lights are running on photocells, timers or switches. They do have to use equipment like an amp meter to test the wattage of outlets. But, it's not too difficult to do and easy to learn the steps to completing a survey.
If you're interested in learning more about getting a traveling Workamping job with ID Plans, visit www.idplans.com. I interviewed Mark Braddy, the company's director of operations, about this time last year. You can listen to that interview on Episode 112.
Terri offered some great advice for people considering the RV and Workamper lifestyle. She said they often overthink the details, which drags out a decision to start until it's too late for them to begin. So, do it now!
Terri and Rick are documenting their own adventures in a blog and videos posted to www.whereintheworldarethemorgans.com. It allows friends and families to keep up with their adventures and also provides information for other Workampers regarding things to see and do in a specific area.
Today's episode is sponsored by Workamper News. With its Diamond and Platinum membership tools, Workamper News is much more than just a job-listing website. When you put the tools of this professional service into action, you'll find out just how easy it can be to turn your Workamping dreams into reality.
The one-year memberships open the door to a one-stop-shop for all-things Workamping. Being the original resource for Workamping, you'll find the largest number of job listings, be able to connect with a community of Workampers, and view resources compiled by experts who have been enjoying the RV lifestyle for many years.
If you're serious about leading a successful and enjoyable Workamping lifestyle, then a Diamond or Platinum membership is for you.  You can even get started with a free 30-day trial by visiting www.workamper.com/trial. Embark on new adventures today with the support of Workamper News behind you!
That's all I have for this week's show. Next week, I will be doing a follow-up interview with a man who became a mobile RV technician a little over a year ago. At the time, he was just starting his business and we'll discuss how it all panned out. He's also got some good information about challenges RVers will be facing in 2022. I'll have more details on the next episode of The Workamper Show. Thanks for listening!