Podcast Episodes
In Episode 213, Jessica Heisler describes gate-guarding jobs with JG Security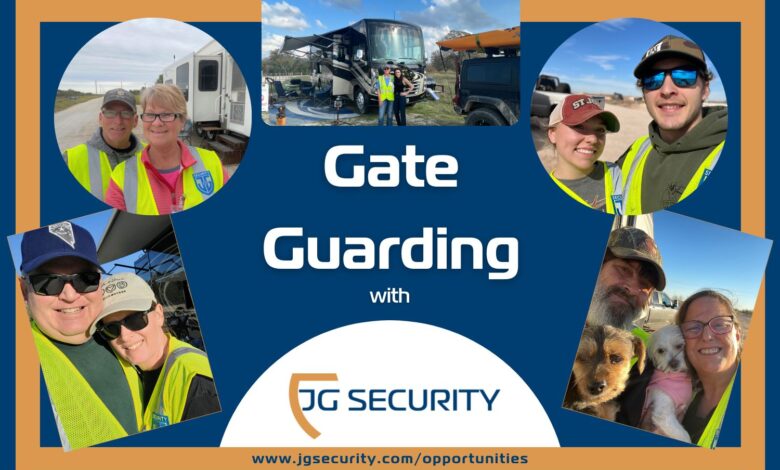 Podcast: Play in new window | Download | Embed
Subscribe: Google Podcasts | Spotify | Stitcher | TuneIn | RSS
Today I will be speaking with an employer from Texas who will talk about one of the most lucrative job opportunities available to Workampers, and that's serving as a gate guard where they can earn $6,000 a month per couple.
Jessica Heisler works for JG Security, a company that started in 1995 to provide on-site security services for oil fields, green energy plants, construction sites and several other needs in the private sector. Workampers live on-site and control access to the area.
JG Security is looking for about 50 gate-guarding couples to get them through the summer season. The company is headquartered in Texas, and that's where many of the jobs are located. But, help is needed at job sites from New Mexico to Louisiana and beyond as new clients are added all the time.
Typically, as vehicles come to the gate, the guards use a company-provided iPad to log who is coming in or going out by entering the vehicle license number and the identity of the driver as well as any passengers. Guards also remind incoming drivers of any speed limits or special rules pertaining to the property. Guards take photos of the vehicles and what's on the trucks to help client companies to know what equipment is coming in or leaving the property.
Jessica said it is relatively easy work, but gate guards must be available 24 hours a day, seven days a week. That's why couples are preferred so that coverage can be split between two people. It also allows one person to sleep or run errands while the other person monitors the gate.
Solo Workampers have been able to do the work in the past, but it is a much more demanding schedule for them. When solos are hired, they often work 12-hour shifts for specialized assignments.
When Jessica served as a gate guard for eight months straight, she had plenty of time to pursue some of her favorite hobbies, such as painting and sewing, as well as plan what she would do when she hit the road again after the assignment was completed.
Workampers receive a free RV site with utility hookups. They are also paid a base rate of $200 per day, per couple. There are no living expenses to worry about, and no commuting to and from a job site. Many Workampers serve as gate guards for a month or two, then head off to enjoy some travel experiences and repeat the process a few months later.
Working as a gate guard is very different from most other Workamping jobs. It is not a position that starts at a specific time and ends at a specific time. Sometimes the job sites change location and Workampers will need to move to the new site. So, the position requires a level of flexibility that may not be required for other types of jobs.
While security is needed year-round, there is a less demand for gate guards in the winter months. That means Workampers will be needed during typically warmer periods in south Texas. However, gate guards can stay in their air-conditioned or heated RVs and come out as needed to open the gate.
Jessica explained that many Workampers buy their own driveway alarms to give them advanced notice of approaching vehicles so they can have some extra time to get into position to greet the drivers. The cost is reasonable, averaging around $65 per sensor, which triggers the alarm.
Although the job requires Workampers to be available 24/7 to do the work, with advanced notice, the company can often find a fill-in to work for a while. For example, a Workamping couple can leave to attend a wedding for a week or so and return to the job site.
Gate guards will need a special security license to work in some areas, especially Texas. But that consists of taking a six-hour online course, uploading the certificate of completion and getting fingerprinted. Jessica can walk applicants through the process in greater detail.
It's important to remember that people are not being hired for a specific job. Rather Workampers are needed to provide short-term security at a variety of projects. They may work at the same location for 30 days, or they may spend five days in one area, have a few days off, and work 10 days on another project. Jessica can provide more details about how scheduling works.
For more information about Workamping jobs at JG Security, visit www.jgsecurity.com/opportunities where people can watch some videos or download some PDFs. People can complete an application online. The company is looking for Workampers this spring, summer and fall, so reach out to JG Security today.
Today's episode is sponsored by Workamper News. With its Diamond and Platinum membership tools, Workamper News is much more than just a job-listing website. When you put the tools of this professional service into action, you'll find out just how easy it can be to turn your Workamping dreams into reality.
The one-year memberships open the door to a one-stop-shop for all-things Workamping. Being the original resource for Workamping, you'll find the largest number of job listings, be able to connect with a community of Workampers, and view resources compiled by experts who have been enjoying the RV lifestyle for many years.
If you're serious about leading a successful and enjoyable Workamping lifestyle, then a Diamond or Platinum membership is for you.  You can even get started with a free 30-day trial by visiting www.workamper.com/trial. Embark on new adventures today with the support of Workamper News behind you!
That's all for this week's show. Next week, I will be speaking with a Workamping couple who is making it their mission to educate minorities, especially African Americans, about the RV and Workamping lifestyle. I'll have that interview on the next episode of The Workamper Show. If you like these interviews, please consider leaving a review wherever you download the episodes. Thanks for listening!