Podcast Episodes
Episode 215 features Richard and Venita Peacock, who recruit Workampers for The Boulders at Lake Tyler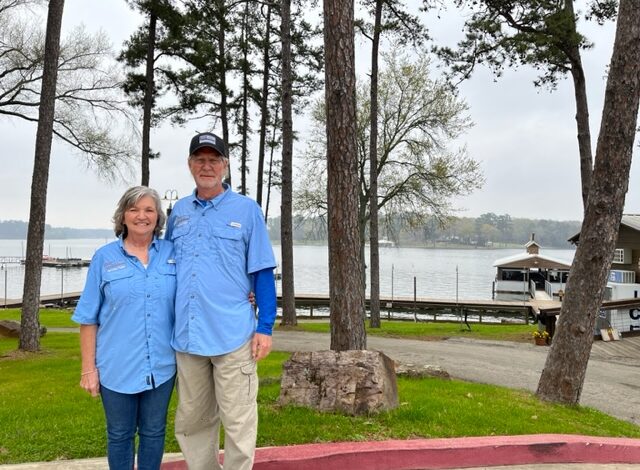 Podcast: Play in new window | Download
Subscribe: Google Podcasts | Spotify | Stitcher | TuneIn | RSS
Today I will be interviewing a couple who has been Workamping for three years, but now recruits other Workampers to serve at the same RV park they call home.
Richard and Venita Peacock are both from east Texas. They got into the RV lifestyle at the urging of Venita's sister and brother-in-law who started RVing in 2019. While Venita was intrigued, she didn't think anything could get Richard to give up golfing. However, eventually, the couple sold their home on a golf course to pursuing RVing full time.
They have traveled to most of the southeastern states and even rode out Hurricane Sally when it arrived in 2020, something Richard discourages RVers from trying to do themselves. They live in a 42-foot Alliance Paradigm fifth wheel that has a built-in office or multipurpose room.
Having an RV that large has been challenging for Richard and Venita because all their trips must be planned to be sure they can get in and out of places they visit for food, fuel and fun. They have experienced some challenges, such as losing a sway bar on one trip.
During one of their first trips, they ran out of propane and woke up to a freezing RV, then they hit a protective barrier around a gas pump and even hit their garage when backing the RV. Although they wondered if they made the right decision to jump into the RV lifestyle, they persevered and are having a lot of fun today.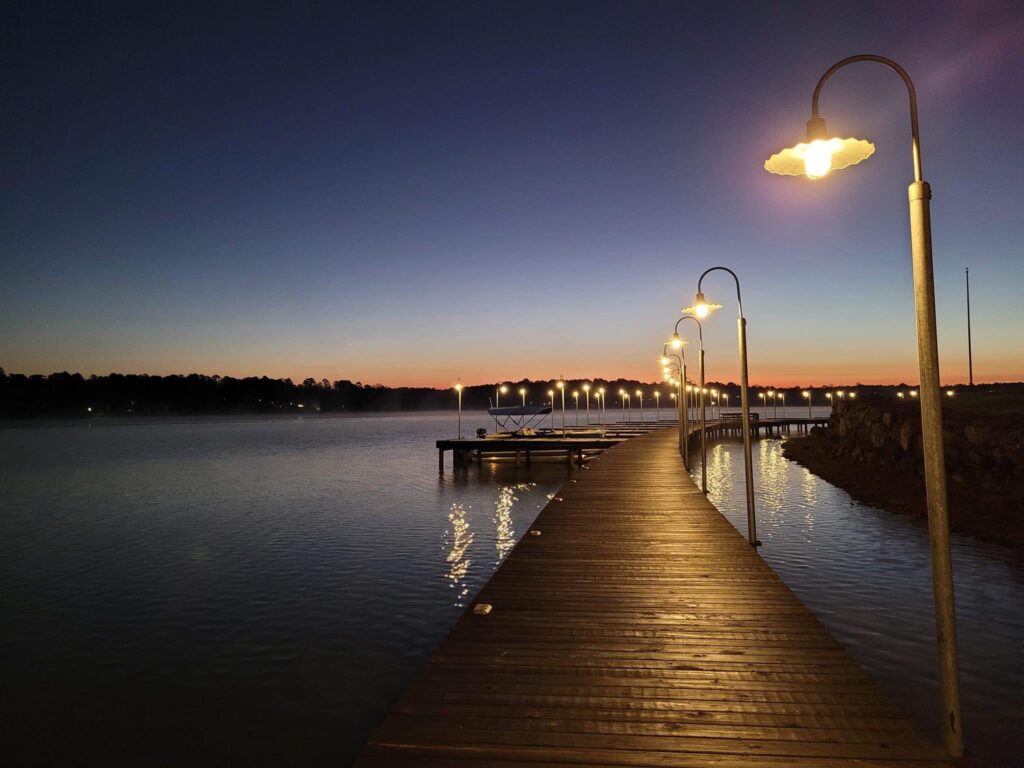 Their Workamping experiences have been limited to working at The Boulders at Lake Tyler, an RV park near Whitehouse, Texas. They visited the campground early in their RV travels, fell in love with its beauty and amenities, and returned every year since. Richard and Venita love it so much they agreed to stay on indefinitely as Workampers.
The 238-acre lakeside RV park has an event center, for which Venita coordinates various activities taking place there, from weddings and business meetings to special events for campground guests. A unique fishing barge allows guests to drop a line from the comfort of a shaded space.
The park puts out corn every afternoon which attracts up to 40 deer. Because it's off the beaten path, The Boulders is a family-friendly park where kids can fish, run or bike around without worrying about a lot of traffic.
The park rents pontoon boats, kayaks, golf carts and bicycles. Onsite food trucks provide things like barbecue, other snacks, coffee and sno-cones. The campground is relatively small with just 44 RV sites, four cabins and a few glamping tents and primitive tent sites as well. There are no seasonal sites and guests can stay a maximum of 14 days.
A half-mile boardwalk along the water allows people to really enjoy scenic Lake Tyler. There is even a boat launch and a few boat slips for campers to use. Although the park is open year-round, its peak season runs from March through October. The Boulders is looking for three more Workamping couples for the 2023 season.
Workampers at The Boulders at Lake Tyler don't get paid; however, they do receive a free full-hookup RV site in exchange for 30 hours of work per couple, per week. That amounts to 15 hours per person. The park asks Workampers to make a six-month commitment.
Couples will often work on the same day, but may not work at the same time. For example one person may work the in the morning and the other during the afternoon or evening. That means a family with young children may be able to get a job at the park and still be able to watch their kids.
Most of the time, The Boulders tries to schedule people to work three days in a row and then take four days off. Workampers also have access to all the park's amenities, including use of the pontoon boats, bicycles, kayaks and other toys not being rented by guests.
The work isn't difficult at all. People with good customer-service skills and a pleasant attitude will fit right in. Workampers take reservations and greet guests as well as staff the general store and bait shop. They also pick up trash around the park and ensure the facilities remain clean.
People interested in serving as Workampers simply email their resumes. Then Richard and Venita will look it over and set up interviews via Zoom, or, if applicants are close enough to Tyler, people can come in for a tour of the park. Hiring decisions are made within a few days of the interview.
There are plenty of things for people to do in the area when they aren't working. The campground is one hour from Shreveport, La., and two hours from Dallas. People can reach Houston, Galveston, San Antonio, Austin and Little Rock within four or five hours.
Tyler Lake is host to a number of fishing tournaments, and one of the largest flea markets in the region takes place 45 minutes away in Canton, Texas. Nearby Tyler, Texas, is well known for its rose gardens.
For more information about The Boulders at Tyler Lake, visit www.boulderslaketyler.com. To submit an application, email your resume to [email protected].
Today's episode is sponsored by Workamper News. With its Diamond and Platinum membership tools, Workamper News is much more than just a job-listing website. When you put the tools of this professional service into action, you'll find out just how easy it can be to turn your Workamping dreams into reality.
The one-year memberships open the door to a one-stop-shop for all-things Workamping. Being the original resource for Workamping, you'll find the largest number of job listings, be able to connect with a community of Workampers, and view resources compiled by experts who have been enjoying the RV lifestyle for many years.
If you're serious about leading a successful and enjoyable Workamping lifestyle, then a Diamond or Platinum membership is for you.  You can even get started with a free 30-day trial by visiting www.workamper.com/trial. Embark on new adventures today with the support of Workamper News behind you!
That's all for this week's show. Next week, I'll be speaking with someone from Alabama who operates a highly-automated RV community and needs long-term help keeping the system running. I'll have that interview on the next episode of The Workamper Show. Thanks for listening!