Podcast Episodes
Brenda Puckett, with Queen Bee RV, talks about her passion for training in Episode 241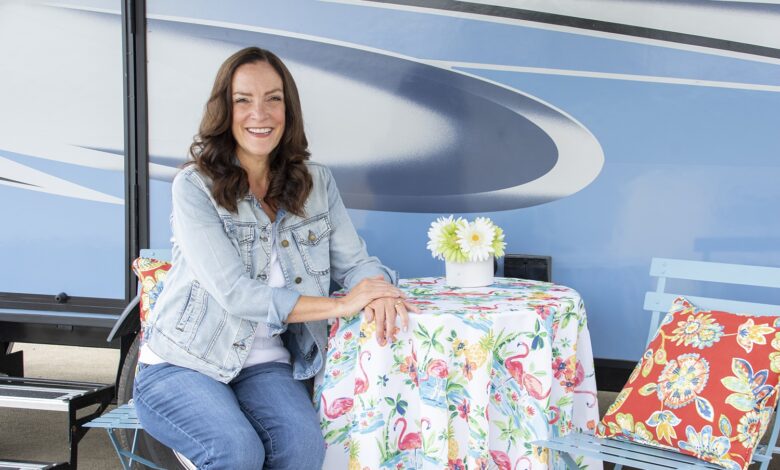 Podcast: Play in new window | Download | Embed
Subscribe: Google Podcasts | Spotify | Stitcher | TuneIn | RSS
Today I will be interviewing a woman who has been RVing for many years and is now one of the foremost trainers serving the RV industry.
Brenda Puckett is the owner of Queen Bee RV, which is located in Oklahoma. A former real estate agent, Brenda found that experience to be soul crushing in the way it took over her life. She started RVing as a way to escape the stress of being in real estate.
Although her husband was not a big fan of camping, Brenda discovered several women's camping groups and enjoyed spending time with them. She loved RVing so much that she wanted to find a job or start a business in that industry.
She was scrolling through the Reddit forum one night when she saw something posted by a couple who had just graduated from the National RV Training Academy and started working as inspectors. After a call to the school the next day, Brenda packed her car and headed to Athens, Texas, a few days later to attend classes.
Within 18 months of completing her first RV inspection, she had built her business to the point she could walk away from real estate entirely. With the extra time, Brenda expanded her business by providing training services.
She started by doing one-on-one coaching with new RV owners. Then Brenda became involved in doing training for women's groups by conducting seminars around the country with 52 University, which was a spinoff of a 52-video series she created with a partner for YouTube.
Soon, Brenda was helping to teach classes at the National RV Training Academy, especially as a technical assistant in the hands-on labs. But, she also loved to teach people about setting up a small business. Eventually, Brenda took over the Small Biz RV classes to teach people how to be entrepreneurs, especially in mobile businesses of their own.
Brenda is a wealth of information about how to go RVing the right way by tapping into trustworthy information from reliable services. Whether selecting a good RV to buy, then learning how to set it up in a campsite, to keeping it in good condition to product the investment, Brenda has a knack for explaining complex issues in a way that makes it easy to understand.
That applies to anything pertaining to the RV itself as well as running a profitable business from an RV.
I especially like that Brenda is focused on helping people understand the unique lingo associated with the RV lifestyle. She helps them understand what all the parts and components are called, and what they are intended to do.
Everything Brenda does is designed to help eliminate confusion so people can simply relax and enjoy their RV experiences rather than be tense by thinking they're going to make a major or costly mistake.
Making the information available online so that it can be accessed at anytime from anywhere someone has an internet connection, makes the material Brenda develops great resources for people to access around the clock.
For more information about Brenda's training, or to connect with her, visit www.queenbeerv.com. From there, you'll find links to her 52 Ways video series. If you would like more information about Brenda's small business RVer school for entrepreneurs on the move, visit www.smallbizrver.com. For information about the RV Operations Course home-study training, visit www.rvtechcourse.com.
Today's episode is sponsored by Workamper News. With its Diamond and Platinum membership tools, Workamper News is much more than just a job-listing website. When you put the tools of this professional service into action, you'll find out just how easy it can be to turn your Workamping dreams into reality.
The one-year memberships open the door to a one-stop-shop for all-things Workamping. Being the original resource for Workamping, you'll find the largest number of job listings, be able to connect with a community of Workampers, and view resources compiled by experts who have been enjoying the RV lifestyle for many years.
If you're serious about leading a successful and enjoyable Workamping lifestyle, then a Diamond or Platinum membership is for you.  You can even get started with a free 30-day trial by visiting workamper.com/trial. Embark on new adventures today with the support of Workamper News behind you!
That's all I have for this week's show. Next time I will be interviewing a Workamper about job opportunities in New Hampshire working for Palace Entertainment. I'll have that interview on the next episode of The Workamper Show. Thanks for listening and if you like these interviews, please consider leaving a review wherever you download the episodes.