Podcast Episodes
In Episode 196, Travis Walsh talks about Workamping at Jellystone Park in Warrens, Wisc.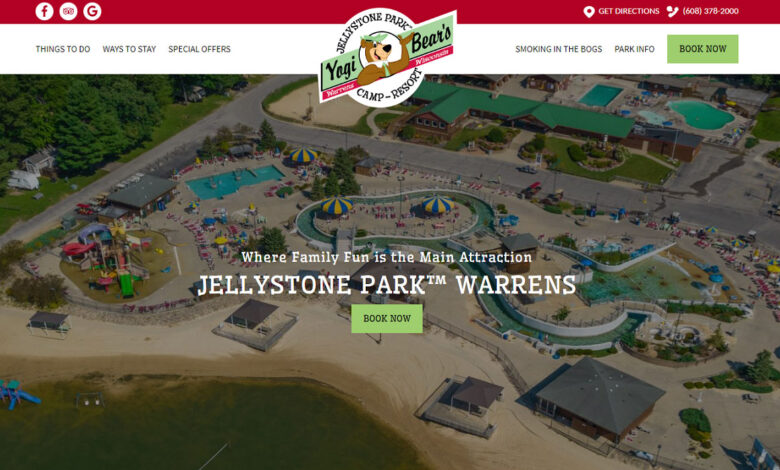 Podcast: Play in new window | Download | Embed
Subscribe: Google Podcasts | Spotify | Stitcher | TuneIn | RSS
Today I will be interviewing the general manager of one of the largest Jellystone Park Camp-Resort campgrounds in America, and he's hiring hundreds of people to work next summer.
Travis Walsh is the general manager of Jellystone Park Camp-Resort in Warrens, Wisc., which is almost located in the center of the state near Tomah, where Interstate highways 90 and 94 split to head to various west coast destinations. The park is nearly equal distance from Madison, Milwaukee, Green Bay and Minneapolis and only an hour from the world-famous Wisconsin Dells.
The campground has 415 RV sites, 162 cabins, and 42 tent sites spread over 130 acres of land. It includes a large waterpark with a wave pool and lazy river as well as a multi-level play structure. Next year, the park will be adding laser tag as well as a Wibit structure, which is a very large floating obstacle course.
There are plenty of jobs for Workampers to do, and they can volunteer to be cross-trained into different areas, such as front office, maintenance, housekeeping, food service, retail store, special activities and serving as lifeguards. They generally work 24 to 40 hours a week and all jobs are paid between $9 and $18 per hour, depending on the type of work performed.
In fact, the campground will hire 200 people in 2023, which includes Workampers, local residents and foreign students.
Workampers pay $500 per month for an RV site, but it includes full hookups and access to all of the park's amenities. Employees also get discounts on food, beverages and items sold in the store. Workampers receive free passes to give away to friends and relatives who want to visit them at the park.
Travis said managers do their best to schedule couples so they have the same days off every week. Teenagers over the age of 14 who are traveling with their parents are also able to work at the park.
Travis said he is looking for people who are coachable with an abundance of enthusiasm because the Workampers' primary job is to help families have a lot of fun during their stay by making memorable moments for them.
The season usually starts around the second weekend of April and wraps up the second or third weekend of October. Just about every weekend has a special theme focus, such as a Jurassic Weekend, chocolate weekend, USA weekend around July 4, three Halloween weekends, Christmas in July and one centered around the local cranberry harvest.
Warrens is centrally located to a lot of fun activities. Minneapolis and the Mall of America is only about three hours away. Legendary Lambeau Field, home to the Green Bay Packers, is a little over two hours away and on the way to the super-scenic Door County peninsula. The capital city of Madison, which is home to the University of Wisconsin, is about two hours south.
There are lot of lakes, rivers and streams for fishing and boating, including the mighty Mississippi River. Nearly every small town in Wisconsin has a festival of some type during the summer and there are farmers markets galore where people can buy produce fresh from the farm.
Travis is hiring Workampers right now for the next summer season. For more information or to submit an application, visit www.jellystonewarrens.com or look for their ads at Workamper.com.
Today's episode is sponsored by The Dreamer's Journey, it is an online course and community produced by Workamper News. Life is way too short to keep your dreams on hold, so don't be held back by fear because you were designed for more!  Get started in the RV lifestyle the right way with this comprehensive guide.
For just $29.95 for one year of access, Dreamers have unlimited viewing of 50-plus videos to learn things like what type of RV to buy, goal setting, how to budget for the adventure, developing a positive mindset, setting up a domicile and operating a small business on the road, plus everything about Workamping and how to find the right job for you. Each video is 30-90 minutes long to give in-depth coverage on each topic.
There's no wrong time to get started.  For more information, visit www.rvdreamersjourney.com.
That's all for this week's show. I have several interviews with employers coming up, so next week's show will feature one of them. Until then, thanks for listening to this week's episode of The Workamper Show. If you like this podcast, please consider leaving a review wherever you download the episodes.